"The vast, highly unprecedented, highly accommodative monetary policy stance that's been so supportive of the recovery has begun to turn. The markets for the next several years or more will have to deal with the withdrawal of that support." - Michael Gapen, Senior Economist at Barclays New York
Last week I wrote an article explaining why I am bullish on the dollar as a store of value medium term, and I prophesied a trend reversal in the dollar's fortune as a consequence of the Fed tapering. Little did I know that Forex prophecies can actually come true.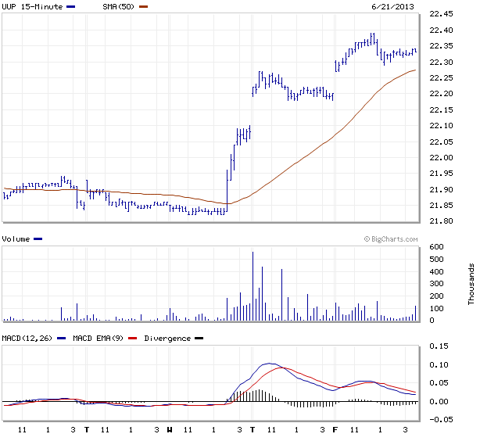 PowerShares DB US Dollar Index Bullish Fund (NYSEARCA:UUP)
Since the forecasted trend reversal has already happened, the big question is: will it endure? I went on a mission through most of the credible macro view media portals in search of clues and my answer is still an affirmative "YES".
In a June 18th Seeking Alpha article "Bad Loans Continue To Rise In Spain And Italy", Marc Chandler explained how the European financial crisis has not bottomed yet. Since the Euro accounts for 57.6% of the weight of the US Dollar index, a weaker Euro spells stronger dollar.
A rise in treasury yields, which have reached a 20-month high, combined with the fact that on June 18th, in a nationally broadcasted TV interview with Charlie Rose, President Obama essentially fired the Fed Chairman when he said that "he stayed longer than he wanted", allow us to look forward to a more sober management of the national economy.
I expect the recently reversed trend to continue, at least till the end of the year, and that it may even snowball as assets shift from lower yielding stocks to lower risk higher yielding fixed income instruments.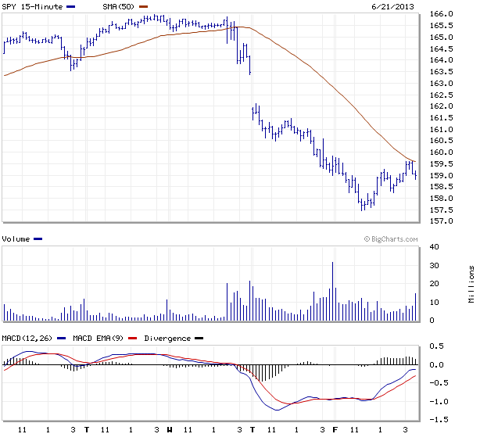 SPDR S&P 500 ETF Trust (SPY)
The shift has already started with the S&P 500 sharply reversing trend, which is good news for the retiring baby boom millionaires starving for yield.
So if you are looking for some sober medium term predictions, I would recommend shifting assets from lower yielding high risk stocks to treasury ETFs. What we are witnessing is the return of some really exciting times for bond traders and a déjà vu of Tom Wolfe's "The Bonfire of the Vanities".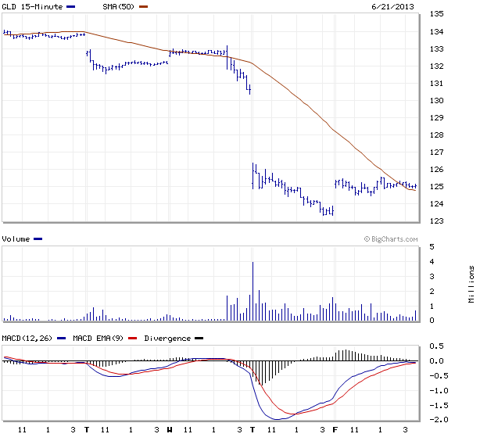 SPDR Gold Trust ETF (NYSEARCA:GLD)
If you are still holding gold in your portfolio I guess now is the time to start reducing your exposure. With the prospects of a slowdown in the economy and a continued rise in treasury yield it makes no sense to continue holding an asset that hedges against inflation but offers no yield.
As with all investments and portfolio re-adjustment decisions, timing is key and cash is king. So make sure you pick the right time to rebalance your positions, the sooner the better I would say, and do keep a healthy portion of your portfolio in US dollar liquid assets so you can benefit from the heightened volatility when opportunity knocks.
Disclosure: I have no positions in any stocks mentioned, and no plans to initiate any positions within the next 72 hours. I wrote this article myself, and it expresses my own opinions. I am not receiving compensation for it (other than from Seeking Alpha). I have no business relationship with any company whose stock is mentioned in this article.