When looking for a potential new holding, investors will sometimes try and dig for some hidden/unknown ticker. They look for some undiscovered entity that is going to be the perfect fit for what their portfolio is lacking. Oftentimes, the correct choice might be right in plain sight in the form of huge corporations that we see every day. The secret is to look at these well known giants and try to determine if there is any value at current prices. One such stock that needs careful consideration at this juncture is Intel.
Intel Corporation (NASDAQ:INTC)
Intel Corporation was established in 1968 (by Gordon E. Moore, Robert Noyce and Arthur Rock in California) to design and manufacture semiconductors for all things digital. Today, Intel is the biggest name in microprocessors, Ethernet products and motherboards for personal computers, enterprise systems, consumer electronics, smartphones, storage solutions, digital intelligence systems and education products - with Intel chips and technology in almost all digital products used across the globe. Over the years, Intel has successfully evolved its processors and strategically grown its business portfolio to retain its #1 spot despite multiple challenges. More recently, the company has ventured into cloud computing, big data and web security. Intel has successfully combined organic R&D-based innovations with selective acquisitions to retain its top spot.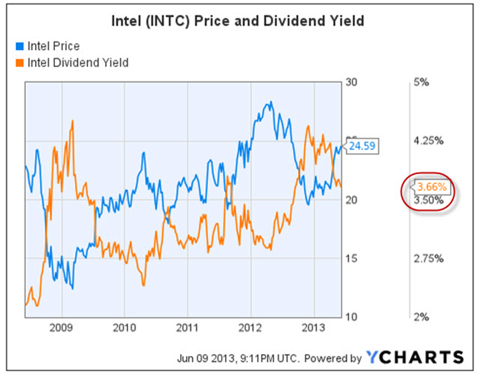 In May, Intel appointed Brian Krzanich as its new CEO in a planned succession to prior CEO Paul Otellini. Krzanich assumed office on May 16. Mr. Krzanich has an engineering degree and was most recently Intel's Chief Operating Officer.
Dividends
On March 21, 2013, Intel declared a quarterly dividend of $0.2250 per share ($0.90 annualized), payable June 1, 2013 and up 7% from the prior year quarter. Intel paid its first dividend in October 1992 ($0.10 per share) and has since consistently paid quarterly dividends year after year. The graph below shows the steady rise in Intel dividends over the past five years, up 58% from $0.55 in 2008 to $0.87 in 2012.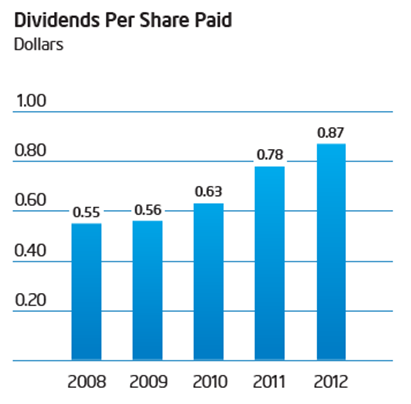 Intel is also committed to buying back shares to increase shareholder value. In Q1 2013, Intel bought back 25 million shares, less than in Q4 2012 and Q1 2012 because share buybacks are based on the attractiveness of shares relative to tangible book value and Intel's availability of cash for buybacks relative to other strategic investments. Of its buyback authorization, Intel still has $4.8 billion outstanding.

Intel shares currently trade at 24.19, at about the middle of their 52-week range of $19.32 - $27.75 with a P/E ratio of 12, a dividend yield of 3.70% and a market capitalization of $120.7 billion. Shares have been in an uptrend since the beginning of the year and are up 12.8% year-to-date.
Company
Intel has three major revenue segments: PC Client Group, Data Center Group and Other Intel Architecture Group. Its PC Client Group develops and markets microprocessors, related chipsets and motherboards for the desktop computers, laptops, notebooks, tablets and wireless connectivity products. Its Data Center Group delivers products for servers, workstations, storage computing and wired network connectivity products. Its Other Intel Architecture Group is an agglomeration of subgroups such as Intel Mobile Communications (which delivers mobile phone processors, radio frequency transceivers and power management chips), the Embedded and Communications Group, the Netbook and Tablet Group, the Digital Home Group (for next-generation consumer electronics), Ultra-Mobility Group, Software and Services Group and McAfee (wholly-owned subsidiary which delivers security software).
Though the company has been around for 45 years, technology innovations continue to offer tremendous potential to this highly adaptive giant of a company. In the coming years, Intel should benefit from massive increases in Internet traffic, over 15 billion connected devices, over 1 billion Internet users and new business models in Energy, Retail, Healthcare, Finance and Transportation, and innovations such as Smart Cities that increasingly rely on technology to reduce expenses, reduce environmental footprint and conserve resources including energy.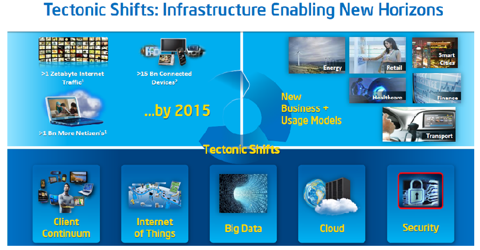 Intel also continues to pack in more computing power in ever smaller chips, trending from 22 nano-meters (nm) to 5 nm beyond 2015.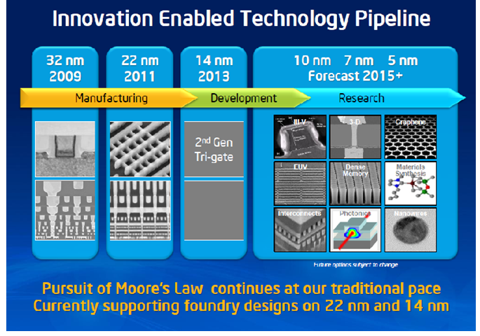 Management
Intel has always maintained a good leadership bench and a responsible and active Board, and successfully transitioned senior leadership - with professionalism and a strong corporate culture balancing out strong leadership personalities - so Intel focused on its business and on being a well-managed company without succumbing to CEO hubris.
Intel is currently led by Andy Bryant as Chairman of Intel's Board of Directors. Mr. Bryant has been with Intel since 1981 and worked his way up from Controller for the Commercial Memory Systems Operation to CFO in February 1994, Chief Administrative Officer in 2009 and finally to Chairman.
Brian Krzanich is Intel's sixth CEO - a position he recently took over in May 2013 from former CEO, Paul Otellini. Mr. Krzanich began his career at Intel in 1982 as a Process Engineer in New Mexico. He is known for bringing cost efficient transformations to Intel's factories and supply chain. He managed Intel's Fab/Sort Manufacturing from 2007-2011 and Assembly and Test from 2003 to 2007.
Renee James is Intel's President and has been with Intel for over 25 years. Ms. James is responsible for strategic expansion and has held leadership positions in Intel's global software and services division. She led Intel's entry into proprietary, open-source software and services for security, cloud-based computing and smartphones.
Financials - Q1 Ended March 30, 2013
Intel ended its first quarter of 2013 with negative growth in net revenue and earnings. Net revenue of $12.6 billion was down 3% from $12.9 billion in Q1 2012 on softness in Notebook and Desktop sales which were down 6% and 7%, respectively. While average selling prices of products increased, cost of sales jumped 19% and offset price gains. Gross profit of $7 billion was down 15% and down 8% as a % of revenue; R&D expenses were up 5% while marketing and G&A expenses were down 1% on cost controls. Operating income dropped a whopping 34% in the quarter and net income of $2 billion ($0.40 per share) was down 25% from $2.7 billion ($0.53 per share) in Q1 2012. Intel also reported a 30% decline in comprehensive income. Share buybacks resulted in 2% fewer shares outstanding. Notably, Intel's dividend payments in the quarter ($0.45) exceeded its earnings per share ($0.40).

Business Segments
Revenues from the PC Client group were down 6% to $8 billion and accounted for 64% of total net revenue. Data Center Group revenues were up 7% to $2.5 billion and contributed 21% to total net revenue. Other Intel Architecture brought in 8% of revenue but saw segment revenues decline 9%. Software and Services contributed 5% to revenue and saw gains of 3%.
Earnings were down in all segments. The PC Client Group saw a 28% decline in earnings to $2.5 billion from $3.5 billion. Earnings at the Data Center Group were relatively stable, down 5% to $1.08 billion. Other Intel Architecture saw operating losses increase to $611 million from $312 million. As a result, overall segment operating income fell 34% to $2.5 billion.

The table below shows a 6% sequential and 7% yearly drop in PC Client Group unit volumes and a 1% gain in average selling prices. Data Center saw unit volumes drop 6% sequentially but gain 6% year-over-year. The drop in sequential unit volumes is tied to Holiday Sales related seasonality. Desktop selling prices were up 5% over the past year.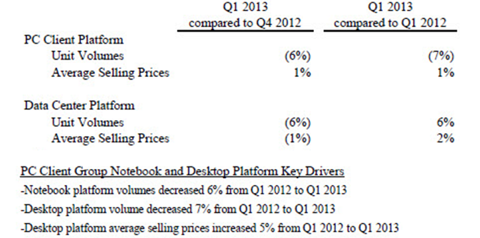 Looking ahead, Intel expects low single-digit revenue gains, an improvement in gross margin back up to about 60% and expects to spend $12 billion on capital projects.
Balance Sheet
The company ended Q1 2013 with $5.7 billion in cash and cash equivalents, down 33% over the prior (December 2012) quarter; $4.3 billion in short-term investments, up 8.1% on new investments; $29.4 billion in net property, plant and equipment, up 1.6% on new property investments after accounting for depreciation; $4.7 billion in marketable securities, up 6.2%; and $1.3 billion in other long-term investments. Total assets stood at $83 billion. Liabilities included standard current items totaling $11.8 billion and $13.1 billion in long-term debt, virtually unchanged from the previous quarter. Stockholders' equity was $51.2 billion, unchanged over the previous quarter.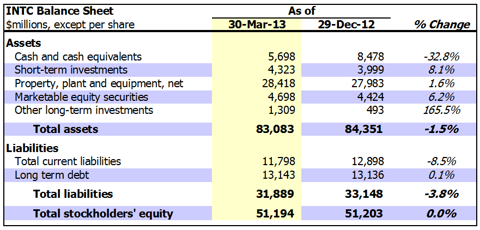 Cash Flow
In the quarter, the company generated $4.3 billion from operating activities, up 44% from Q1 2012; invested $5.3 billion, primarily on PP&E and purchases of investments and trading assets; and used $1.7 billion for financing activities, primarily dividends ($1.1 billion) and share buybacks ($559 million to buyback 25 million shares). Overall, the company used $2.8 billion in cash in the quarter.

Recent News
Also in May, Intel recently introduced Silvermont microarchitecture for its 22nm Tri-Gate System-on-Chip (SOC) process that delivers a 5x improvement in energy utilization. Silvermont will be deployed for a range of 22nm chips for smartphones, laptops, tablets, storage, network infrastructure, microservers and other solutions.
Summary
Over the years, Intel has handsomely rewarded investors through dividends, share buybacks and stock splits. The company is a leader in its sector, generates sizable operating cash flow from stable businesses and has significant revenue growth opportunities tied to ongoing technological innovations such as chips for tablets and smartphones. Shares trade at a reasonable value and should be a staple of every investor's portfolio with active application of a dollar-cost averaging strategy buttressed by covered calls and naked puts to take advantage of the stock's relatively tight trading bands.
Disclosure: I am long INTC. I wrote this article myself, and it expresses my own opinions. I am not receiving compensation for it (other than from Seeking Alpha). I have no business relationship with any company whose stock is mentioned in this article.