China is finally putting some pressure upon its banks and financial institutions to teach them a lesson in speculation and easy money which is causing the current global sell-off. It is a lesson a parent must teach a child at some point and we are seeing a cash crunch in the country as China has thus far refused to lower the reserves ratio for banks, a move it must be noted has tended to be the norm when situations such as these arose in the past.
China is not foolish enough to put enough pressure upon the financial sector to force any institutions to fail, so this is most likely a buying opportunity for those with risk capital available at this time. It is a lesson to the bankers in China and they shall learn their lesson, but this is not meant to punish others or blatantly force a worldwide correction. That is something that the leaders cannot allow as it would jeopardize their careers and stature.
Chart of the Day:
We have been focusing on the US Dollar Index in our commodities articles, however, today it seems worthy of being featured here as we have seen a dramatic fall which pushed commodity names higher only to see a sharp rise on the tail end of the chart. The latest move higher is caused by investor fear of global news coming out of Japan, China and Europe and we would not be surprise at all to see another move towards 85.0 on the US Dollar Index.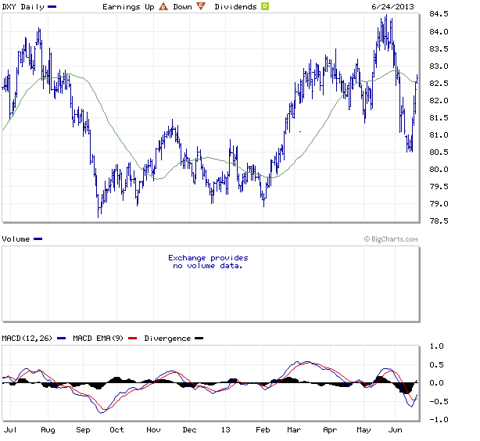 Chart courtesy of Bigcharts.com
We have no economic news due out today, but shall have some tomorrow.
Asian markets finished lower today:
All Ordinaries -- down 1.54%
Shanghai Composite -- down 5.30%
Nikkei 225 -- down 1.26%
NZSE 50 -- up 0.02%
Seoul Composite -- down 1.31%
In Europe, markets are lower this morning:
CAC 40 -- down 1.88%
DAX -- down 1.28%
FTSE 100 -- down 1.69%
OSE -- down 1.60%
Telecom
Much as is the situation in the US, the cable and telecom sectors in Europe are quickly integrating as both move large swaths of individual consumers' and corporations' data over their networks. This is part of the reasoning behind the Vodafone (NASDAQ:VOD) bid to enter Germany's cable market via the purchase of Kabel Deutschland for $10.1 billion. Kabel Deutschland is Germany's largest cable operator and was previously eyed by John Malone's Liberty Global, however Vodafone's bid seems to significantly trump that bid and should easily gain shareholder and regulatory approval; something which could not be said of Liberty Global's bid. Look for Vodafone to come under a bit more pressure this morning and over the next few weeks as investors who were looking for Vodafone itself to sell assets rotate out and move elsewhere in the wake of the company once again moving to become a consolidator.
Speaking of consolidation in the industry, it seems that traders are beginning to focus on another German holding for possible interest by market players for a takeover. We are talking of T-Mobile USA (NASDAQ:TMUS), the US wireless player which is number four in the cellular market and majority owned by Deutsche Telekom. With Dish appearing to have missed out on both Sprint and Clearwire, some traders are betting that their attention will shortly shift to T-Mobile in a bid to buy a network already up and running with a brand and business already in place. Yes Dish does have spectrum, but to move into this industry without a foothold could prove to be costly, quite difficult and a journey filled with many pitfalls. So a T-Mobile bid makes sense, but only if Deutsche Telekom is on board...and that shall take a while to negotiate so we would not expect any news for some time on this end.
Technology
Technology stocks have been under some pressure recently, with many of the outperformers to the upside as the market rose leading us to the downside as the market retreats. True outperformers whether we go up or down is not altogether unusual as it simply displays a higher beta and volatility. One name which fits this bill is 3D Systems (NYSE:DDD) which finds itself back down at $43.50/share after falling just over 1% on Friday on higher than normal volume of 6.2 million shares. The shares have backed off of their fresh 52-week highs of roughly $52/share and the move has been recent and pretty dramatic. Names like this are to be bought for those thinking that this market correction shall be swift and short-lived.
After a solid recovery from the $30/share level it appears we might find ourselves testing prior support and resistance levels. We would watch for $40 and possibly $35/share for areas where buying interest may materialize.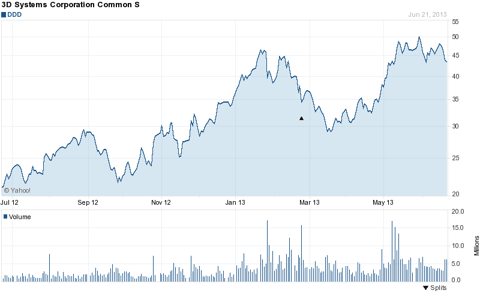 Chart courtesy of Yahoo Finance.
Financial
Recently we pointed out how we thought that the discount and online brokerages offered compelling entry points and were the next step in the progression of investor diversification during a bull market. Even though the bull market is under extreme duress right now, these names have shown considerable strength. The Charles Schwab Company (NYSE:SCHW) has led the way and its shares have actually been green on red days and steady movers higher on up days. All of this is being done on higher volume with it having traded 11.9 million shares on Friday. Positive share price moves paired with higher volume are always indicative of market bullishness, and with this being the case we want readers to continue to focus on names such as these.
An upgrade this morning from Citigroup from 'Sell' to 'Buy' should only help the shares gain further strength.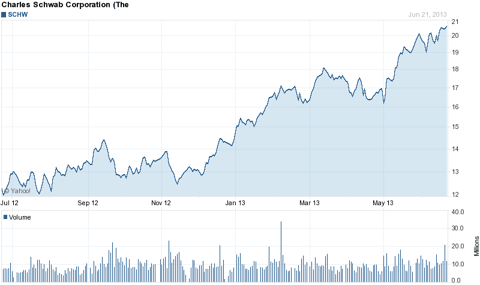 Chart courtesy of Yahoo Finance.
Consumer Products
We have been proponents of the strong consumer brands with solid dividends over the past year or so and lately those names have not worked. They stopped working along with the general market and this will provide a buying opportunity for long-term investors as we correct here. The next rotation of this bull market shall be to growth stocks, and if one can own a high yielder which couples as a solid growth stock then the name should be added to one's portfolio. One name which intrigues us at this point is Philip Morris International (NYSE:PM) which has strong overseas growth and a solid dividend which current sits at 3.9%. The one drawback right now is the rising US dollar and longer-term the litigation risk from developing countries.
Disclosure: I have no positions in any stocks mentioned, and no plans to initiate any positions within the next 72 hours. I wrote this article myself, and it expresses my own opinions. I am not receiving compensation for it (other than from Seeking Alpha). I have no business relationship with any company whose stock is mentioned in this article.