Commodities are under pressure again this morning, which is no surprise to those following the markets last night and early today. World issues are forcing the U.S. Dollar Index higher, and worries about China are calling into question global growth estimates as well as their demand for everything from cotton to copper.
Also of interest this morning are the events happening in Brazil, which has seen one of its richest men and his mining empire come under pressure at the same time ordinary citizens are taking to the streets to protest rising government fees for services such as transportation. This could spell trouble for names such as Vale (NYSE:VALE), which is already trying to sell some of its assets in the region and could find competing assets for sale at fire sale prices. Obviously, that would not be good for Vale as it would not provide for favorable comps and could also force the company to go from a seller to a consolidator -- especially if the government thought that it was in the best interest of the country to keep those assets in Brazilian hands.
Chart of the Day
We were having difficulty with our charts this morning, so we had to settle for this less-detailed and much smaller chart of copper. In short, we are right at $3/lb -- this will be a test of the market's will today as we shall see if the $3/lb support is as strong as it has indicated it is.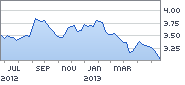 Source: CNBC.com.
Commodity prices this morning are as follows:
Gold: $1284.00/ounce, down by $8.00/ounce
Silver: $19.67/ounce, down by $0.289/ounce
Oil: $93.65/barrel, down by $0.04/barrel
RBOB Gas: $2.7633/gallon, down by $0.0016/gallon
Natural Gas: $3.792/MMbtu, up by $0.021/MMbtu
Copper: $3.0095/pound, down by $0.086/pound
Platinum: $1360.00/ounce, down by $9.50/ounce
Precious Metals
It is no secret that precious metals have come under significant pressure recently. Gold has been the major loser and headline grabber, but silver has also been a significant loser -- in fact, it broke the $20/ounce level for the first time in years. Also of significance is that platinum did not hold the $1,400/ounce level -- we find that the most troubling. Yes, platinum faces headwinds in regard to its industrial uses, but the fact that there are labor issues in South Africa should have been enough to provide further support to the white metal. It was not enough to provide support and we are now looking at fresh 52-week lows in the precious metals sector, with Kinross Gold (NYSE:KGC) being a perfect example of what has taken place in the market.
It has been rough for precious metal investors, as the following chart of Kinross Gold shows. However, if the precious metal breaks lower, look for the gold producers' shares to follow suit.
Click to enlarge images.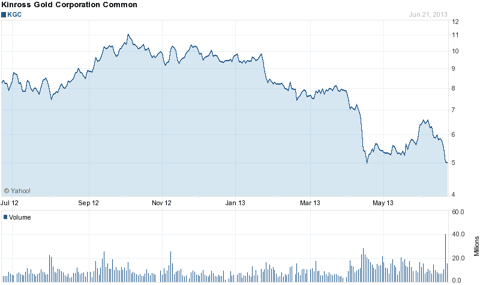 Source: Yahoo Finance.
The entire complex is under fire and the downtrend is pretty significant. In a somewhat ironic twist, we are seeing the prices of the precious metals drag the producers' stock prices down, when only a few months ago producer share prices could not trend higher along with the metals because of the production and other costs. While physical metal prices increased, share prices stagnated and while physical prices fall, share prices fall even more. Investing can be a cruel occupation at times, and, yes, this is but one instance of its cruelty.
Copper
One area to pay attention to for the next shoe to drop, so to speak, is the copper complex. It has somehow managed to maintain support at $3/lb, and that is something which looks to come under pressure in the next few sessions. We already know that prices were being manipulated in London by funny business with physical warehouse inventory, and in our experience funny business can only go so far and last so long before market fundamentals take over and guide the market to its proper place.
Freeport-McMoRan (NYSE:FCX) has been a name under pressure as copper retreated, and one must remember that it has gold exposure as well. Oil is what we believed saved it from a sharper move lower, but with the previously mentioned precious metals issues, the potential for copper to break $3/lb, and the U.S. Dollar Index trending higher again (and thus applying pressure on oil) we might see another leg lower here.
Uranium
Investors have done well to purchase Cameco (NYSE:CCJ) shares on the dips to build positions in their portfolio to benefit from what we believe will be a rebound in the uranium market. The juniors have seen their share prices rebound strongly, and the chatter surrounding these names has turned positive over the past few months to the point where we are a bit concerned as it pertains to some names. That is not the case with Cameco, which we believe continues to offer investors value at these levels. If we are in fact due for a pullback, then this is one name that we want readers to add to their portfolios if it's not already there. If you only have a portion of the overall position you wanted at this time, go ahead and add another quarter position as this is the summer correction for the industry that we believe we have been waiting for.
We have been correct in our call to purchase uraniums, and specifically in our call to purchase Cameco. This is still a buy and as the summer correction for uraniums takes place, we would be buyers. If shares get back down to $18-$19, one should definitely not worry about establishing a position there.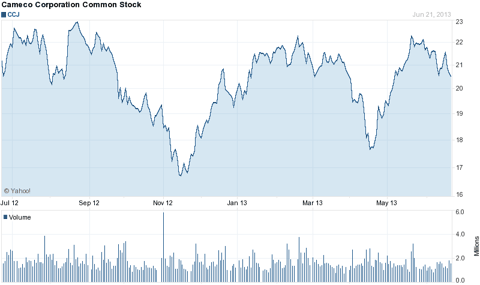 Source: Yahoo Finance.
Oil and Natural Gas
We were right to be worried about oil and natural gas, which rose as the U.S. Dollar Index fell recently and helped push up names such as Gulfport Energy (NASDAQ:GPOR), while one of our favorite indicators, Cheniere Energy (NYSEMKT:LNG), fell. It seems as if we are in fact due for a correction and caution is to be rewarded. Our view is that this is not an end to the bull market, but rather a correction. If our indicators continue to be correct, then they will point higher before the rest of the market makes its general move higher. One thing we want readers to be aware of this morning is that we have not sold our Gulfport Energy position at this time and continue to hold it, as we should have news out soon and a news flow cycle that picks up more velocity than it has had in the past as they crank up their exploration and drilling program and tie in wells to the pipelines that have been built thus far. That is what should separate Gulfport from the industry moving forward and the reason we are willing to hold it during a downturn.
We are at some support right now according to a handful of our indicators, but they also indicate that we could have 10%-20% further to go during a serious correction as the chart below also indicates. If we do not find support around these levels for Cheniere, then the next stop appears to be around $22/share -- but even that does not look to be the strongest.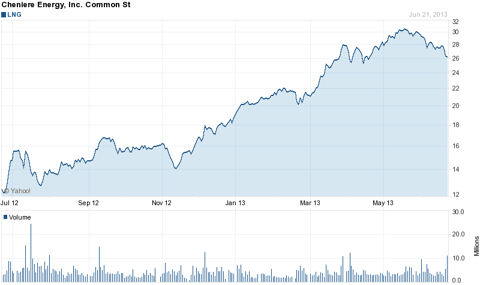 Source: Yahoo Finance.
Disclosure: I am long GPOR. I wrote this article myself, and it expresses my own opinions. I am not receiving compensation for it (other than from Seeking Alpha). I have no business relationship with any company whose stock is mentioned in this article.