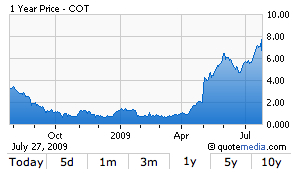 The first half of 2009 has been kind to Cott Corp. (NYSE:COT), with the company posting back-to-back quarterly profits after a dismal 2008 decimated stock value.
With the soft-drink company reporting second-quarter profit of $33.7-million (31 cents per share) on Monday, Kaumil Gajrawala, UBS analyst, has upgraded the company's 2009 earnings-per-share forecast to 72 cents from 41 cents.
He has also raised his price target to $8.30 from $7, while noting that Cott's shares have risen more than 530% year-to-date.
"The key driver of upside was cost management and lower input costs," Mr. Gajrawala said in a note Monday. "We believe better fixed-cost leverage, pricing, and restructuring savings could support mid-teens full-year margins in 2009."
Cott reported gross margins of 16.7% in the quarter, beyond UBS estimates of 13.2%.
However, Cott's recent filing amending terms on its asset-based loan has Mr. Gajrawala expecting an equity offering in the next 170 days.
He said:
We view this positively in the long-run, as it allows Cott more debt flexibility ... however we think the offering could put pressure on Cott shares in the near term.
With that in mind, and 100% share appreciation since May, Mr. Gajrawala has downgraded Cott to Neutral from Buy.