With the S&P 500 back below 1600 after a difficult week, and an uncertain future given the Federal Reserve's indication that it may soon tighten the tap on its quantitative easing of $85 billion per month, investors are left to consider whether or not to to take their money and run. The uncertainty of what will happen to financial assets in a scenario of an absent Fed is on everyone's mind. It has been more than three years since the markets were left to fend for themselves without a quantitative easing program in place.
I believe that the Alpine Total Dynamic Dividend (NYSE:AOD) closed-ended fund is the right place to remain long the market. I like this fund for a number of reasons:
AOD trades at a 13% discount to NAV (I would never buy a fund at a premium).
This fund previously traded at a premium to NAV, and popular thinking is that premiums and discounts are mean-reverting.
AOD's sister fund, the Alpine Global Dynamic fund (NYSE:AGD), trades at only a 9% discount to NAV but has pretty much the same portfolio holdings. AOD and AGD share nine of the same top 10 holdings.
Shared Top 10 Holdings by AOD and AGD
Apple (NASDAQ:AAPL)
Vodaphone (NASDAQ:VOD)
Qualcomm (NASDAQ:QCOM)
Corrections Corp America (NYSE:CXW)
Novartis AG (NYSE:NVS)
Accenture PLC (NYSE:ACN)
Avago Technologies (NASDAQ:AVGO)
Nestle SA (OTCPK:NSRGY)
Subsea 7 SA (OTCPK:SUBCY)
But the main reason I hold AOD as a substantial part of my long portfolio is because of the alienated shareholder base. Their disinterest is your gain. Let me explain further.
During the first half of 2010, income investors were sucked into the fund by a dividend rate north of 16%. This dividend of $0.12/month was certainly not sustainable, especially in an environment of historically low interest rates. The monthly dividend rate was subsequently cut to $0.055 in July 2010, causing investors to flee. The market value of AOD shares fell from $7.50 to below $5.00 within a single week during the summer of 2010, shifting the closed-end fund from trading at a premium to trading at a discount. Then, in January 2013, the fund implemented another monthly dividend cut to $0.027, causing shares to fall 10% to below $4.00.
If you look at the top holdings, it is easy to understand why the fund has needed to cut it's distributions. It has adopted a strategy of including only modest dividend payers, such as Apple and Qualcomm. Investors seeking high-yield dividends have been alienated and have dumped their shares. In the months following the latest dividend cut, the market value of AOD closely tracked the S&P 500. However, since mid-May shares of AOD have underperformed the S&P 500 by nearly 6%, as investors have shunned most dividend-yielding investments amid forecasts of higher treasury yields. (The discount to NAV has remained fairly steady between -13% and -14%.)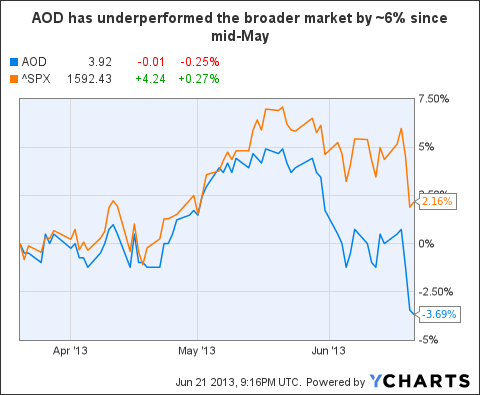 Not only have income investors not moved back into AOD after the last dividend cut to close the discount to NAV, but it appears they are now starting to price in an additional dividend cut. I will certainly agree that it's not out of the realm of possibility that this could happen, especially given that Alpine's closed funds have been using leverage as an aide for income generation. But as long as you are not primarily an income investor, the fact that dividend investors have been alienated by multiple dividend cuts over the past three years is certainly in your favor. This segment of shareholders has shied away from owning AOD, leaving the fund price unusually depressed.
Furthermore, consider how your risk is limited in the event of an additional dividend cut. When the dividend was nearly cut in half in 2010m shares fell more than 30%, but this was from a large premium. But after the last dividend cut the share value dropped by only 10%. If AOD reduces its dividend another time, I foresee an ever smaller reaction on the market value. If shares were hit hard once more, it would be a stupendous buy opportunity relative to NAV, and simply for this reason I believe the downside risk of AOD is especially low. At the current time, I believe that the floor value for AOD (***relative to overall markets and the fund's NAV) is not far from where it is trading today, and for this reason shares offer compelling value below $4.00.
It's time to invest your money in this discounted closed-fund.
Disclosure: I am long AOD. I wrote this article myself, and it expresses my own opinions. I am not receiving compensation for it (other than from Seeking Alpha). I have no business relationship with any company whose stock is mentioned in this article.