The primary subject matter of this article is to cover the enormous potential of Kandi's (NASDAQ:KNDI) recently announced start of its Hangzhou 100,000 EV CarShare program, along with an update comparing the Kandi and Tesla Quick Battery Exchange Programs.
China-based, Nasdaq-listed Kandi, China's Electric Vehicle (EV) serial disruptive innovator, has once again "upticked" its "Total Solution" EV program in China to a level where soon its stable of 10 PRC approved mini-EVs, to include four cars, a mini-van and five trucks, could be financially accessible to all of China's 680 million city dwellers. KNDI is already the leader in EV innovation with its now implemented patented Quick Battery Exchange (QBEX) technology allowing battery exchanges either robotically (1 minute) or mobile at any location (2 minutes). This program has been hailed by the People's Republic of China (PRC) Government (see PRC EV Policy Paper - Hangzhou Condi Mode) and also State Owned Enterprise (SOE) State Grid (world's largest electric utility covering 88% of Chinas land mass and one billion consumers) as its preferred total solution for EVs for all of China. But now, through the brilliance of its founder, Chairman/CEO and largest shareholder, Hu Xiaoming has augmented just swapping the batteries with swapping the whole car though a high-tech China version of Avis's (NASDAQ:CAR) recent $600 million dollar purchase (includes debt) of ZipCar. And most importantly, he has done all of the above at no cost to KNDI other than to produce and sell its cars. In other words, KNDI has created a captive redundant market which should quickly grow from 15 to 25 thousand EV's over the next 12 months to over a million units annually later in this decade.
Why no cost to KNDI?
As Mr. Hu told me personally, when I visited he and the Company in China a few years ago, and said again to shareholders who visited with him last September when he hosted a KNDI "Shareholders Day" in Atlanta, "Kandi's EV business is to design, build and sell cars into an infrastructure model designed and donated by the Company to others who hopefully will fund and develop the infrastructure." A simple but bold statement likely envisioned by many a CEO, but only one in a million can ever pull off. In KNDI, I believe we have that "one in a million".
Now those who have followed KNDI achievements and my KNDI dedicated writings on Seeking Alpha over the past three years, know with confidence there is no hyperbole in the above statements; so I am not going to re-publish the history of KNDI here. But I am also aware that over the past thirteen trading sessions, having seen KNDI share volume grow from an average of 50,000 a day to an incomprehensible 5.8 million a day (75.6 million or equal to total shares traded from Jan 11, 2011 to June 3, 2013), while also seeing KNDI the #1 Nasdaq percentage gainer two of those days as the stock price more than doubled, KNDI's international recognition by investors has likely grown from infinitesimal to now as much as 10% of active investors. So either take me at my word, or better yet, cool down a case of soda and read my past writings which can be found at this link. If you really want the whole history of KNDI along with back-up material showing that KNDI almost always delivers, read them all, but at least read the articles I have published this year. Contrary to foolish pundits who pontificate their worthless opinions as fact, I make it a habit of providing evidential back-up with links to my rants.
KNDI's latest announcement of its ZipCar-similar, Self-Serve EV rental program (CarShare)
On Monday June 17, pre-market open, KNDI put out what I can only describe as what will likely be one of the most important announcements in its history. A PR that sets the stage for an EV roll-out program unmatched anywhere in the world with the groundbreaking by the City of Hangzhou of the first of an approximate 500 automated self-serve parking garages which will ultimately encompass 100,000 KNDI EVs. These smart garages are custom designed for two models of KNDI EV's. The new 4 door Kandi-Geely Joint Venture Electric Panda announced on June 5 and a two door micro-EV wholly owned by KNDI. Each of these EV Towers or "Kandi Boxes" as loyal shareholders have coined the name, are being built by the City with its funds and require only 100 square meters of typically valuable real estate. Each will hold 50 to 300 EVs with most holding 200. At least 30 of the anticipated 500 Kandi Boxes are expected to be completed by the city prior to this year's end, stocked with 5-10 thousand KNDI EVs over the next 12 months. As you can see from other links I provide below, the full Hangzhou roll-out is expected to take another four to five years, which on the outside would require completion of approximately two Kandi Boxes per week over that period of time. Since the Government owns all of the land in China, land is not a problem. Estimated completion time from ground-breaking of each Kandi Box through completion is approximately five to six weeks. As you can see from the PR, intentions are to shortly expand and roll out this program to some of the largest Cities in China while Hangzhou is being built out.

JL7001 Kandi designed and built 4 door Panda EV along with Kandi 2 door KD5011 EV
Here is the PR:
Kandi Technologies Plans to Deploy 5000-10000 Pure EVs in Hangzhou for the Initial Launch of Public EV Sharing System

JINHUA, China, June 17, 2013 (GLOBE NEWSWIRE) -- Kandi Technologies Group, Inc. (the 'Company' or 'Kandi') (Nasdaq:KNDI), today announced, on June 8th, 2013, Hangzhou City started the construction of its first pure electric vehicle (the "EV") smart vertical parking and charging facility in Gudang Technology Park of Xihu District to advance its planned five-year goal of establishing a mini-public transportation system which will include up to 100,000 self-serving rental EVs and all necessary service infrastructure throughout Hangzhou. The first facility is anticipated to be completed and in use in early July of 2013. According to the project plan, over 30 pure EV smart vertical parking and charging facilities (including additional EV sharing service network) will be built by the end of this year in Hangzhou City and 5,000 to 10,000 Kandi pure EVs will be deployed in Hangzhou within one year from the initial launch of the smart vertical parking and charging facility.

Mr. Hu Xiaoming, Chairman & CEO of Kandi and General Manager of Zhejiang Kandi Electric Vehicles Co., Ltd. (the "JV Company") commented, "The implementation of the Pure EV Sharing Public Transportation Plan will provide convenient short-term EV rental service to Hangzhou citizens and visitors, and it also builds the foundation for establishing a mini-public transportation system of pure electric vehicles. With more pure EV smart parking and charging facilities built and in use, it will greatly improve the efficiency of urban transportation and help easing major urban issues many Chinese cities are facing today, such as traffic congestion, scarcity of parking area, environmental pollution and energy shortage."

Since Kandi proposed the new business model of pure EV sharing for public transportation, it has been very well received by many cities in China. In addition to Hangzhou, Shanghai City, Chengdu City, Jiangsu area, and Hainan area are also actively pursuing to adapt to this new mini-transportation model in their areas. It is very likely that, in coming year, these cities will begin building of pure EV smart parking and charging facilities. Kandi plans to expand into these new markets when the local supporting infrastructures are ready.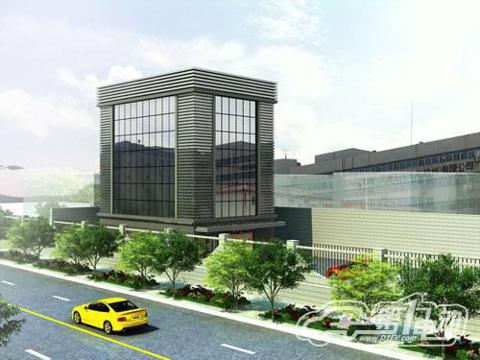 But make note to the last paragraph of the PR bold faced above. As they move into these additional areas where discussions have already begun, considering Hangzhou with its 11 billion population is the smallest, another 500-700 thousand KNDI EV's can be envisioned. As you will see below, it was this KNDI patented and licensed technology which was likely the reason Geely wanted KNDI as a partner.
And here you will find translated how China's top Finanancial reporting source, Sina Finance, reported on this story.
A little background on this project. After following KNDI for almost seven years it has been publicly traded in the US, thanks to spending two to three hours early each morning scouring the China media internet sites using Google translator for KNDI happenings in China, I had grown to the point that very little that KNDI would announce "over here" would shock me. Using search words translated to Chinese such as "Kangdi Electric Vehicles" (康迪电动汽车) Kangdi, Geely (康迪,吉利) and several other combinations, I would find hundreds of search returns, mostly syndicated, on daily searches (try it yourself by copying in the Chinese into Google). Yes, the Geely-Kandi Joint Venture was announced in China a few days before it was released here, along with just about every major PR announced event. Why the time-lag to a PR here? Well, in most instances, what is being reported in China is just very preliminary and in some instances may take months for KNDI's very conservative and politically conscience CEO to feel the event is irrevocable and ready to formally announce.
Some investors might think this access to "quasi inside information" would be advantageous. Believe me, more times than not it is a curse to know just a little about something major, months in advance and have to wait days, weeks and months until it is formalized and disclosed to the rest of the world. And, let's face it; KNDI is a China stock with a large short position that historically has come under a dozen published attacks by short sellers to spread obfuscation, mis and dis-information and out-right lies, though all have been careful to never accuse the company of doing anything illegal, or fraudulent. While a US company could put out news in a preliminary state and be ignored in the case it didn't pan out, China stocks are not afforded the same luxury. So if you read it in the US, you can bet that KNDI's management and securities counsel has all the "i's" dotted and "t's" crossed.
With the above said, I can tell you that those of us who do surf the China net and read the Company's SEC filings, caught wind of this CarShare project and its formation going back almost two years ago (though we really didn't know what this all meant at the time) from an SEC 10Q filing on Nov. 14, 2011 (pg.42).:
"On August 14, 2011, a team is formally formed in Hangzhou by Development Research Center of the State Council, Society of Automotive Engineers of China (OTCPK:SAEC), and Zhejiang University to begin the research of a subject proposed by the Company: the feasibility of building a 100 thousand pure EV renting network in Hangzhou and the related supporting policies required. The objective of this research is in order to resolve the problem of industrialization of pure EV, the traffic jam problem and parking difficulties in current Chinese cities. This research is planned to be finished by the end of 2011, and expected to help stimulate the Company's development."
And, somewhat out of character, the Company even gave a preliminary PR on this on May 21, 2012:
Kandi Advances Plan for Innovative Pure EV Rental System Before Top Government Leaders and Transportation Experts in Beijing

Pure EV Rental Model in Hangzhou Features 100,000 Vehicles in Centrally Managed "Smart" Vertical Parking Facilities to Relieve Traffic Congestion, Scarce Parking and Environmental Pollution…
But a few days prior, this article came out in China:
Hangzhou, Zhejiang For five years the development of 100,000 electric cars to car rental
Now also around the same time, the Zhejiang Provincial Government published this article on their official website heralding that at the upcoming Hangzhou EV EXPO a new EV concept would be unveiled:
Hangzhou: held 2012 China (Hangzhou) International Exhibition of new energy automotive industry promotion

"…Hangzhou is currently brewing a new marketing model, to be launched car leasing model to promote pure electric vehicles. This mode of operation, similar to the current use of public bike rental services, construction pure electric vehicle car network system bus operators, will all use pure electric car rental services provide users, rechargeable parking garage located in the city's airport, railway stations, commercial centers and residential areas and other areas need to Build. Users after a vehicle into the garage, just plug in the charging of electric vehicles, the garage elevators will be shipped directly to the layers of vehicle parking spaces. The user also car, simply pulls the charging plug can be. At present, this project is a further discussion of…"
And on August 11, 2012, with the opening of the above EXPO, the CarShare program concept was introduced with much fanfare and even a reduced size temporary working "mock-up" of the "Smart Vertical Parking Garage", it also became official that KNDI would be the provider for the new CarShare program as you can see from this link with pictures.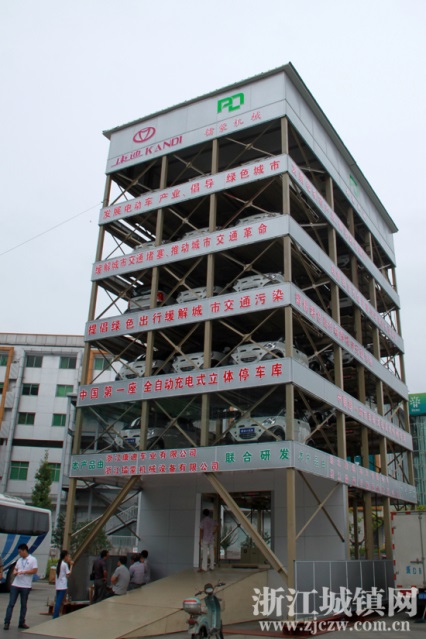 Working Demo Mock-up of CarShare Parking Garage.
How does the program work?
Mid-2012, with a little bit of digging on the China Internet and a few phone calls to Asian contacts, I quickly discovered the incredible magnitude of what KNDI's CEO was proposing to some of China's top Ministry leaders in Beijing. What Mr. Hu was proposing was a "simple" solution to the biggest mobility problems in China's major cities; air pollution and auto congestion. And if you read the PRs and the extensive media coverage linked above covering this project throughout all of China at the time, you will quickly realize his solution was well received by all pertinent Government bodies.
The genesis of the KNDI concept is the "BikeShare" program first initiated in Hangzhou and is now being used throughout the country. Let me first explain the public transport "last mile" variation to this concept.
In the case of the Bike Share program; if you are a visitor or commuter into the City, you will find a corral or rack of bikes outside the bus or train station. You buy a "Smart Card" for an annual fee of say $30US. Each time you enter the city on a public conveyance you can use your card and gain free access to a bike for a limited period of time at no charge. You then drop the bike off at any BikeShare location. If you exceed the free time, your card is charged a small additional fee.
What KNDI has now approved and under construction, is a mini-EV CarShare version of this system and it is being added as an alternative "last mile" provision in the Cities Municipal Transit system. This is the reason the City is paying for the infrastructure.
The automated vertical parking garage concept, while new, is not unique in the World as can be seen by video clips on this page, but these existing facilities in the videos were designed for Internal Combustion (NYSE:ICE) vehicles in other parts of the world. Kandi's concept customizes it for their Micro EV where in addition to the cars being parked, they are automatically and simultaneously being charged through the Smart Grid. By being attached to the smart grid, the City can augment its income by allowing use of the stored electricity in the excess EVs to be re-injected back into the grid during peak hours if needed in SG's Vehicle to Grid (V2G) program. Similar to what TSLA has claimed it can do with excess power from its Super Stations.
Kandi has filed several patents on facilitating the EV specific features of the concept. And though I have not been able to verify on the net, a reliable source tells me that KNDI also has extensive licensing rights to the Smart Parking Garages in other parts of China.
Here is a 3D demo video of the smart garage produced by KNDI.
Here are the two phases of the program.
Phase 1 of the program is specifically patterned after the Hangzhou "BikeShare" program. An out of town visitor arriving at the train, bus station or airport can go to the Smart Parking Garage and pick up a fully charged KD5011 for either free (if included in his bus train or plane ticket charge) or minimal charge and get use for maybe an hour or two, after which time additional hourly charges are added. A perfect program for urban areas that want to:
Cut down on air pollution
Reduce traffic and parking congestion of big cars
help local economy by giving visitors easy access to merchants and businesses
In Phase II, the CarShare garages will be expanded to an outer ring around the city. This is particularly important in Cities like Beijing where inner City access by ICE cars are already being rationed by odd/even license plate numbers to only four days a week (everyone Sunday). The garages would be surrounded by conventional parking for ICE cars. If a suburbanite needs to go into the city, he can drive to his local CarShare Garage, park his ICE car, swipe his metro card and pick up a Kandi "CityCar" for a small rental fee and access the city 24/7 365 along with free parking.
How does KNDI's JV Partner Geely Auto tie in to this program?
While the Company has not detailed this yet in a filing or PR, from searching the China media it is very clear that it is this program that caused Geely Auto, China's #1 Domestic Auto Maker and owner of Volvo into wanting to partner up with KNDI in a 50-50 Joint Venture. This surmised by quotes from Li Shufu, Chairman, Founder and controlling shareholder of Geely as this from The Hangzhou Daily News.
In the future, the same as the public bike hire rent electric cars

Geely and Condi electric car joint venture company

2013-03-27

And this article for just a couple of examples:

Geely teamed Condi layout of the new energy vehicles

2013-03-23
Now this is truly the perfect marriage. Geely contributes its thousand dealer/maintenance network throughout China to service the cars, along with its political clout due to wide manufacturing exposure across all the major provinces. And KNDI with its patents, licenses and its current two mini-EV manufacturing facilities with reported 130,000 annual capacities (expandable to 400,000 annually) together; are prepared for immediate exponential growth.
While the Company has not yet specifically explained how the EV mix will be in the CarShare program, based on what shareholders were told at last year's Shareholders day, the expected mix was to be around half the EVs would be two door and the balance 4 door. If this maintains, one would expect KNDI to be selling half the cars directly and the other half coming from the Kandi-Geely JV putting KNDI in a position to generate the lion's share of the proceeds from the ultimate 100,000 Hangzhou cars.
As mentioned and pictured above, the four door car will likely be the recently announced and PRC approved Kandi-Geely JV Panda "JL7001BEV" which the JV sells for around $14,000 US without battery, has a range of over 120km and top speed of 80kmph. The two door which is exclusively KNDI's will likely be a slightly modified KD5011 EV with a top speed of 72kmph and 100km range. Since these air conditioned EV's are being used exclusively in a City environment, speed and range will not be an inhibiting factor due to maximum speed limits in most China cities is 45kmph.
Let's look at some numbers
Now remember, this 100,000 Hangzhou CarShare project is in addition to the 20,000 EV order KNDI currently has pending for the long-term lease program in Hangzhou. This program, which is covered extensively in my past articles, allows the lessor to pay an approximate $145 USD per month for a 36 month lease that is all inclusive to include insurance and unlimited QBEX for the term of the lease. KNDI is only required to sell the cars to the various leasing companies such as recently announced Hong Kong SE listed Sinopoly, who will be responsible for any lease liabilities and purchase of the cars. This program is expected to kick off in the next few weeks as soon as the PRC releases its new three year subsidy program. With the City of Hangzhou's population in excess of 11 million, and a recent list of pre-registrations already over 6000 as reported by the China media, the complete 20,000 lease cars should be placed within six to twelve months. This program alone will generate revenues to KNDI in excess of $135 million USD and an additional $0.80 to $0.90 a share in earnings over the time of sales.
Match this $0.80 with legacy business of at least $0.40 a share and, according to Geely on a research call with analysts two weeks ago, where it was reported to analysts that Geely expected the Kandi-Geely JV to sell at least 5000 of the new EV Pandas by this years end, KNDI's 50% interest could add another $0.15 a share to KNDI's bottom line. And lastly, factoring in an additional 5000 of KNDI's own EV sales in Jinhua, the CarShare and a few other miscellaneous sales should generate an additional $.15, you will then get KNDI conservatively earnings of around $1.50 a share over the next twelve months and total EV sales of 20 to 30,000 units. Could this slip a few months? Sure, but these are hard pending orders.
What does KNDI have to do with Avis's ZipCar?
Well, it wasn't always Avis's ZipCar. In January of this year, AVIS paid $500 million cash, and assumed an additional $100 million in liabilities to purchase 12 year old ZipCar who never had a profitable year. Why? Certainly not because of ZipCar's aging fleet of 10,000 daily rental cars or their financial operating performance. They did it because they want to buy the ZipCar concept, technology, locations and brand name. The price Avis paid was almost three times the total market cap of KNDI today.
One may wonder if Geely's ultimate motivation to partner up with KNDI, particularly regarding the EV CarShare might not have some "roots" with the same thought in mind. Li Shufu, Geely's Chairman is well known for making acquisitions as evidenced by his Volvo purchase and his near purchase of control of Fisker a few months back. While I am sure Geely would rather have bought KNDI outright, knowing Mr. Hu and what he has accomplished to date with KNDI, no logical price would have been acceptable. As 43% owner of KNDI, Mr. Hu is independently very wealthy and IMO, is much less concerned about an exit strategy, than he is accomplishing the goal of making KNDI the uncontested leader and innovator of EV's in China for years to come.
OK, so what's all this volume about?
If you were so bored that you took the time to read my bio, you would know that I have been a Wall Street Pro for almost 40 years, to include ten as an OTC market maker who worked heavily with short sellers in the late 1970's to 1980's. While methods have somewhat changed due to algorithmic and computerized trading, the tactics in creating false volume, trading between quasi-related accounts and some still stoop to shorting without borrowing are still the same when dealing with short sellers. While some may argue that KNDI really did not have a very large Nasdaq reported short position respective to the float before the June 4th breakout day with 18.7 million shares trading, I could argue the point that based on the average daily volume of only 44,000 shares and the 750,000 share short position, the almost 17 days to cover is a significant problem for a short. As you can see from the table below, the short interest has also been growing.
| | | | |
| --- | --- | --- | --- |
| Settlement Date | Short Interest | Avg Daily Share Volume | Days To Cover |
| 5/31/2013 | 749,558 | 44,725 | 16.759262 |
| 5/15/2013 | 748,044 | 114,868 | 6.512205 |
| 4/30/2013 | 762,392 | 133,577 | 5.70751 |
| 4/15/2013 | 736,921 | 51,627 | 14.273946 |
| 3/28/2013 | 703,562 | 61,750 | 11.393717 |
| 3/15/2013 | 698,957 | 59,194 | 11.807903 |
| 2/28/2013 | 627,432 | 56,697 | 11.066406 |
| 2/15/2013 | 626,554 | 71,989 | 8.703469 |
| 1/31/2013 | 586,420 | 44,808 | 13.087395 |
As I mentioned above, KNDI has less than 33 million total shares outstanding, and a float of around 18 million shares. I define the float by all non-restricted shares. So from a total market cap point of view, the US markets are only giving this always profitable company a $220 million market cap. Not much more than the current replacement value of their real estate rights, equipment, deposits and cash. With advances been announced in China and stable record of positive earnings while developing its China strategy, KNDI today is hardly a stock one would think would be a good short sell candidate. But, IMO, the short you see in the above table is a legacy short that has been between a half million and 1.2 million for at least three years now. And as most have seen in Tesla, (NASDAQ:TSLA), old shorts are hard to shake out until you finally run over them with a freight train. In KNDI's case, it will be very interesting to see the next reported short report due out on June 25th. That report will cover all trading up to settlement date June 14. Or about 45 million shares of recent volume. Subsequent trades up until June 25 (to date totaling just under 29 million will not be reported until July 10th.
Due to my extensive background in this stock for so long a period, I can safely say I have periodic contact with long term holders who claim solid ownership of well over half the float and since they have been in it so long waiting for all the current events to finally unfold, are not likely to have net sold much during this recent run. With that said, I expect to see a very significant jump in the short interest on each of the next two reports. As TSLA shareholders can attest, while seemingly painful in the early stages, large short positions in solid, exceptionally fast growing companies can reward patient shareholders beyond their wildest imagination. Something I am confident will be happening with KNDI in the very near future.
Since KNDI has the rare occurrence of being a small listed micro-cap stock with publicly traded stock options, it is likely a significant amount of the action is being caused by put-call option strategies. These stratigies can alleviate some responsibilities of a short seller in having to borrow or report short shares and can be used to hedge his short. But as TSLA shareholders can attest, there are no-free lunches out there. In my many years I have learned there are no "old bold" short sellers. The all ultimately meet their Waterloo, or should I say their TSLA.
Speaking of TSLA and its new Quick Battery Exchange
When I wrote parts 1 and 2 of a Seeking Alpha article in April comparing the amazing similarities between KNDI and TSLA's management, business models and execution strategies, excluding of course the obvious difference in target markets for their respective EV's, there had been one glaring difference in that KNDI had a tried, proven and supported Quick Battery Exchange recharging solution and TSLA didn't. (Yes, TSLA is even a participant in a CarShare Program) As of June 20th, this has changed and TSLA is now also is offering a QBEX option. So let's do a quick comparison here.
Based on public reports and a video, TSLA intends to start soon providing a QBEX option (video) very similar to what was offered by now liquidating Better Place who spent close to a billion dollars developing. The Better Place model requires the driver to simply drive over (video) what looks to me like a high-tech robotic "grease monkey" pit allowing a 90 second battery exchange. Reports have said the cost to TSLA for each of their changing stations would run around a half million dollars and will be offered as "Pay Go" option for between $60 and $80 dollars for those owners who don't want to wait the 20 minutes for the partial charge offered at TSLA SuperStations. I applaud the company for adding this obvious addition to their solutions package, but do see areas lacking in their model QBEX. One; having to do with the innate requirement of having to eventually return the "swapped" battery back for the legacy battery at some future time to the purported same changing station. If you are on a trip across country it won't be as simple as simply swapping with FedEx due to the incredible weight. And secondly, in the rare instance you find yourself running out of "electrons" away from a changing station you still have to whip out your AAA card for a tow since their battery location does not seem to be a easily accessible with a mobile unit. But I do fully agree with the media groupies calling TSLA's QBEX an innovative "Game Changer".
Now let's take another look at KNDI's QBEX, which has its genesis going back to 2003 when its CEO filed for its first QBEX patents in China, has been in limited operation first in Jinhua late 2011 and now in Hangzhou. From an operating point of view, KNDI's patented version slides the batteries in from the sides between the rocker panels making them easily accessible for QBEX on any flat surface at any location. From an infrastructure viewpoint, while KNDI did invent and patent the system, they turned over the responsibility of building, owning the batteries and maintaining the stations to Giant Electric Utility State Grid who provides both a robotic 40 second change (video) at their stations, or manual mobile 120 second swap (video) for those like me who make it a habit of running out of gas at least annually. Depending as to whether you are on the long lease program where you get unlimited swaps for free, or as in Jinhua where you buy the car and have to pay around $5 for a swap, it still beats the cost of gas. State Grid can do this so cheaply since they use the stand-by batteries in their "Smart Grid" Vehicle to Grid (V2G) program as described above.
A few last comments.
First: Rumors spread by ignorant Chinaphobes and short selling attack writers have been "warning" investors on Tweets and Blogs that since KNDI filed an S-3 Shelf Registration with the SEC a few months ago, that "any moment", the company is going to be doing a dilutive stock offering now that the price and volume is up. While I am totally comfortable that there is no offering being considered until the stock is multiples of the current level if ever, don't take my word for it, but "read the market" and use your own common sense.
First of all, 90% of all listed public companies from AAPL on down always keep an active Shelf Registration on file with the SEC. KNDI is a listed company so why should it not be afforded the same rights as other Nasdaq companies? It was through a shelf registration that TSLA did their recent underwriting at $92 dollars a share and convertible notes. The same "shelf" they likely had active even when the stock was in the $30 area. Shelf Registrations have a "shelf" life of two years before they need to be renewed or abandoned.
KNDI did file its first shelf registration in Nov. 2009, when its stock was trading in the $3 area. 13 months later after the stock traded as high as $7.20 they did finally do a small $16 million dollar financing using the Shelf Registration but they did it and publicly announced it the second day after the stock had just traded 1.2 million shares, its highest volume ever at that time. But that was in Dec. of 2010 right after the Company had its first Lead Acid battery EV approved in China. In KNDI's SEC 10Q filing before that offering, the Company had only $3 million in positive working capital, along with cash and credit facilities totaling around $15 million and had just come off a quarter where they lost $0.08 per share. So in hindsight, it was a wise move to do that offering at that time.
Today, as of its last 10Q, the Company had $44 million in positive working capital, $12 million in cash and $22 million in unused credit facility. $38.6 million or almost half of their $80 million KNDI-Geely JV stated capital contribution requirement has been put up and is already reflected on their last quarters 10Q balance sheet as "Deposit for Acquisition" (this is as of March 30, before the closing of the JV), with the balance, which can be assets instead of cash not due for almost two years. (The already paid amount is a fact that recent attack writers conveniently leave out of their "dire straits" scenarios). Its $12 million in long term debt does not come due until Dec. 2015. Top all this off with the fact they earned over $0.07 a share in the recent quarter, yet only sold 306 EVs, but should net at least $30 million net over the next three to four quarters and you should get a good feel why the Company is in no hurry to even consider doing a financing until the stock is multiples of the current price which BTW, is still below its high in 2008.
But if all of this doesn't convince you, then the market action should. Since the Company's shelf registration went "effective" by the SEC over a month ago, if the Company were "desperate" to do a financing, just the fact the stock has doubled in price and traded almost 76.1 million shares or 5.8 million shares a day in the past 13 trading sessions would have given them ample time to execute, complete and announce any financing if they had a desire to do so.
Second: As I write this the stock market has just traded down some 500 points in the last three days. Likely this is being caused by a change in US Fed policy. Clearly, KNDI is not a US Company and its brilliant future ahead lies with its sales in China. Agreed; China is not immune to economic downturns, but in Wall Street parlance, KNDI should be looked at as a "defensive" stock, or one that will do well in down economies. While China bashers will try to tell you it's economy is on the verge of shambles, don't believe it for a second, at least in regards to KNDI. China's new regime has clearly publicized its main two goals of growing its economy "internally" so to be less reliant on exports, and to attack their horrible urban pollution problems. While at the same time move an additional 200 million more country dwellers into the cities bringing the total to almost 900 million over the next five years. KNDI's EVs are already a well-known solution endorsed by the PRC for both of these current and future problems.
As of now, China has only 45 passenger vehicles per thousand capita, compared to the US with around 900 per thousand. In other words, as far as easy enclosed personal mobility, China is today where the US was pre-WWII. China leaders know the best way to grow an internal economy is by getting as many consumers as possible into vehicles that have enough room to transport goods bought from the bricks and mortar market place. This will be particularly effective in China with its large percentage of consumer bank savings. It is not easy to bring home a TV or microwave in the basket of a motor scooter or bicycle. But it is in the spacious back area in KNDI's mini-SUV EV's. Pair this with the solution to their pollution problems and you have a Company that will be supported down to the PRC's last dollar.
For those who want a brief overall China perspective on KNDI, here is a worthy read of a short history of KNDI that was published by China Auto Business Reveiw earlier this year.
Disclaimer: The information I write on KNDI and other companies mentioned all come from public sources either in the US or Foreign media. Opinions are my own. I have visited the Company in China and attended past shareholder meetings hosted by management. I have never asked for, or been offered any compensation by Kandi or Management. I am simply a retired former Wall Street Professional shareholder who has done thousands of hours of Due Diligence on the Company covering over six years who enjoys sharing my findings.
Disclosure: I am long KNDI. I wrote this article myself, and it expresses my own opinions. I am not receiving compensation for it (other than from Seeking Alpha). I have no business relationship with any company whose stock is mentioned in this article.