The U.S. mattress manufacturing industry has shown a negative trend in the past five years, due to the falling real estate market and economic volatility. Until 2006, manufacturers of mattresses and other household goods enjoyed high demand due to a booming real estate market. That was followed by a drastic downturn as the housing market crashed in 2007-12, leading to an average revenue loss of 2.5% annually -- or nearly $7.1 billion every year.
Now that the U.S. economy has seen improvements in the past five months, the International Sleep Products Association expects 3% revenue growth for the industry. This is mainly due to an increase in disposable income and an improving residential housing sector. An increase in income will lead to purchases of second or holiday homes, and will lead buyers to purchase new furniture. This change in the housing market directly impacts household demand for mattresses.
The mattress industry will benefit from this recovery in the coming five years, and Tempur Sealy International (NYSE:TPX) is expected to benefit the most from this changing scenario.
Company Insight
Tempur is the world's largest bedding products manufacturer and innovator that also engages in the distribution and marketing of its products. Its products include mattresses, pillows, and adjustable bed bases. The company sells through retailers, department stores, third-party distributors, and various online websites. Its mattress segment generates nearly 67% of its revenue, while pillows and other comfort items comprise the remaining 33%. Tempur mainly focuses on its mattresses segment, which has made it the leading company in its industry.
Last month, the company changed its name from Tempur-Pedic International to Tempur Sealy International. This followed the acquisition of Sealy Corporation, a similar bedding products manufacturing company. Tempur Sealy now dominates the North American market; in the U.S. alone, it has 31.7% of the mattress market share.
Tempur-Sealy Acquisition
Tempur completed the acquisition of Sealy in March of this year. Sealy was one of the largest bedding products manufacturers in the world. The deal was worth $1.3 billion, which included equity purchasing worth $2.2 per share and $750 million of Sealy's debt. With the acquisition, Tempur has increased its brand portfolio, new demographic growth opportunities, and new cost and revenue synergies.
Financing Strategy
Tempur has experienced an increase in debt to nearly $2 billion on account of the Sealy acquisition. To finance this debt increase, the company issued $375 million senior notes, due in 2020 at 6.79%. It has also undertaken a revolving-credit facility worth $1.3 billion, and will pay 3% to 4% over LIBOR. On the other hand, Sealy has total debt worth $750 million, for which it pays in between 10% and 12%. Tempur will initially utilize $375 million for the equity payment in Sealy, and later use some portion of its credit to release the majority of Sealy's debt. There would be no point for Tempur to pay nearly 10% on Sealy's debt when it is paying only 3% to 4% over LIBOR on its credit facility.
Tempur will be left paying $120 million every year in interest payments, which is 6% on its $2 billion-worth debt. In 2012, Sealy posted earnings of $117 million, and $50 million in cash, while Tempur earned $320 million. Even assuming flat growth, the combined entity will generate earnings of nearly $437 million. This will leave Tempur with enough cash for both re-investments and distribution to equity holders, while Sealy will be able to further focus on investing in innovation and brand-building. Utilizing the current strategy, Sealy will pay for its own equity value in the coming three years, and also the combined companies' interest payments until 2020.
Enlarging the Geographic Mix
Click to enlarge images.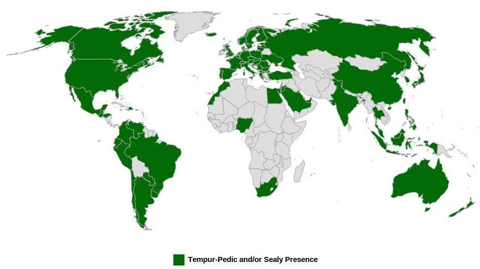 Source: Company data.
Both the companies have an extensive global reach. Post-acquisition, Tempur now has a global footprint in more than 80 countries. Earlier, it generated 69% of mattress revenue from North America. Through this acquisition, Tempur will now achieve nearly 80% sales of mattresses from North America alone. The company plans to further expand its overall base in Europe, Asia, South America, and Africa.
Revenue and Cost Synergy
Tempur and Sealy's team-up provides various revenue-synergy opportunities. A common area where both the companies can capitalize their expertise is channel expansion. Tempur has strong capabilities in direct selling and e-commerce, whereas Sealy has strong competency in the hospitality, club, and department store channels. Tempur has approximately 14,450 retailers worldwide, while Sealy has about 16,700.
The company will increase its investments in research and development in order to develop new brands. It will also increase focus on innovation by combining both companies' expertise. It is expected that it will create a new hybrid product, featuring Sealy's innerspring and Tempur's memory-foam technology, which will likely be introduced to the markets by 2014. Tempur will further expand its global footprint, which will lead to brand awareness, and recognition in the various successful markets for each brand.
This acquisition is expected to also generate cost synergies. Tempur aims at consolidating the back-end functions of both the companies. It will achieve savings in manufacturing, sourcing, warehouses, distribution costs, and corporate expense. For example, Tempur will be using Sealy's trucks for some outbound transportation, and Sealy's headquarters will be shifted to Tempurs' headquarters. In total, the company will generate cost synergy of nearly $15 million by this year. It will further rise to $40 million -- $60 million annually through 2015.
Increased Brand Portfolio
Tempur-Pedic is regarded as the premium brand in the memory foam segment, whereas most of the Sealy brands, like Posturepedic and Stearns & Fosters, are considered the best brands in the innerspring segment of the industry. This acquisition will help the company to be the leading brand in almost all segments of the market.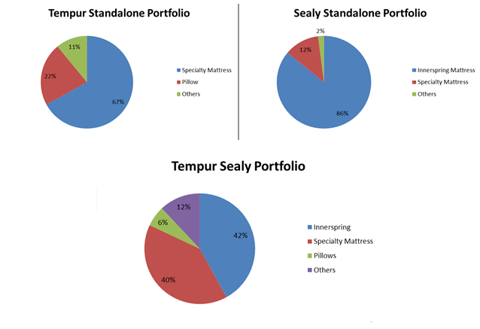 Source: Company data.
Tempur will now tap the market with a large brand portfolio, and a huge product line with a price range of $500 to $8,000. The Sealy brand is for the lower-market business of $500-$600 and below, while the Sealy Posturepedic is its mid-priced brand that ranges between $600 and $1,500. Its Stearns & Foster is its high-end spring brand, and its best premium brand in the market, which ranges from $1,500 to $4,000-$4,500.
Tempur's brands start from $1,300 ranging to $8,000, of which most are considered premium brands. Earlier, Tempur was able to target only premium customers. But with this acquisition, it can now focus on serving customers coming from all income levels.
The Financial Impact
Tempur-Pedic and Sealy were more or less similar-sized companies. In 2012, Tempur-Pedic posted revenue of $1.4 billion, whereas Sealy posted $1.35 billion. After this acquisition, the company is expected to generate nearly $2.58 billion in revenue in this year, which is 57% higher compared to last year. Its gross profit margin was 50.9%, higher compared to Sealy's 40% in 2012. Tempur will now post an overall gross profit margin of 49.7%. The company is expected to generate earnings of nearly $450 million by this year.
Increase in Retail Opportunity
Mattress Firm (NASDAQ:MFRM) is a specialty retailer that sells mattresses, and related products and accessories in the U.S. It has 1,096 stores as of April 2013. In the previous fiscal year ending January 2013, the company posted cash from operations of $78.7 million. Through this cash availability, it aims at opening 120 stores for this year, with each new store estimated to cost nearly $170,000. Therefore, the company will spend $28 million in total for opening new stores for the fiscal 2013. Mattress Firm is the biggest retailer for Tempur, providing 45% of slots in its stores for Tempur brands. With Mattress Firm increasing its stores count, it will also indirectly increase the sales opportunity for Tempur.
Restructuring Plans
Tempur aims at reducing its interest payments in order to loosen its future financial burden. It will reduce interest costs by nearly $10 million as per its restructuring plan. The company made a prepayment of $125 million in the last week of May 2013. This reduced its debt to approximately $743 million for Tempur alone, excluding the addition of Sealy's debt.
Conclusion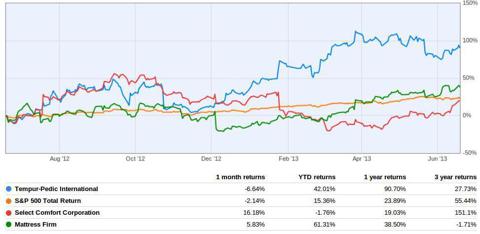 Source: YCharts.
Tempur is currently trading at its 12-month trailing P/E ratio of 44.10, against 17.46 of its peer company Select Comfort Corporation. This looks expensive, but the opportunities created with Sealy's acquisition provide huge upside potential. With the consolidation of both the companies' businesses, and Mattress Firm's expansion plan, earnings are expected to double by this year.
This stock is a buy.
Disclosure: I have no positions in any stocks mentioned, and no plans to initiate any positions within the next 72 hours. I wrote this article myself, and it expresses my own opinions. I am not receiving compensation for it (other than from Seeking Alpha). I have no business relationship with any company whose stock is mentioned in this article.