In recent months, an epic tug of war has taken place among Wall Street analysts covering BlackBerry (NASDAQ:BBRY). A quick look at the distribution of buy and sell ratings shows a near-even split, with 3 bulls, 5 bears, and 5 on the fence with a neutral rating. A similar battle is being waged among investors, with short-interest hitting record levels and representing a substantial portion of the company's float.
Ultimately, the naysayers may be proven right. However, in the near-term, negative-leaning sentiment and recent sales trends indicate that a stronger-than-normal short squeeze could be brewing. The recent action in GameStop (NYSE:GME) has been instructive in this regard. While universally maligned for its weak long-term position in the gaming market, GME's near-term prospects have cast doubt on its imminent demise. This revelation triggered a short squeeze that sent the stock soaring from 25 to 40 in less than a month.
Here are three reasons why we believe shares of BBRY are poised to follow suit in the weeks ahead:
BBRY Partners Are Flourishing - BlackBerry's likely manufacturing partners both reported strong results. Jabil reported earnings earlier in the week. Looking at its revenue breakdown, the unit that relates to BlackBerry showed strong sequential and annual growth. According to a StreetInsider report, Jeffries analyst Peter Misek confirmed this information and added that Wistron reported strong revenue growth in May despite continued stagnation in their PC business. The implication is that the growth can only be coming from BBRY.
Bears will argue that this is only indicative of inventory stocking. This may prove true, but it's irrelevant at present. The Street's estimates take all factors into account. If BBRY tops expectations, short-sellers will be shot first and asked questions later. BBRY remains a player, albeit weakened, and still has an advantage in terms of security and catering to business users. Until there we gain clarity on whether that can be parlayed into renewed relevance, the stock will likely trade on the basis of its immediate-term results.
BBRY's Market Share Is Rising - Only a small handful of vendors can make that claim. Yet, it can be confirmed via multiple sources. For example, according to StatCounter's latest data, BBRY's share of the mobile market has increased by 7% since bottoming in April:
Date

Jan-13

Feb-13

Mar-13

Apr-13

May-13

Jun-13

Apr-Jun

Apple

25.9

27.2

27.2

26.5

25.9

25.2

-5%

Nokia

22.2

21.3

21.2

20.9

21.2

21.9

4%

Samsung

22.7

23.0

24.3

25.0

25.4

25.5

2%

RIM

3.5

3.4

3.4

3.4

3.6

3.6

7%

Other

25.8

25.0

24.0

24.2

23.9

23.8

-2%

Source: StatCounter
Only Nokia has come close to achieving the same level of relative momentum and its shares have risen 17% since April 1st, in sharp contrast to BBRY's 7% decline.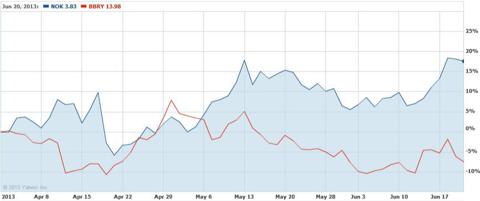 Buyer Intentions Are Rising - According to ChangeWave's latest survey, 34% of corporate buyers plan to buy BlackBerry phones in the coming months. That's up from 32% in February and 29% in November.
It should be noted that neither ChangeWave nor StatCounter are definite sources. However, both have statistically significant reach. Of equal importance, both data points are bullish for BBRY. This should come as no surprise, as recent reports on the Q10 revealed strong sales, including a surprising level of interest from outside of the BlackBerry installed base.
The Bottom Line: Net-net, we believe that the near-term trends are favorable for BBRY stock. Sentiment is low (as evidenced by the high short interest), while sales data implies that the company should outperform expectations in the coming quarters.
Going into the May quarter, BlackBerry's management team knew that this would be a make-or-break quarter to rebuild customer sentiment. With a loyal base of corporate customers, we're confident that the company found a way to make its numbers.
Investors can argue over the company's long-term future, but near-term performance is more likely to drive the stock until we have greater clarity regarding its future. Investors may not have to wait long -- BlackBerry will be reporting its May-quarter results this Friday.
Disclosure: I am long BBRY. I wrote this article myself, and it expresses my own opinions. I am not receiving compensation for it (other than from Seeking Alpha). I have no business relationship with any company whose stock is mentioned in this article.