By Michael Kanellos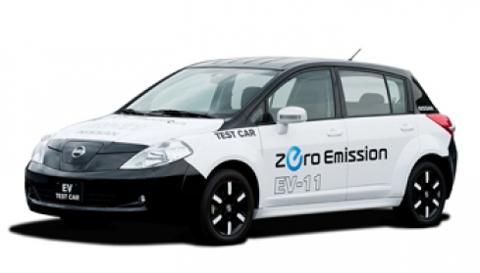 Nissan (OTCPK:NSANY) showed off another an electric prototype car today that will likely be similar to the commercial electric car it will show off on August 2.
The Tiida prototype contains the same battery and electronics that the commercial electric car will have, but it is based around the chassis of an existing gas car. Nissan has said its electric car will come to market with its own design. Earlier this year, it toured the U.S. with a prototype that contained the electronics of the coming electric car but the body of an mini-SUV. We took it for a test drive and were impressed with everything but the looks.
Read the deep dive on the car and check out the video of the test drive.
The electric car that gets shown off this Sunday will be released in 2010. Nissan will release the car both in Japan and the U.S. Although the company will target owners of vehicle fleets, it will also try to sell the car to consumers. We are guessing that the commercial car will look something like the Tiida because Nissan offers glimpses of the commercial car here and the company has said the car will be a sedan.
Nissan officials have said that the car will sell for $20,000 to $30,000 and that's before federal tax credit of $7,500 and any state credits. Even without the credits, the car would be inexpensive for an all-electric vehicle. The key is the battery: It is a lithium polymer battery devised by Nissan and NEC.
2010 will be the year of the electric. Along with Nissan, General Motors will be coming out with its mostly electric/a little gas Volt at around the same time. Both companies hope that these cars can reverse their fortunes. Tesla Motors and Fisker Automotive, meanwhile, will be touting their cars for the luxury market. (Ford has all-electrics coming too next year, but they will be targeted at the commercial market first.)
Nissan has also partnered with Oak Ridge National Labs, Ecotality, Better Place and others on charging stations.