Regarding the title of this article, the company discussed will become one of the premier Tier III producers in 2014. Although this will be a multi part series focusing on small caps which are loaded with potentially explosive returns, this article focuses on Colossus Minerals (OTC:COLUF) . This could easily become a 5-10 bagger in 2-3 years. In fact, its high while just an exploration company was 6-fold higher. To boot it is currently in the sweet spot of the mining life cycle, reaching production in just 2 months.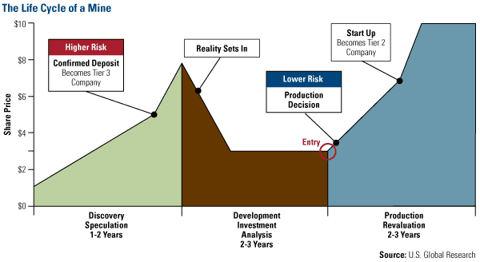 Colossus Minerals ~ Colossus is a Canadian-based exploration and development company. Its primary focus is to advance the Serra Pelada Project, located in Para, Brazil, into production. Serra Pelada is host to one of the highest grade gold and platinum group deposits in the world. It was also host to the largest gold rush in Latin American history. Cash costs or All-in costs Cash costs would be extremely low to begin with given the high grade gold (reserve estimate to be released Q3), however, based on analyst consensus estimates will be 19-21 g/t . Here's the catch; as opposed to most mining companies have base metal byproduct, which serve as credits against cash costs, Colossus has platinum and palladium. Platinum is projected to have an average of grade of 4-4.5 g/t and palladium at 8-12 g/t.
This will cause cash costs (net of byproducts) to be between $180-$200/oz, with the all In costs estimated at $500-$550/oz. This is exceptional given the average all in cost for the industry (per our current study) is between $1,050 - $1,200. Colossus helped finance Serra Pelada development through one recent equity issuance and the sale of streams on the 3 metals it will produce. (Keep in mind, Colossus has until April 2015 to buy back half of every stream from $58.5m). A 35% stream on platinum and palladium was sold to Sandstorm as well as a 1.5% stream on all the gold produced.
Furthermore, Colossus has identified several satellite deposits outside the CMZ (Central Mineralized Zone), including the WMZ, Portal Zone and the Elephante area. Colossus's exploration plans for 2014 will focus on two things; first will be focusing on the Elephante area as diamond drilling suggests a near surface, broad halo of mineralization. If this is successful and Colossus can define the mineralized area, it would pave the way to expand the current 1,000 tpd mill, thereby increasing production. The second is its high grade Ag-Au silver deposit, Cutia, which like Serra Pelada was a previously producing mine. There are 3 meter thick quartz veins outcropping on surface. If Colossus can define the mineralized zone(s), it could have Cutia up and running as early as late 2016 - late 2017. This would create one of the most interesting precious metals mining company as it would have all four of the primary metals.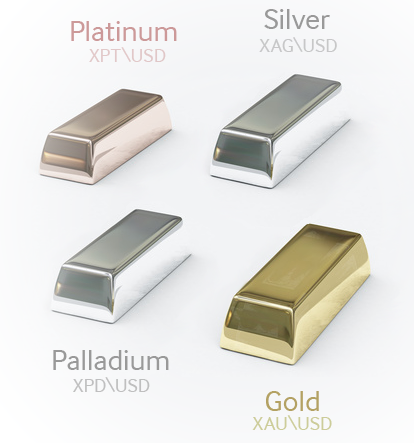 Serra Pelada; During Latin American Gold Rush in 1983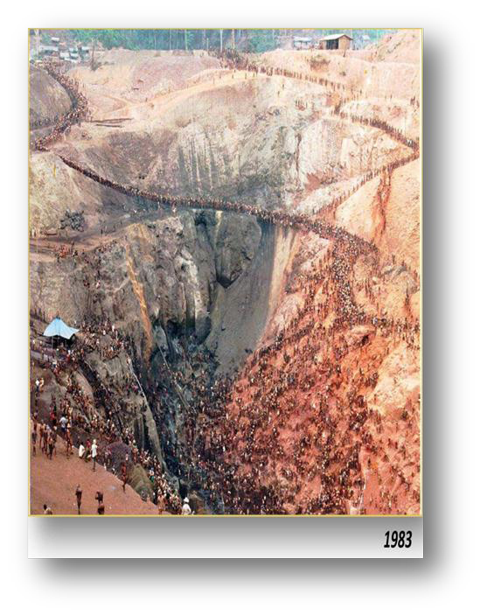 The following chart illustrates Colossus' base case production scenario. By that, I'm talking about Cutia being excluded if it did reach production in 2016 as well as no satellite deposits deemed economical and in turn, no mill expansion. (Keep in mind, this is not AuEq oz.'s due to the palladium production, instead by 2015, AuEq production will be 300k oz.'s. This must be reduced to just gold production in order to achieve its very low cash cost and all in cost profile.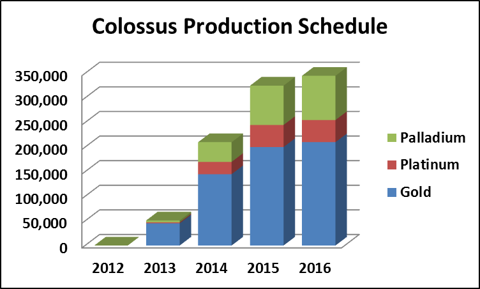 Conclusion: This is a perfect stock to own in this or any environment due to several factors. An incredibly storied management (following valuation) with years of success all around makes this company poised for success. Its low cash cost and all in cost profile should earn it a premium relative to the industry, similar to the premium New Gold has had for quite some time. A premium could also be given as it will be one of the highest grade gold mines in the world and quite possibly the highest AuEq grade mine in the world (we will see in Q3) The exploration potential is immense both at Serra Pelada and at Cutia. The following are some example of Bonanza grade intercepts: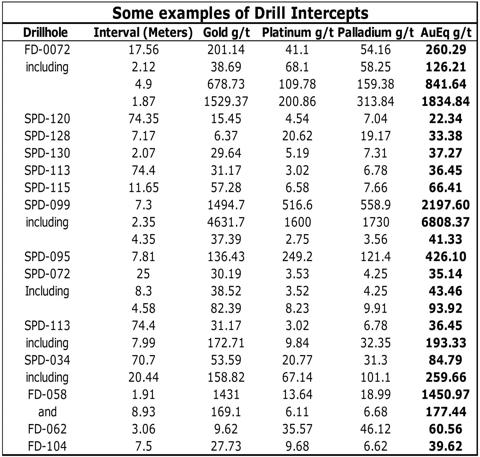 VALUATION: NAV, NAV Multiple

VALUATION: DISCOUNTED CASH FLOW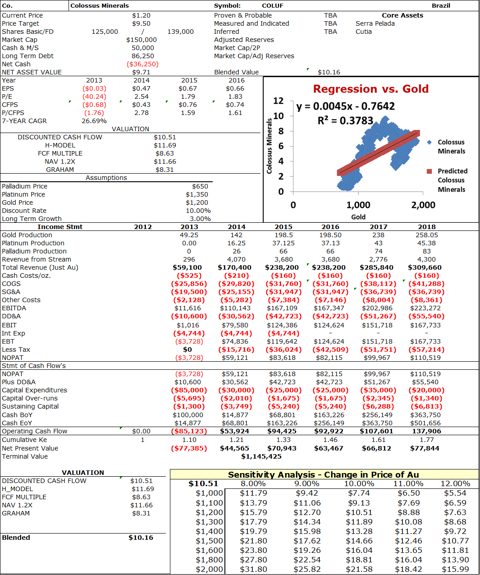 MANAGEMENT
Claudio Mancuso [CEO] - Mr. Mancuso has over 10 years' experience in the mining industry and capital markets. Prior to joining Colossus, he served as Vice President, Treasurer of Agnico-Eagle Mines Limited, a position he held since January 2009. Prior to that appointment, he served Agnico-Eagle in various financial management positions. Prior to joining Agnico-Eagle in 2002, he held positions at the Ontario Securities Commission and BDO Dunwoody LLP, a public accounting firm. Mr. Mancuso is a graduate of the University of Waterloo and is a Chartered Accountant.
Paulo Fagundas [COO] - Mr. Fagundes has 30 years experience in the mining industry and brings strong operating experience specifically in South American mining projects. Mr. Fagundes was most recently General Manager of the Mercedes Mine in Mexico for Yamana Desenvolvimento Mineral Ltda. where he was responsible for the development of the underground gold mine, and from 2007 to 2009 he was General Manager of Yamana's San Andres Mine in Honduras where he was responsible for operations, administration and a successful expansion of the project. He previously held senior operating positions with Camargo Correa Group, a Brazilian conglomerate and Companhia Brasileira do Cobre, a Brazilian mining company, where he was Manager of the Sao Luiz underground mine. Mr. Fagundes graduated from Universidade Federal do Rio Grande do Sul in 1981 with a Bachelor of Science in Mining Engineering, and from Universidade de São Paulo in 1999 with an MBA in Business Management -Human Resources. Mr. Fagundes is fluent in Portuguese, Spanish and English.
Other large roles such as the VP of exploration and VP of finance have spent time as Agnico-eagle mines and New Gold. To boot, the BOD is filled will many who have been successful at companies such as Kinross, Auralian and Barrick.
Disclosure: I am long OTC:COLUF, SAND. I wrote this article myself, and it expresses my own opinions. I am not receiving compensation for it (other than from Seeking Alpha). I have no business relationship with any company whose stock is mentioned in this article.