As we approach the end of the first half of 2013, I have started to preview things to come during the second half of this year. As one who covers a lot of dividend ideas, I'm currently looking at names that should announce dividend raises over the next few months. Last week, I focused on Microsoft (NASDAQ:MSFT), analyzing the tech giant's dividend raise prospects. This week, I'll shift my focus to another tech giant, this time in the chip space. I'm talking about Intel (NASDAQ:INTC), which has the highest dividend yield among large cap tech names. Today, I'll look at Intel's recent dividend history and discuss the balance sheet's financial flexibility. I'll also look at Intel's dividend against others in the space, and discuss how much of a raise I think is coming. In the end, I'll show why Intel needs to remain a dividend champion.
Intel's recent dividend history:
Intel has raised its dividend nicely over the past ten years, with increases coming in almost every year, except for once during the 2009 financial crisis. The chart below shows Intel's quarterly dividend since 2004.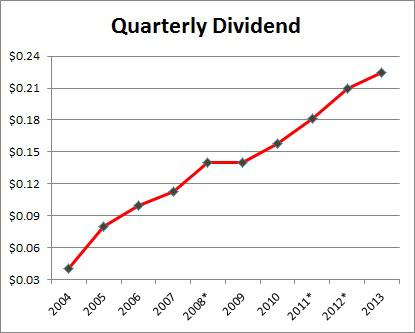 *According to Intel's dividend history, Intel's first payment of 2008 was 12.75 cents per share, but the company raised that dividend to 14 cents per share for the remaining three payments of that year. Intel's first two payments of 2011 were 18.12 cents per share. Since then, Intel has raised its dividend with the third payment of the year. The final two payments of 2011 and first two of 2012 were 21 cents per quarter. For the third payment of 2012, Intel raised the dividend to 22.5 cents per quarter, the current rate.
From 2007 to the current rate started in 2012, Intel has doubled its dividend. As you saw in the chart above, the dividend was just 4 cents per quarter in 2004. It now stands at 22.5 cents per quarter, with an expected raise coming. As of Friday's close, Intel's annual yield stood at 3.72% thanks to the 90 cent per year figure.
How that yield has fared:
It's been a fairly volatile year for shares of Intel, as you can see from the chart below. A tough PC market really hurt the chip giant, and Intel shares started to really fall after their September 2012 revenue warning. Add in the fact that Intel CEO Paul Otellini decided to retire, and shares that were just under $27 fell to almost $19. That's a spectacular fall for a company of this size.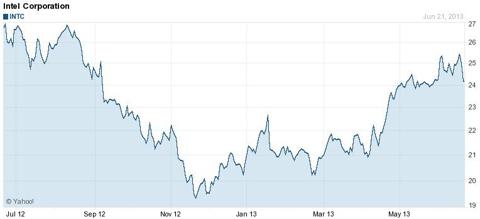 (Source: Yahoo! Finance)
With a stock price so volatile, you can expect that Intel's annual dividend yield has seen some tremendous fluctuations as well. It was May 7th last year when Intel announced the most recent dividend raise. The highest point that Intel's stock traded at after that announcement was $27.98, at which point the yield would have been 3.22%. That's the lowest yield we've seen since the raise. The chart below shows the average monthly yield we've seen since the dividend raise, using the average daily close in the stock for that month (unadjusted for dividend payments). June 2013 numbers are as of Friday.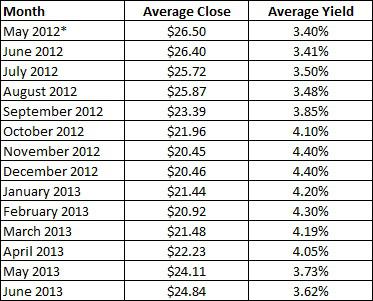 *May 2012 numbers are from May 7th on the day that the company announced the dividend raise.
Obviously, as Intel's stock dropped, the annual dividend yield increased. There was about a four-month period where the dividend was above 4.25%. Intel's 52-week low is $19.23, at which point the dividend yield hit its high of 4.68%. On that day, November 21st, Intel yielded 185 more basis points per year than a 30-Year US Treasury Bond. With the rally in Intel shares since then, the yield has come down about 100 basis points, but Intel still yielded about 15 basis points more than a 30-Year bond as of Friday. Intel's recent high was $25.98, at which point the yield was down to 3.46%.
Analyzing the balance sheet:
One thing that investors must always pay attention to when it comes to dividend paying companies is the balance sheet. When looking for a dividend raise, the company must have the financial flexibility to do so. The following table shows some key balance sheet numbers for Intel at the end of Q1 over the past few years. Dollar values in millions.

*Includes cash and equivalents, short-term investments, trading assets, marketable equity securities, and other long-term investments.
I included Intel's longer-term investments, as that's how I've been calculating Intel's "cash and investments pile" for some time now. But investors should know that some of these investments are not exactly investments that Intel will be looking to get out of to pay dividends. For instance, 89% of the $4.7 billion in "marketable equity securities," or about $4.2 billion, was Intel's investment in ASML (NASDAQ:ASML) that you may remember. A discussion of this investment can be found on Page 38 of their most recent 10-Q filing.
Intel has certainly increased the size of its balance sheet in recent years, and that has come with the addition of $11 billion in debt over the past two years. Some of those investments made last year were due to a debt raise, and the company will also use some of this cash to buy back stock. Right now, I do not see any problems with Intel's balance sheet. I would only caution the company not to push the debt level too high, especially as interest rates have risen recently.
Additionally, investors need to be cautious when looking at Intel's cash flow statement, realizing that this is a transitional period for the company. Right now, as Intel gears up for a lot of new product launches, margins have come down. That process started with tough times last year, and it has sent net income and earnings per share a bit lower. Investors might look at Intel's Q1 cash flow statement and see that Intel had cash flow from operating activities of $4.285 billion in Q1 this year versus $2.972 billion in the year ago period. That would normally be great, but you have to look beyond the numbers. Intel's net income was down by $700 million in this year's period, although that was partially offset by add-backs from depreciation, amortization, and share-based expenses. In this year's Q1, declines in inventory and accounts receivable helped cash flows by $665 million. That's normally good, but accounts receivable can't go lower than $0, and once inventories get to a certain point, Intel will need to use cash to replenish them. In last year's Q1, those two balance sheet items hurt cash flow by $768 million. So just those two items represented more than $1.4 billion in "additional" cash flow this year. That makes Intel's cash flow from operations seem much better, but you have to look at the whole picture. Some of those items won't occur every quarter.
My overall point here is that it will take a few more quarters before Intel's net income starts to improve, and that will help cash flow a bit. At that time, you will start to see the balance sheet improve a little more, and Intel should have more cash. That could help with Intel's buyback program as well. I personally think Intel made a mistake in Q1, as they only bought back $533 million worth of stock in the quarter. In the prior year's Q1, they bought back $1.5 billion worth. You may remember the chart above with the monthly average close in stock prices. In Q1, the average close was approximately $21.28. So far in Q2, the average is about $23.73, or 11.5% higher. Intel should have taken advantage of its stock being low, and that does have some negative impacts going forward. It will take more money to buy back stock, and that means that they won't be able to purchase as many shares, negatively impacting the share count and earnings per share.
Other large cap tech dividends:
There are four large cap US technology names I look at when it comes to dividends. All four have annual yields over 2.50%, and market caps over $100 billion. Intel and Microsoft are two of them, with Apple (NASDAQ:AAPL) and Cisco Systems (NASDAQ:CSCO) being the others. The chart below shows a comparison of the four yields as of Friday's close.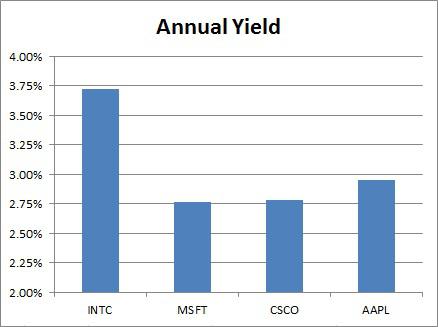 Intel maintains a solid 77 basis point lead over Apple in terms of dividend yield, and a roughly 95 basis point lead over Microsoft and Cisco. Intel had a much larger lead in recent years, but Apple's dividend restart and subsequent raise, along with Cisco's massive dividend hike last year have narrowed the gap. I don't think it is a stretch to assume that Apple's dividend yield will rival that of Intel's in a couple of years.
Looking at potential raises:
With the dividend currently at 22.5 cents per quarter, it is time to start discussing some raises. The absolute minimum raise would be a raise to 23 cents per quarter, a 2.22% raise. I see this as the least likely possibility for any raise. A raise of one penny per quarter would put the dividend at 23.5 cents per quarter. This would be a 4.44% raise, and would give the dividend a total of 94 cents per year. As of Friday's close, the annual yield would be 3.89%.
I think we start getting into the more likely scenario with a raise of 1.5 cents per quarter to 24 cents. This is a 6.67% raise, putting the annual dividend at 96 cents, yielding 3.97% as of Friday's close. Based on Friday's close, it would take a quarterly dividend of 24.19 cents to get the dividend yield back above 4.00%. If Intel is trading around these levels when they go to make the announcement, I would expect to see a dividend raise get the yield back to or above the 4.00% level.
The next two and half-cent raise points are in my expected range for the dividend raise. A two cent raise to 24.5 cents per quarter puts the dividend at 98 cents per year and a 4.05% yield based on Friday's close. This would be a raise of 8.89%. My other possibility, the top end of my expected range, would be a 2.5 cent (11.11%) raise to 25 cents per quarter. Like I said in my Microsoft article, I think the $1.00 a year level is a key psychological point for a company's dividend. If Intel believes they have the cash to do so, this would be a tremendous raise. At $1.00 per year, the yield would be 4.13% as of Friday's close.
To recap, I think Intel's next quarterly dividend would be in the $0.24 to $0.25 area. It's possible that they go slightly less at $0.235 per quarter, but I think that would be a disappointment to investors. My expected range puts the dividend yield back around the 4.00% level, maybe even above it. Now, we don't know yet when the raise will come, so it could be a couple of months before we hear about it. If the stock really moves between now and then, it could significantly change the math. However, I expect Intel will be looking to get the dividend yield back towards 4.00% if possible. If the stock is at $26 or $28 when they go to announce a raise, it won't happen though.
Income versus growth:
Intel has had the higher dividend than most of its peers for quite some time, but it needs that extra yield to be attractive to investors. Last year, Intel reported a yearly decline in revenues, and current estimates don't even have them getting back to 2011 levels this year. Additionally, earnings per share are expected to fall to $1.87 this year, down from $2.13 last year and $2.39 the year before. The fall to $2.13 in 2012 includes the fact that Intel used its buyback to lower the share count by 4.64%. Many expect Intel to reduce the share count even further this year. That means that net income is falling at an even faster pace, and that has consequences for cash flow. When you have a name that is showing no revenue growth and plunging earnings, you need to give investors a reason to buy. The dividend has been that reason in recent years.
With the other names I've mentioned, you get more growth, so you don't need as much of a dividend. Microsoft is expected to grow revenues in the mid to upper single digits this fiscal year (ending June) and next. While Microsoft is expected to see earnings basically flat this year, they aren't expected to decline, and they are expected to jump in the following fiscal year.
The same can basically be said about Cisco. This year and next, revenues are expected to rise by about 5.5% each year. Cisco is expected to have decent earnings growth this year and next, with non-GAAP earnings going from $1.85 to $2.10 over the two year period. Cisco only started its dividend in 2011, and they've gone from 6 cents to 17 cents in just two years.
Apple is expected to see high single digit revenue growth this fiscal year (low double digit if you adjust for the extra week in the prior fiscal year), which ends in September, and next. Apple is expected to see a drop in earnings this year, but a rebound next year. Apple and Intel are working together, with Intel's Haswell CPUs going into some of Apple's products. Intel's time to shine is coming, and that's why both names are second half growth stories to watch. An expanded partnership between the two names would be good for both. In Apple's case, the dividend was restarted in 2012 after a long absence. Apple increased its dividend by 15% at its latest quarterly report, and I expect more significant raises to come.
With these three names expected to show a bit more revenue growth, and earnings expected to do better than Intel's, it's not a surprise that their dividends are lower. Over the next year or two, as Intel starts to show more growth, it won't need to rely on such a high dividend to keep investors as pleased. The other names on my list might need to boost their dividends a bit faster if growth starts to slow down. For now, each of these four names provides a decent balance.
Final Thoughts:
It's almost time for Intel to raise its dividend again. The company has had an industry leading dividend in recent years, and a dividend raise should put the annual yield back around the 4.00% level. Intel needs this higher yield to keep the stock attractive, because the company is in a transitional period where revenues are flat and earnings are falling. Look for Intel to raise the dividend to either $0.24 or $0.25 in the coming months, which should boost the opinion of this name.
Disclosure: I have no positions in any stocks mentioned, and no plans to initiate any positions within the next 72 hours. I wrote this article myself, and it expresses my own opinions. I am not receiving compensation for it (other than from Seeking Alpha). I have no business relationship with any company whose stock is mentioned in this article.
Additional disclosure: Investors are always reminded that before making any investment, you should do your own proper due diligence on any name directly or indirectly mentioned in this article. Investors should also consider seeking advice from a broker or financial adviser before making any investment decisions. Any material in this article should be considered general information, and not relied on as a formal investment recommendation.