The home builders have been beaten down like a red headed step child. Everybody knows they are dead in the water. Who would want to invest in US housing after all? This sector helped lead the crash and expose the US financial system for the Ponzi scheme it was/is.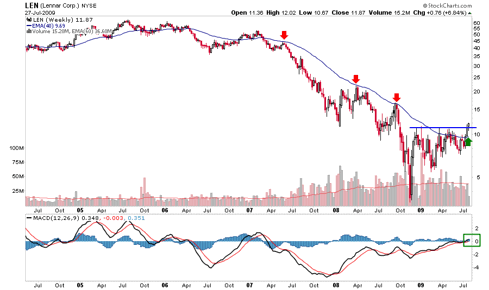 Well, that is all well and good. But any chart geek taking a look at this - at least any bottom feeder chart geek - is going to get pretty excited over the weekly structure of Lennar (LEN), which is the first and only chart I pulled up on the sector. This bottom formation looks a lot like the one I followed to ultimate upside expression in NFTRH on my favorite gold mining exploration company, FRG. Yes, totally different sectors but same charts.
NFTRH will have to think about following this sector and looking at other home builders, along with other interesting sectors as we work our way through the low volume summer dream to decision time - real or Memorex? You know, charts like this tell me 'hey, it could be real'. Stay tuned. Of course the caveat is that the weekly candle still has 4 more sessions to go for a breakout close.
Disclosure: No positions.