The first article of the series has introduced the Carbonate Triangle of the renowned Canadian oil sands. The region is the world's third largest oil reserve with its rich carbonate-hosted bitumen deposit located in the northern Alberta's deep underground. Precisely, the Carbonate Triangle is situated between three major bitumen areas, Athabasca, Cold Lake and Peace River.
In today's investment guide on the Carbonate Triangle, I will briefly recap the main characteristics of the Cold Lake area to have a better assessment of its potential. Then, I will introduce a small-cap oil producer with a good upside for growth, involved in that specific play.
So far, I looked into the following producers involved in the first region of the Carbonate Triangle, Peace River:
The current area, Cold Lake, has been discussed in a past article as well with the following oil producer:
Notably, an analysis of the current operations of the company will be examined with the objective to give the most complete information available to the potential investors before deciding to seize the opportunity that the 54,132 square miles of the Carbonate Triangle has to offer. Let's start by reviewing briefly Cold Lake, the second larger oil sands deposit of the Carbonate Triangle.
The Cold Lake Region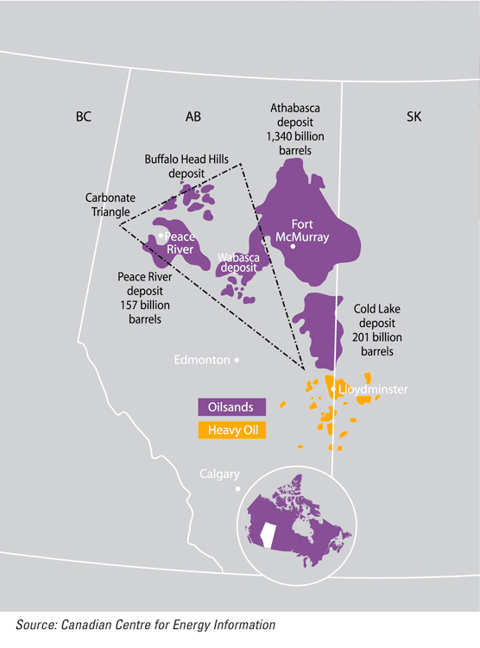 Historically, the majority of the primary bitumen has been produced from the Cold Lake oil sands area using vertical wells and progressive cavity pumps that tolerate the large volumes of sand produced with the bitumen. More recently, with improvements in horizontal and multilateral drilling technology, primary bitumen is being produced from the Athabasca and Peace River oil sands areas.
The Cold Lake oil sands lie within a package of stacked incised valleys that rest encased within more regional deltaic, shoreface sands and marine mud. These overlie the fluvial and estuarine sands of the Clearwater formation. This formation is overlain by regional deltaic, progradational barrier complexes and incised valley-fills of the Lower and Upper Grand Rapids formation, which extends to the top of Mannville group.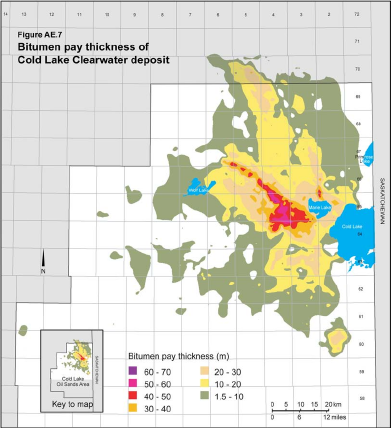 Source: ERCB
The entire Cold Lake area is estimated to contain 201 billion barrels of initial in-place volumes, within a total oil sands reserve estimated at 1.8 trillion barrels for the entire Carbonate Triangle. Approximately 8% of the 201 billion barrels would be accessible given the available technologies, which would represent 16.08 billion of recoverable barrels for Cold Lake.
Pengrowth Energy Corporation (NYSE:PGH)
Pengrowth is an intermediate Canadian oil and natural gas producer headquartered in Calgary, Alberta. The corporation created a history, over the last 25 years, of consistently paying a dividend to its investors while differentiating its strategy and exploiting the opportunities and challenges presented by the ongoing paradigm shift in the business.
Source: Pengrowth's June 2013 Corporate Presentation
The producer owns in all, approximately 2 million net acres of land in Alberta and British Columbia. Notably, its one million undeveloped acres of land in the Western Canadian Sedimentary Basin combined with its unconventional thermal development experience has sustaining capital advantages, long reserve life and low declines, which are suited for long-term dividend sustainability, the main objective of its strategy. This focused strategy drives growth as well as financial resiliency for the company.
Pengrowth has a production mix of about 55% of liquids and 45% of gas. Notably, the company is producing 9,500Boe/d (barrels of oil equivalent per day) of natural gas, 28,000Boe/d of light oil and 4,000Boe/d of thermal oil.
The Promising Lingbergh Thermal Project
The Lindbergh thermal project currently in development represents the cornerstone of Pengrowth's strategy to become a sustainable energy producer. Rather than being located in the high-cost Fort McMurray area, Lindbergh is located in East Central Alberta, in the Cold Lake region, owning 43 sections of land.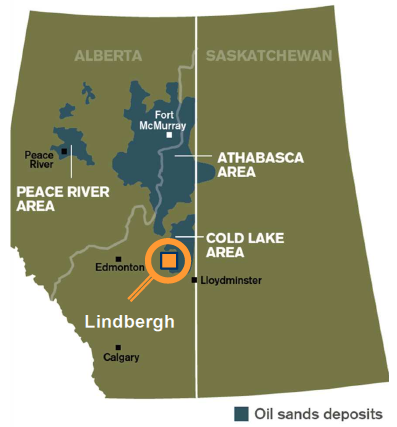 Source: Pengrowth's June 2013 Corporate Presentation
The project targets the Lloydminster formation whose greater depth, relative to the more heavily developed McMurray formation, creates higher pressure and better heat transfer.
In February 2012, the company began steam injection with the SAGD process, consisting of two well pairs. During the year, the results outperformed expectations as the two well pairs together produced in excess of 500,000Bls of bitumen since commencing production in June 2012.
These excellent pilot results and reserve potential have given Pengrowth the confidence needed to accelerate and expand the first 12,500Bls/day phase of commercial development in January 2013. In aggregate, as of February 2013, the company reported production in excess of 1,600Bls/d of bitumen, demonstrated faster than expected reservoir response to steam and lower than expected steam/oil and diluent blending ratios.
Lindbergh is expected to yield a production profile requiring much lower sustaining capital than conventional or other unconventional opportunities. These attributes, when combined with a low-decline rate, are anticipated to produce stable cash flows. As a matter of fact, Pengrowth is anticipating free cash flow of roughly $600 million per annum once producing at its peak based on a $90/Bls WTI price, a 23% heavy oil differential and a par foreign exchange rate.
Source: Pengrowth's June 2013 Corporate Presentation
Moreover, the corporation has estimated its resource potential at 820 million barrels of exploitable bitumen initially-in-place with a net present value of $1.4 billion. Lindbergh is very well located, with four heavy pipelines in close proximity that all terminate at Hardisty's terminal. At the end of 2012, the company reported its total net proved reserves of 300.1 million barrels of oil equivalent.
This project remains on schedule and on budget with significant production expected by late 2014. By early 2015, phase I is expected to reach 12,500Bls/d of bitumen. Pengrowth projected $300 million of its 2013 capex to Lindbergh's phase I. Additionally, the company plans to divest up to $700 million in assets this year to improve its financial flexibility and funding capability for Lindbergh in 2013 and 2014.
Furthermore, by the end of 2018, with two more additional expansion phases, total Lindbergh production is expected to reach 50,000Bls/d of bitumen.
Source: Pengrowth's June 2013 Corporate Presentation
The company plans to partially fund subsequent Lindbergh development from incremental cash flow from its Phase I production and mitigate cash flow risk through hedging strategies.
Core Financials
According to its Q1 2013 earnings release, Pengrowth reported significant increase in daily production from 75,618Boe in Q1 2012 to 89,702Boe for Q1 2013, in line with its production guidance. YOY revenue increased as well to $391 million from $329 million, a growth of 18.8%. However, the operating expenses rose as expected from $13.10/Boe to $14.6/Boe, mainly attributed with the higher capex allowed from last year.
Total long-term debt increased to $1.63 billion in Q1 2013, a rise of 56.7% over Q1 2012. $166 million were injected in capex from YOY of $156 million. Its total debt to equity ratio is not that high compared to its peer group, its ratio being at 39.94 compared to its industry's average of 86.20.
The corporation projects its production to grow from an estimated 81,300Boe/d this year to 96,000Boe/d by 2018, generating cash flow from its operations with $629 million this year to almost doubling it in 2018 with more than $1.2 billion.
The producer has a 5-year average net margin profit of 11.69 compared to 2.32 of its industry, suggesting that Pengrowth's management is doing well in terms of profitability while operating. However, it will need to improve its efficiency with its shareholders' money, as its TTM return on equity ratio reveals an anomaly at -1.43. Returns on invested capital have averaged less than half of the company's weighted average cost of capital, which is cause for concerns.
Pengrowth's dividend yields an enticing 9.38% compared to its peers' average of 1.55%. The company is committed to pay a dividend of $0.04/share per month and made a strong statement of its dividend's policy through its 25-year past payout's commitment.
Bottom Line
Lindbergh thermal project brings a lot of upside potential for the company's future bitumen production. Let's see why I believe that Pengrowth is a strong contender for an investment potential:
Managing revenue through hedging
High quality thermal growth project with 62% growth potential in daily production
Strategy focused on ensuring sustainability, supporting a high dividend and generating significant cash flow
Large and diversified portfolio of assets that are weighted 55% liquids and 45% gas production
Morningstar's fair price assessment of 6$/share, current stock price trading in the $5/share range
On the downside, let's see the main risk possibilities to keep in mind before investing:
Substantial and prolonged drop in the price of crude oil would put pressure on Pengrowth's earnings and cash flow
Relatively new on the exploration operations rather than exploitation and production
Pursuit of several projects at a time for a small-cap producer could impact its financial health in the long run
Disclosure: I have no positions in any stocks mentioned, and no plans to initiate any positions within the next 72 hours. I wrote this article myself, and it expresses my own opinions. I am not receiving compensation for it (other than from Seeking Alpha). I have no business relationship with any company whose stock is mentioned in this article.