Allergan (NYSE:AGN) shares plunged yet once again on Friday, this time based on valuation concerns prompted by a downgrade by Goldman, and after the FDA announced a non-clinical study pathway for generics to manufacture Restasis. The stock gapped down and was off another 10% in Monday's early morning session after being downgraded by Deutsche Bank and Leerink Swann. At current prices in the $83 range, shares are now off about 30% from its $116-plus peak just two months ago, losing almost $10 billion in market cap.
AGN, perhaps best known as the manufacturer of Botox, is a global multi-specialty pharmaceutical company operating in the U.S., Europe, Latin America, and Asia-Pacific. It develops branded prescription and over-the-counter (OTC) drugs for ophthalmic, neurological, and dermatological disorders. The drug in focus, Restasis, is a cyclosporine ophthalmic emulsion prescribed for the treatment of chronic dry eye that can result from the reduced ability of the eye to produce tears due to inflammation. The condition affects more than 25 million people in the U.S. alone, and is one of the most common reasons people visit their eye care professional. Restasis sales are projected to account for $850 million of the company's estimated $6.71 billion in sales for FY 2013, ranking second behind Botox that is expected to contribute almost $2 billion.
The decline on Friday and Monday follows another sharp decline in the stock at the beginning of last month, after the company reported its most recent Q1 report. While the company narrowly beat both analyst earnings and revenue estimates, coming in at 98c and $1.46 billion vs. 97c and $1.44 billion, it was the earnings conference call that precipitated that decline. During the call management indicated slow progress and a delay in eventual approval of its macular degeneration drug DARPin, weakening its competitive position -- especially vs. rival Regeneron Pharmaceutical (NASDAQ:REGN), whose shares shot up over 25% in the next few days on the news.
While many investors may have been caught unaware, it seems that leading funds were already rushing out of AGN, based most likely on valuation concerns, during the stock's steep 25% ascent during Q1. AGN shares were among the top sells by healthcare sector-focused funds in the latest available March quarter. The 23 healthcare sector-focused funds that we track on our website, GuruFundPicks.com, collectively or in consensus, sold a net 1.05 million shares, or $104.5 million, accounting for more than 70% of the 1.50 million shares that it held in the prior quarter. The sellers included New York-based Healthcor Group, with $2.29 billion in 13-F assets at the end of Q1, and investing primarily in later-stage developmental and growing mid-sized companies in the healthcare sector; the world's largest healthcare investment firm Orbimed Advisors, with $5 billion in assets under management; and Hambrecht & Quist Capital Management (now called Tekla Capital Management), with $700 million in 13-F assets.
Besides healthcare sector-focused funds, guru fund managers -- based on our database of 79 guru funds -- were also not very enthusiastic about AGN in Q1, and they collectively or in consensus added only a minor 7,060 shares to their 1.28 million share prior quarter position in the company. Furthermore, 57 billionaires and billionaire fund managers, and 54 new masters fund managers, were also bearish on AGN in Q1. They collectively cut a net 0.99 million and 0.93 million shares during Q1 from their 2.82 million and 2.43 million share prior quarter positions, respectively.
It is our contention, based on observing similar predictive power in leading fund manager top picks' in other industries -- some of which are documented in many of our articles on SeekingAlpha (including one on small-cap biotech, another on telecom equipment, and others) -- that when a large number of these leading fund managers agree on a particular idea, that it is worth paying attention to. Moreover, one is well-advised to pay heed to the moves of these fund managers, especially when they move collectively or in consensus on a particular stock or idea. In our research of their top picks over prior quarters, we have observed that top-ranked stocks (rank > 4.5 on a 1-to-5 scale) based on consensus picks' have consistently outperformed both lower-ranked stocks and the markets.
At current prices in the $83 range, AGN shares trade at a slight premium 15-16x FY 2014 earnings compared to the 14.9x average for its peers in the large-cap pharmaceuticals group (based on financial data from Zacks.com). However, the premium may be justified given that earnings are projected to rise at a much stronger 16.1% annual growth rate from $4.40 in FY 2012 to $5.45 in FY 2014, compared to the average 6.5% annual earnings growth rate for its peers. The stock in its most recent descent violently broke through the 200-day moving average, and is most likely to consolidate in the $80-$85 range before heading back higher.
We believe that while investors that following the investing activities of these leading fund managers, including healthcare sector-focused funds, could have saved themselves some pain by exiting the stock before this most recent decline below $100, it may be a bit late to exit or short the stock at these levels. Overall, AGN is a great growth story, and while the stock could languish in the low-$80s for a while, it is unlikely to fall significantly below this level, and the next move is most likely to the upside. In this case, we would heed legendary Warren Buffet's advice to be fearful when others are greedy, and be greedy when others are fearful. At near $80, the stock is now in buy territory, with minimal risk to the downside, and offers great long-term upside potential for the patient investor.
Besides AGN, healthcare sector-focused investors also collectively or in consensus sold the following large-cap ethical pharmaceutical stocks (see table below):
Click to enlarge image.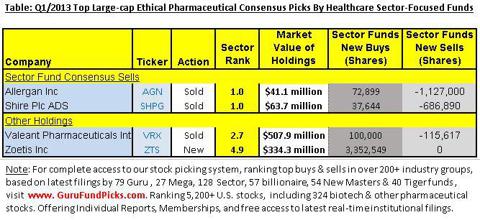 Shire Plc (NASDAQ:SHPG), an Irish developer of therapeutics for behavioral health, gastrointestinal conditions, and rare genetic diseases, in which healthcare sector-focused funds collectively or in consensus sold a net 0.65 million shares or $61.5 million, cutting almost half of the 1.32 million share position that they held in the prior quarter.
Valeant Pharmaceuticals (NYSE:VRX), a developer of primarily branded drugs to treat central nervous system disorders, pain and cardiovascular disease, in which healthcare sector-focused funds collectively or in consensus sold a net 15,617 shares or $1.3 million, cutting a minor 0.5% from its 3.37 million share prior quarter position.
Also, healthcare sector-focused investors collectively or in consensus added a new 3.35 million share position in Zoetis (NYSE:ZTS), which develops, manufactures, and markets animal health medicines and vaccines, with a focus on farm and companion animals. The company was recently spun off from U.S.-based global pharmaceutical giant Pfizer (NYSE:PFE), and operates worldwide including the U.S., Canada, Europe, Latin America, Asia-Pacific, the Middle East, and Africa.
General Methodology and Background Information
The latest available institutional 13-F filings of 128 sector-focused hedge fund and mutual fund managers, including seven focused on precious metals, were analyzed to determine their capital allocation among different industry groupings, and to determine their favorite picks and pans in each group. These sector-focused fund managers allocate most or all of their resources to their sector of specialization, and the argument is that they have the resources and the access to information, knowledge and expertise to conduct extensive due diligence in informing their investment decisions. When these sector-focused fund managers invest and maybe even converge on a specific investment idea, the idea deserves consideration for further investigation. The savvy investor may then leverage this information either as a starting point to conduct his own due diligence.
This article is part of a series on institutional holdings in various industry groups and sectors, and other articles in the series for this and prior quarters can be accessed from our author page.
Credit: Fundamental data in this article were based on SEC filings, Zacks Investment Research, Thomson Reuters and Briefing.com. The information and data is believed to be accurate, but no guarantees or representations are made.
Disclosure: I have no positions in any stocks mentioned, and no plans to initiate any positions within the next 72 hours.
Business relationship disclosure: Business Relationship Disclosure: The article has been written by the Hedge and Mutual Fund Analyst at GuruFundPicks.com. GuruFundPicks.com is not receiving compensation for it (other than from Seeking Alpha). GuruFundPicks.com has no business relationship with any company whose stock is mentioned in this article.
Disclaimer: Material presented here is for informational purposes only. Nothing in this article should be taken as a solicitation to purchase or sell securities. Before buying or selling any stock you should do your own research and reach your own conclusion. Further, these are our 'opinions' and we may be wrong. We may have positions in securities mentioned in this article. You should take this into consideration before acting on any advice given in this article. If this makes you uncomfortable, then do not listen to our thoughts and opinions. The contents of this article do not take into consideration your individual investment objectives so consult with your own financial adviser before making an investment decision. Investing includes certain risks including loss of principal.