It could easily be argued that, scale aside, Bank of the Ozarks (NASDAQ:OZRK) is the type of bank every other bank would like to be. Margins, growth and consistent returns are through the roof but the real question is whether or not Bank of the Ozarks is the bank all investors should put their money on?
In a time where interest margins have been punished by a difficult to deal with yield curve, OZRK's net interest margins have thrived and averaged 5.89% over the most recent five quarters. During the same time, Wells Fargo, Bank of America, Fifth Third and KeyCorp only managed to average a NIM of 3.7%, 2.36%, 3.53% and 3.13%, respectively.
Note: I have chosen these larger banks for comparison because they are better known and encompass a mix of banks that have been consistently performing above average both on a valuation and fundamental basis.
Net Interest Margins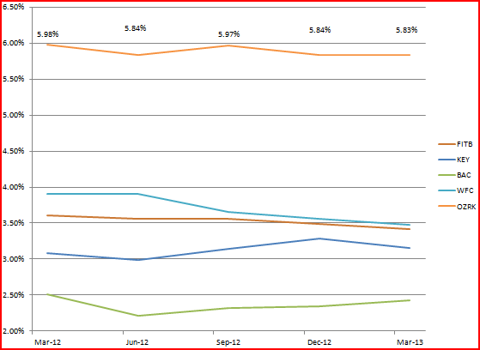 In this article, I will be providing a review of Bank of the Ozarks to establish its solid and envious banking results as well as discussing the company's current valuation. I am not a shareholder and will not be purchasing any shares in the upcoming months unless an unforeseen and drastic drop were to occur in the share price. At this time, I have ultimately concluded that the shares are fully priced with some of their future earnings already incorporated into the market value. This is however not a surprise, considering the banks consistent performance, and not something that I would suggest as a shorting opportunity because I do not expect the company to slow down its growth anytime soon.
Profile
Bank of the Ozarks is a $1.55 billion bank that has been managed, since 1979, by George Gleason. George Gleason is the Chairman and has grown the company 140 times since he purchased the bank when it had assets of only $28 million. Below is a look of the number of bank branches by location:
Branches by Location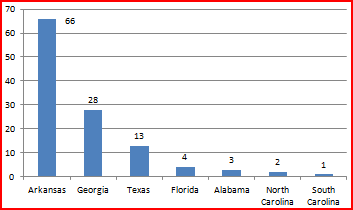 Over the past years, OZRK has consistently driven growth by buying profitable "live" banks at a discount which has helped the company increase revenues and book value substantially. Some recent acquisitions are as follows:
Recent announcement to acquire the First National Bank of Shelby in Shelby North Carolina, 1/24/13.
Completed acquisition of Genala Banc, Inc. in Geneva, Alabama; 12/31/12. Acquisition announcement made on 10/4/12.
Acquisitions like these have come readily and helped OZRK grow its book value over the past five periods from $12.47 in Mar-12 to $14.49 at the end of Mar-13 (up 16.19%). To do this, OZRK has averaged a ROE of 16.59% and a ROA of 2.04%. Of the banks cited earlier, only WFC comes close to this performance by averaging a ROE of 13% and a ROA of 1.4% during the same time. This is exceptional and unfortunately something that comes with an exceptional price tag. As you can see below, OZRK trades with a P/B approximately 2X's that of WFC.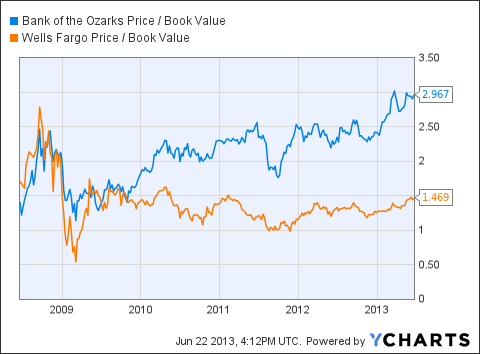 OZRK Price / Book Value data by YCharts
How has OZRK managed these types of returns you may be asking? Good question!
1. Low costs: OZRK's deposits, a bank's lowest costing capital, accounts for 87.3% of the bank's liabilities. This compares to WFC's 79.4%, FITB's 85.3% KEY's 83.3% and BAC's 56.5%.
2. Safe loan portfolio: Non-accrual loans only amount to 0.3% of OZRK's $2.74 billion loan portfolio (over 30% of which are covered). And, OZRK has an allowance that covers this amount approximately 4.5 times over.
3. Assets/Equity is a good measure that plays a big role in determining how profitable a bank will be but, at only 7.55X's, OZRK's A/E is below all of its peers who currently carry an A/E within the range of 8.79 (NYSE:WFC) to 9.17 (NYSE:BAC). On the other hand, the returns speak for themselves and this conservative approach allows OZRK to lend out a larger percentage of its low cost deposits. As of Mar-13, OZRK had a L/D ratio of 91.6%, only beat by FITB's 96.4% and much higher than BAC, WFC and KEY who all have a L/D ratio close to 80%.
4. Ridiculously low efficiency ratio: While most banks dream of 60% OZRK has averaged over the past five quarters 46.6%. Only WFC's 58% average comes close.
Efficiency Ratios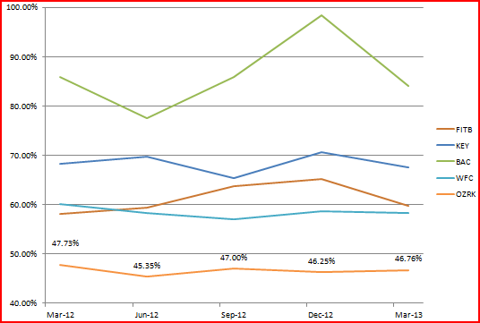 Below is a look at the company's revenue composition (millions):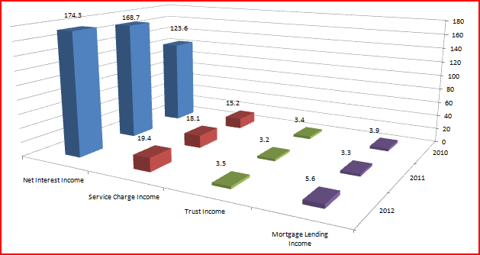 Bottom Line
OZRK's performance has been rewarded this year with shares up 32.39% YTD and up 57.48% from their 52 week low of $27.90. At $27.90 per share, they would be valued with a similar P/B as WFC but I do believe they deserve a little more, just not so sure about 2Xs. Analysts have a mean price target of $44.43 and a median price target of $48.00 which implies a little more growth but I imagine those shorting the stock would beg to differ (short interest is currently 12.5% of float). I would advise anyone to put this on the pull back watch list. It's hard to find a better bank out there right now but the price has to be right.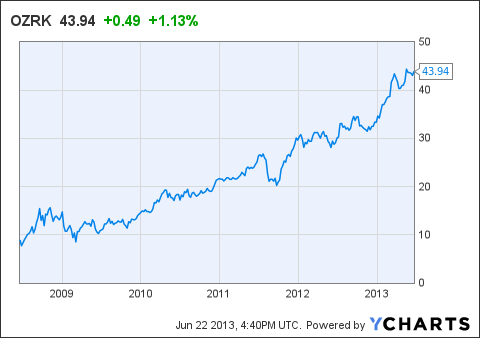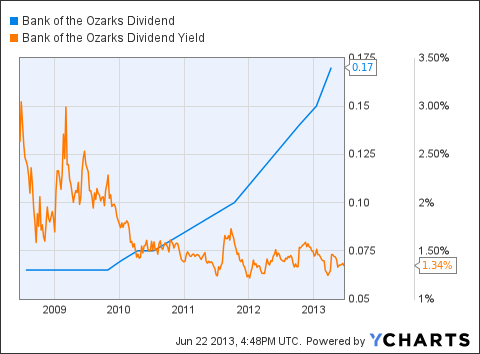 OZRK Dividend data by YCharts
Disclosure: I am long WFC. I wrote this article myself, and it expresses my own opinions. I am not receiving compensation for it (other than from Seeking Alpha). I have no business relationship with any company whose stock is mentioned in this article.