CenturyLink (NYSE:CTL) was the unquestioned, undisputed King of the Mountain in the rural incumbent local telephone segment before it announced its shockingly deep and unexpected dividend cut on February 13th. We have been keeping our eyes out on Frontier Communications Corporation (NYSE:FTR) because we have a keen interest in New England based companies and its dividend yield is 410bp higher than CenturyLink's. We were pleased to see that its rate of decline for revenues and wireline subscribers narrowed in H2 2012. However, we were concerned that its revenue trends regressed in Q1 2013 (-3.50% in H2 2012 but -4.95% in Q1 2013). We also like that although Frontier's revenue trends aren't as good as CenturyLink's, its revenue trends have seen recent improvements and we expect this to help it keep its dividend payout around 50% of its free cash flows.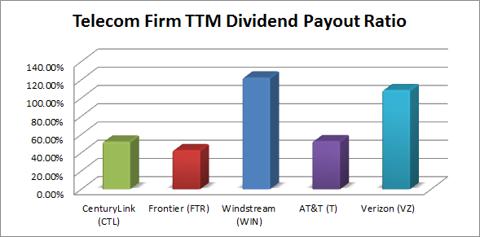 Source: Bloomberg LP
Frontier recently reported EPS of $.05, which missed the consensus analyst estimates by a penny. Frontier's share price declined by 13% in the wake of CenturyLink announcing its dividend cut on February 13th before bouncing back after announcing that it was not cutting its dividend further. However, FTR's continued declines in revenue, operating income, EPS and free cash flows on a year-over-year basis is becoming such a recurring, obvious headline that we could probably write our research reports in advance of receiving the actual numbers from the earnings release. FTR's share price on July 31st 2012 was $3.92 before it released its earnings. Frontier's earnings results from Q2 2012 to Q4 2012 had shown signs of encouragement and its share price even touched $5.15 in September. However, CTL's dividend reduction and FTR's tepid Q1 2013 results have brought its share price back to below its July 31st 2012 price and was at $3.84 as of June 21st 2013.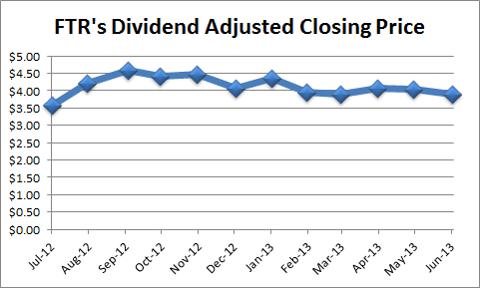 Source: Bloomberg LP
Frontier's business customer base declined by 7% year-over-year in Q1 2013 and its residential customer base declined by 5.9% during the same period. Frontier's customer decline was only partially offset by a 2.3% increase in the number of Broadband Internet customers served. At least the year-over-year growth in Internet subscribers for Q1 2013 was higher, it was slower than the 1.33% in Q4 2012 and 1.56% growth achieved in Q3 2012 though it was lower than the 2.45% achieved in Q2 2012 and 2.6% achieved in Q1 2012. Much of the increase in broadband customers was the result of an Apple Inc. (NASDAQ:AAPL) gift card promotion. One piece of good news for FTR is that its Broadband Internet customer base has more room to grow relative to Windstream (NASDAQ:WIN) as its ratio of internet customers to total residential customers is 62% versus WIN's 66%. However, the bad news is that FTR has less room to grow its Broadband Internet footprint than CenturyLink as CenturyLink's ratio of Internet customers to total residential customers is 44%.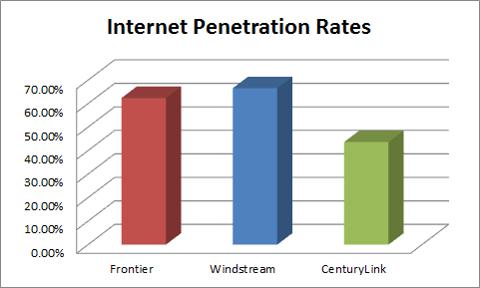 Source: MRQ reports for Frontier, Windstream & CenturyLink
Although FTR's reported EPS showed significant growth in Q1 2013 versus Q1 2012, its operating cash flows have declined by 6% on a year-over-year basis. FTR's video subscribers increased by 34.8K in Q1 2013 versus Q1 2012 (excluding the impact of 203,100 DirecTV subscribers in Q3 2012 as Frontier no longer provides DirecTV (DTV) as part of its bundled packages). The company recently announced an agreement with Hughes to provide broadband satellite service and so far it has not seemed to do much to stop Frontier's broadband Internet growth from ebbing.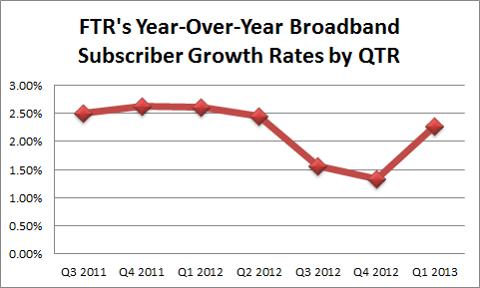 Source: Frontier's Last 7 Earnings Reports
We were stunned that Frontier actually added 549 employees to its payrolls in Q1 2012 versus the Q4 2011 period even though revenues are dropping. We were pleased that Frontier reduced its employee headcount by 1,116 over the last 12 months. FTR's year-over-year FTE decline of 4.75% in 2012 is comparable to the 4.4% revenue decline achieved in this past year. Frontier actually improved its year-over-year revenue decline trend during the quarter even though its wireline access line declines perked up. FTR's year-over-year revenue decline in Q4 2012 was 3.95% versus 3% in Q3 2012, 4.8% in Q2 2012 and 8% in Q3 2011. Frontier's revenue benefited from a 5.75% increase in its average revenue per business customer and a 1.84% increase in its average revenue per residential customer year-over-year during Q4 2012 versus Q4 2011.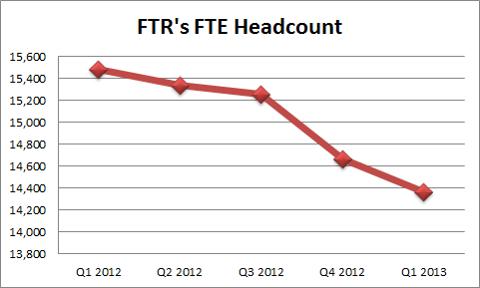 Source: Frontier's Last 5 Earnings Releases
Frontier had a bit of good news and bad news during the period with regards to cash flows. The bad news was FTR's operating cash flows declined by $23.2M on a year-over-year basis in Q1 2013 versus Q1 2012. However, the company reduced its total CapEx by $40M and this resulted in FTR's free cash flows increasing by $17M. The company raised $850M in debt in August and October in order to bolster its liquidity as well as refinancing existing indebtedness and pay down $561M in debt that was maturing in 2013. Included in the 2013 debt maturities is a $508M bond issue that was due in January 2013 and was retired due to FTR's $1.3B cash holdings as of Q4 2012. With the recent rise in interest rates due to the Federal Reserve's intentions towards ending QE3, we believe that Frontier should be looking to refinance and deleverage whenever possible.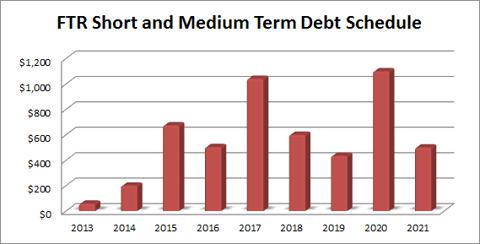 Source: Frontier's Q4 2012 10-Q
We believe that Frontier's shareholders are relieved that its dividend payout ratio in 2012 was less than 50%. We believe that investors in FTR can't be blamed for being a little jumpy with regards to FTR's dividend considering that Frontier cut its annual dividend from $1/share in 2009 to $.40/share in 2012 thanks to the Verizon purchase in 2010. We believe that Frontier's shareholders should keep their heads up because we don't believe it can get any worse since Frontier's payout ratio is now at 50% and its revenues and FCFs are starting to stabilize. At the same time, Frontier is paying a significantly higher cost on its debt that its rural telecom peers and its revenue declines are wider than its peers. Although FTR's reported operating income in Q1 2013 increased by $42.4M year-over-year, this was due to reduced depreciation/amortization expenses of $53.6M and $35.1M in reduced integration costs. On a linked quarter basis, FTR's revenue has declined by 14% since Q3 2010 and it will take more than a Talking Buffalo to stem the declines it has seen.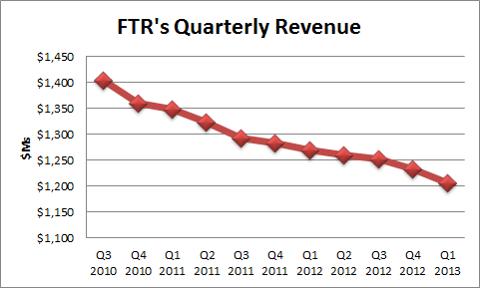 Another green shoot for Frontier shareholders is the fact that Frontier has launched its wireless services resale partnership with AT&T Wireless (NYSE:T). However, the bad news is that we wouldn't know it if we went to Frontier's Website. We like that Frontier created a special website with its own special domain (frontiermobile.com instead of frontier.com/mobile) however we would prefer that it put a linkback on its home website (frontier.com) to take potential customers directly to the Frontier Mobile website. The good news is Frontier may be ahead of Windstream when it comes to linking up with a wireless carrier to resell wireless services since Windstream hasn't done this yet. However, CenturyLink has had a 20-month head start on Frontier and its partner is Verizon Wireless (NYSE:VZ) (which has a larger footprint and recently bought FTR's interest in Mohave Cellular for $15.4M)
In conclusion, we are warming up to Frontier because it is making progress in narrowing its revenue declines. While we would like to see more growth out of its Broadband Internet customer base than we have seen recently, we are pleased that it is steadily improving its average monthly revenue per user. We also liked that Frontier's 2012 dividend cut and stabilizing cash flows have resulted in its 2012 dividend payout ratio being less than 50% of its free cash flows. Because FTR's free cash flows have increased due to reductions in CapEx, we are more comfortable with its ability to maintain its dividend per share of $.40 and its 10.5% dividend yield.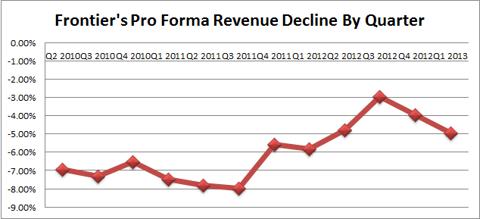 Source: Frontier's Last 12 Earnings Releases
Disclosure: I am long CTL, AAPL. I wrote this article myself, and it expresses my own opinions. I am not receiving compensation for it (other than from Seeking Alpha). I have no business relationship with any company whose stock is mentioned in this article.
Additional disclosure: This article was written by an analyst at Saibus Research. Saibus Research has not received compensation directly or indirectly for expressing the recommendation in this article. We have no business relationship with any company whose stock is mentioned in this article. Under no circumstances must this report be considered an offer to buy, sell, subscribe for or trade securities or other instruments.