In a presentation entitled "Copper - in transition, but too soon to get bearish" to the World Copper Conference in Chile two month ago, an analyst from Goldman Sachs (NYSE:GS) put forth a compelling argument that the forecast copper oversupply of the next two years may not be quite as significant as previously indicated. As copper prices, along with most other commodities, have recently been knocked around by headlines from Europe, potential future moves by the Fed, and economic data from the BRIC nations, I believe the key takeaways from the presentation go some length in dispelling the hype while outlining the near and mid-term future of the red metal.
There are varying opinions on expected results for 2013. Some sources indicate a slight under supply or balanced market while others state that, despite disruptions at Rio's (NYSE:RIO) Bingham Canyon mine and Freeport's (NYSE:FCX) Grasberg mine, there will be an oversupply. What isn't disputed, however, is that there will be an oversupply in 2014 and 2015. While this may be common knowledge, what is more important is to what degree will there be an oversupply? The below chart details the GS analysis of inventories and the resulting impact on copper prices.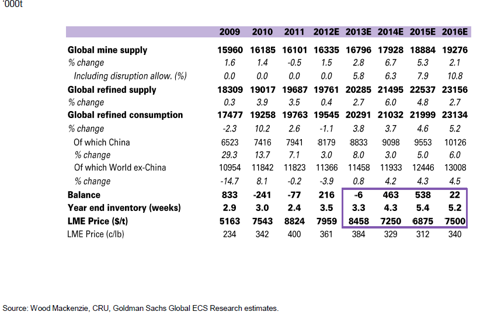 An important difference between the above price forecast and some of the more pessimistic copper forecasts is the way in which inventories are accounted for. Put simply, high current inventory levels will dampen demand for new production as it fulfills some of the need (similar to recycled scrap). Accounting for current inventory levels becomes something of a grey area as it can be difficult to separate "Visible" and "Total" global inventories (visible being LME, SHFE, Comex and bonded). The below graph from the same presentation provides a snapshot of the degree to which visible inventories are sharply increasing while total inventories, though also increasing, do so at a more moderate rate.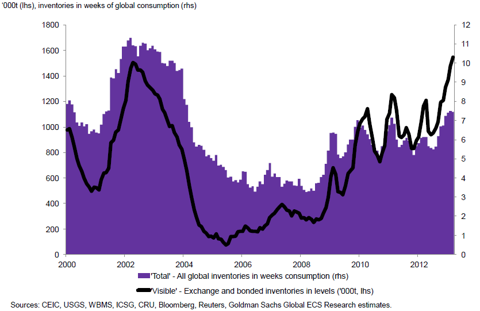 A good example of how this can occur is shown below (from the BofA Merrill Lynch presentation at the same conference). While LME, SFE and CME inventories have risen over the past year, we've actually seen unreported Chinese inventories decrease sharply over the same period.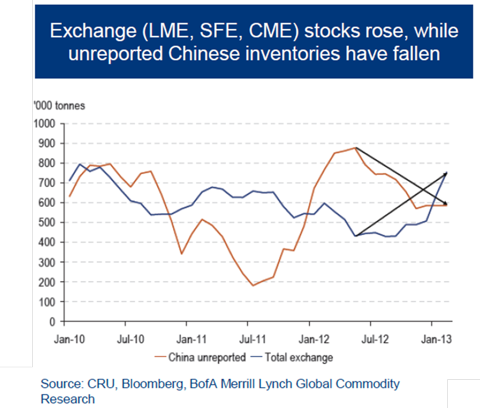 So what does this all mean? Well, this is but one issue from of slew of data points that must be considered before making a short- to mid-term investment in copper producers. Delving into these data points tends to reveal that they're usually not as negative, in this case, or positive (in the case of reported production costs/lbs) as they first appear. This can be disconcerting to someone considering an investment in one of the major copper producers. However, as a long-term fundamental investor I'll leave you with the below table from a Freeport presentation which, I believe, drives home the main reason to consider a long-term investment in a well-managed copper producer; namely, the scope of long-term demand growth that will continue to drive this market.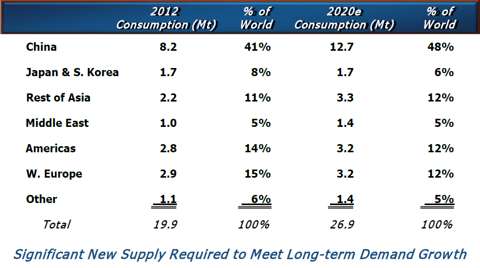 Disclosure: I am long FCX. I wrote this article myself, and it expresses my own opinions. I am not receiving compensation for it (other than from Seeking Alpha). I have no business relationship with any company whose stock is mentioned in this article.