Two trends have been underway recently which could potentially shake up a century-long status quo in the diamond mining and production industry. These two catalysts may potentially be huge game changers for the diamond market and cause a once-in-a-lifetime epic bull run in the price of diamonds, perhaps similar to the recent more-than-a-decade-long gold market rally.
However, let me emphasize right from the start that the possible diamond bull market is a purely speculative play based on speculative premises, comparable to a tulip mania or a massive recent gold bull run. These speculative bull markets and bubbles are extremely hard to predict, especially in length and magnitude.
Although diamonds are hard assets, and as such, offer an approximate inflation protection, the future price of diamonds cannot primarily be estimated based on a real fundamental analysis of future cash flow streams, as in the case of a company or a piece of real estate. However, diamonds do share many commonalities with gold and can be an attractive investment alternative to gold for some investors.
Historically, the diamond market is known to be hindered by multiple constraints, such as a strong monopoly of major player De Beers. The market has been mired with low liquidity, large bid-ask spreads and a potential for easy market manipulation and fraud. If a physically backed diamond ETF starts trading on a U.S. stock exchange, we could potentially see a huge sudden inflow of funds from retail and institutional investors into diamonds as a diversification play with a similar investment thesis as investing in gold - a gloom-and-doom protection and partially an inflation-protection investment into hard assets.
Catalysts for tectonic changes in the diamond industry
1. Opening of the diamond market to competition
For the last 100 years, the global diamond cartel was the most successful cartel in history, far more successful than the mighty oil cartel, OPEC. De Beers controlled the diamond market not only through owning most of the resource mines, but later (and more cleverly) by establishing and controlling a purchasing organization and persuading a majority of other, independent diamond miners to sell their rough diamonds production to this De Beers Central Selling Organization (CSO), which then sorted, distributed and marketed the diamonds to cutters, polishers and dealers, in effect controlling the entire chain toward the consumer.
The trend of more competition to De Beers from independent diamond miners, who began bypassing the De Beers purchasing organization, has been under way for at least a decade. However, now is the time when the strongest player, De Beers, already lost its monopoly position. It is still a dominant player, but it is not a hegemon with the majority of the market anymore. It cannot dictate prices so easily, and it cannot completely corner the market by manipulating the reserves its Central Selling Organization offers to the market. There are enough alternative producers with sufficient volume to take its place. The De Beers's market share has been steadily falling to its current 35%.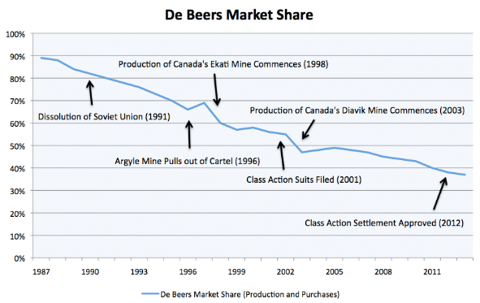 Click to enlarge
source: resourceinvestor.com
This stronger competition opens the diamond market to rapid change, to more efficiency and transparency, to lower bid-ask spreads and more liquid markets. This is the enabler. But the true trigger for the potential diamond price bull market is the following recent development.
2. Diamond-based ETFs
Although this is only at the speculation stage, on August 7, 2012, the U.S. patenting organization USPTO granted a patent on a process that classifies Investment Grade Diamonds for commercial trading and financial investments, the prerequisite for diamonds being a publicly traded asset class. As a result, a "Physically Backed Diamond ETF" is currently under U.S. Securities and Exchange Commission registration and is anticipated to be available on the NASDAQ Stock Market by 2014. Companies planning to offer diamond-based ETFs currently include GemShares and IndexIQ.
Of course, the launch of diamond-based ETFs can have an unpredictable effect on the prices of diamonds. They will certainly become more volatile. The sudden inflow into diamonds-based ETFs would cause a surge in demand for diamonds on an illiquid physical diamonds market, potentially causing a bubble or a strong bull market similar to the current gold bull decade.
Just to place this potential diamond bubble into perspective, in 2004, gold prices doubled and later quadrupled leading up to and following the release of the SPDR Gold Shares ETF (NYSEARCA:GLD):

Click to enlarge
Diamonds market outlook
Prices of diamonds, on average, fell in 2012. However, in the latest full quarter of Q1 2013, the prices began to stabilize and climb. In fact, they were one of the few commodities that rose in value in Q1.
The BMO Capital Markets wrote in its most recent analysis that diamond prices will rise an average of 6 percent a year through 2020, as tight supply is unable to meet growing demand in China and India.
How to profit
1. Diamond miners and producers
This possible increased price of diamonds is very likely to reflect into the prices of diamond producers as well, such as the Dominion Diamond Company (NYSE:DDC), or some of its largest competitors, De Beers; Anglo American (OTCPK:AAUKY) acquired 85% of De Beers in 2012, with the remaining 15% stake being held by the government of Botswana. With very few publicly traded diamond-production companies, and some of them being only marginally exposed to diamonds as part of their diversified precious metals and nonmetallic mining portfolio, such as Rio Tinto (NYSE:RIO) or BHP Billiton (NYSE:BHP), DDC will likely be one of a very few viable pure options to bet on diamond mining companies' bright future.
2. ETFs of diamond miners/producers
Another option to profit from the possible diamond bubble are the ETFs that invest in the companies involved in the diamond mining industry, such as the PureFunds ISE Diamond/Gemstone ETF (NYSEARCA:GEMS). It has a relatively high expense ratio of 0.69% due to being virtually the only ETF with such a high exposure to diamonds and other precious stones.
3. Pure diamond-based ETFs
Such diamond-based ETFs are not on the market yet, but are expected to launch in 2014. Some of the companies planning to launch such vehicles include GemShares and IndexIQ.
The launch of these funds is likely to cause a sudden rush of diamond orders, as the funds scramble to fill their vaults with physical diamonds when investors' money starts flowing into these vehicles. These funds are planned to be based on physical, redeemable diamonds.
Conclusion
Investors who jump on the bandwagon early may rake in fat rewards in the diamonds speculation. However, let me clearly emphasize again that a possible diamond rush is a completely speculative play. Apart from industrial use, diamonds' intrinsic value is almost impossible to calculate and some investors would argue that there isn't any intrinsic value to begin with. There are also no income streams available from investing directly in diamonds, which can make the prices of diamonds inherently more volatile.
In my opinion, diamonds don't have a large place in a long-term value investor's portfolio other than a really tiny portion for asset class diversification. Moreover, investors may invest in diamonds for similar reasons that they may hold small physical gold reserves - as one-off doomsday insurance and protection in the remote case that all paper currencies suddenly fail.
Investors can profit via diamond miners, ETFs of diamond miners and other companies related to the diamond industry. Investors will also eagerly await the expected 2014 launch of pure diamond-based ETFs, which could greatly increase the liquidity of diamonds trading.
Disclosure: I have no positions in any stocks mentioned, and no plans to initiate any positions within the next 72 hours. I wrote this article myself, and it expresses my own opinions. I am not receiving compensation for it (other than from Seeking Alpha). I have no business relationship with any company whose stock is mentioned in this article.