According to data at the company's website, the iShares Silver Trust (NYSEARCA:SLV) added just over 90 tonnes of silver on Friday and then saw more than double that amount exit the trust on Monday.
At around $20 an ounce, this was the equivalent of almost $60 million in silver being added to the trust two days ago as prices posted a modest rebound. Then, yesterday, holdings at the ETF fell by more than $100 million as all of Friday's gains were given back (and then some), as the silver price dropped to a fresh multi-year low.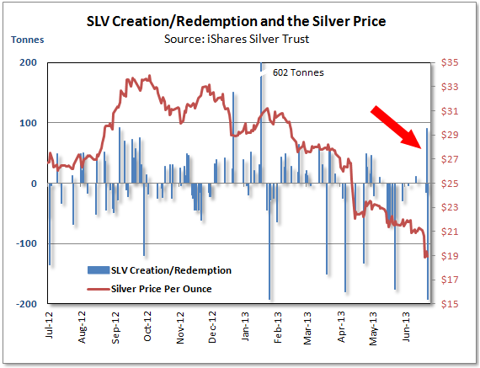 Click to enlarge
Someone or some group of traders were apparently early on their silver bottom call and didn't stick around long after it proved to be premature.
Nonetheless, investors in the world's most popular silver ETF remain a fairly persistent bunch. After Friday's addition, SLV holdings climbed back up to within a tenth of one percent of the level seen at the end of last year. This came despite the silver price having tumbled 34 percent since that time.
This is quite a contrast to the world's gold ETFs that seem to shed metal at about the same pace (or faster) than the price has been falling. For example, after the recent acceleration of outflows from the SPDR Gold Shares ETF (NYSEARCA:GLD) - an average of almost 5 tonnes per day for the last three days - the ETF's holdings have dropped 27 percent this year while the gold price has fallen 22 percent.
Clearly, those investors who own SLV don't think the same way about precious metals as former owners of GLD do. In fact, since the silver price reached a high near $50 an ounce over two years ago - a price that is 150 percent higher than today - SLV holdings have fallen only 13 percent!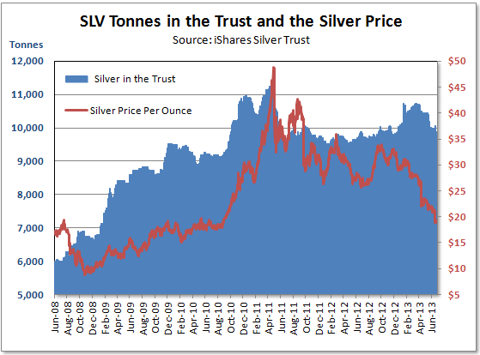 Click to enlarge
Granted, the $6 billion in net assets for SLV are much smaller than the $32 billion GLD ETF, but that's still $6 billion dollars in investor money that has refused to give up on silver as an investment even though that $6 billion in silver was worth about $15 billion in April of 2011.
What could account for this big difference between the world's largest gold ETF and the world's largest silver ETF?
Well, one educated guess is that SLV owners are more "Mom and Pop" investors rather than hedge funds and institutional investors. U.S. money managers had built up big positions in GLD through mid-December of last year when the Federal Reserve was about to announce their latest money printing effort.
When that announcement failed to push the price of the yellow metal higher, these money managers began to sell. Then, when investment banks like Goldman Sachs and Societe Generale started predicting sharply lower gold prices in early-April, the selling accelerated.
Not so with silver.
Holdings for SLV were as high as 10,700 tonnes as recently as April - down less than five percent from the 2011 high of 11,390 tonnes. This came at a time when the silver price had tumbled by nearly half from its record high two years prior.
It seems clear that SLV owners are a lot more like silver coin owners than those who purchased GLD in recent years. Despite heavy selling in silver futures markets, silver coin sales in the U.S. are on course to shatter sales records this year as the disconnect between the "physical" market and the "paper" market continues.
The GLD ETF is often referred to as a "paper" market, in part because the holdings have moved down with the futures market lately. But, SLV behaves in a manner somewhere between the real "physical" market (i.e., coins and bars) and the silver futures market.
Since storing large quantities of silver bullion quickly becomes problematic (e.g., you can easily store $100,000 of gold in a safe deposit box, but only a tiny fraction of that amount in silver), my guess is that SLV owners are primarily retail investors who have upped their silver holdings since the ETF was launched back in 2005 and are holding for the long-term like recent buyers of silver coins.
This is one more reason to be bullish on the metal's long-term prospects, however, there is no doubt that the "paper" silver futures market sets the price, which could result in more pain for these long-term investors.
Disclosure: I am long SLV, GLD. I wrote this article myself, and it expresses my own opinions. I am not receiving compensation for it (other than from Seeking Alpha). I have no business relationship with any company whose stock is mentioned in this article.
Additional disclosure: I also own silver and gold coins and bars