US markets have come off their highs recently, as worries over the Federal Reserve's tapering of their QE program have sent interest rates higher. In early May, the 30-Year US Treasury Bond was yielding less than 3.00%, and now it is above 3.55%. The S&P 500 SPDR ETF (NYSEARCA:SPY) has lost more than 7 percent from its 52-week high, with markets falling again on Monday. It's been a very broad based selloff, and even some of the most resilient names have been beaten up. Today, I'll examine how the recent Fed pullback may provide a warning to some, and an opportunity to others. I'll finish up with a summary table that will cover all of the names discussed here today. Of the names I will discuss today, most are ones I cover on a fairly regular basis on Seeking Alpha. For more in-depth analysis of these names, take a look at my article list here, which you can filter by ticker.
A few key numbers:
The S&P 500 hit a high of 1,687 on May 22nd, and has lost 114 points since then. I mentioned above that rates have been rising. Normally, you would think money coming out of bonds would be good for equities, but not this time around. The iShares Barclays 20+ Year Treasury Bond ETF (NYSEARCA:TLT) has lost 1/8 of its value since the beginning of May. Those that have been long the long bond are getting crushed, and that pain could easily continue if 30-Year rates head towards 4.00%. The US Oil Fund (NYSEARCA:USO) had been holding up pretty well, but has now lost 4.05% since last week's high.
It really does not help that Apple (NASDAQ:AAPL) has lost all of its post-earnings rally and then some. In fact, Apple dropped below $400 on Monday for the first time since April 24th. Since its May 7th high, the tech giant has lost more than 13.5% (if you did not receive the dividend). Apple is about one month away from reporting earnings, which might pressure shares further. In recent quarters, analysts have been getting very skeptical going into Apple's quarter, cutting estimates and price targets. The process may have started already this quarter, with Peter Misek cutting his price target on Monday. Apple lost more than $10 on the day. Being that Apple has been the biggest weight in the NASDAQ Index and S&P 500 (at times), you can't have a market doing well when Apple is down double digits over a two month period. If Apple can't hold the $400 level, it could take the market down with it.
A warning - momentum bubble bursting:
About a month ago, I discussed the fact that the momentum names were back in favor, but it was creating a bubble. Many of these names had been beaten down over the past year or two, as results were not justifying premium valuations. A number of these names have come crashing down recently, and this is one area where investors need to take a step back.
Perhaps the leader of all momentum names has been Netflix (NASDAQ:NFLX). The streaming giant, which once fetched more than $300, was down to just $53 last year before Carl Icahn stepped in and results started improving. Inking a content deal with Disney (NYSE:DIS) also worked wonders. Two solid quarterly results led to a lot of short covering, and the stock almost hit $250 in May. However, questions over Netflix's slate of original programming, along with a lot of content additions and subtractions have sent shares lower. Over the past two weeks, Netflix has been close to the $200 level. While shares have held for now, they are still down more than 13% from their recent high.
Green Mountain Coffee Roasters (NASDAQ:GMCR) has held up the best when it comes to the momentum names, but it still is off 11.6% since its recent high. Investors might be a little worried about the potential rise in coffee prices, and don't forget, this stock had gone from $15 in August 2012 to $83 last week. A pullback was inevitable.
SodaStream (NASDAQ:SODA) has also lost nearly 14% since its recent intra-day high of $77.80 that we saw two weeks ago. That percentage loss doesn't even take into account the $87 and higher we saw in pre-market trading on buyout rumors. I recently stated that this stock would head back to $60 if a deal wasn't announced soon, and SodaStream is back to $67 already. This is one of my favorite companies out there, but M&A rumors pushed this name too high. You are starting to see that bubble burst.
The worst performer of the momentum names during this pullback has been First Solar (NASDAQ:FSLR). The solar giant had seen one of the most spectacular rallies after setting aggressive guidance. That allowed the company to sell some shares and raise more than $425 million. Shares were priced at $46, which seems good now that we are at $41.25. However, about a month ago they hit a high of $59.00. First Solar shares have lost 30% since then, wiping out a large share of the stock's tremendous rally from last year's low of $11.43.
Unlike First Solar, Tesla Motors (NASDAQ:TSLA) has actually risen since its equity and debt raise. The electric vehicle maker has been the wildest stock on the street lately, rising from $35 to $115 in less than three months before pulling back by almost 12%. Tesla has become the ultimate trading vehicle. Since May 7th, the average daily range has been 7.76% of the prior day's close, and that does not include any pre-market or after-hour moves. You don't find many stocks that move this much daily, especially not ones with market caps over $10 billion. Tesla is not an investment at this point, and that's something to key on in this momentum bubble section.
The final momentum name I want to discuss is Deckers Outdoor (NASDAQ:DECK), the UGG maker. This stock has dropped 21.4% since its late April high, with investors concerned as the company heads into the slowest part of its year. With Deckers expecting the lowest growth out of these momentum names, investors have decided to take their profits and focus on other names with more potential.
Why did I go into so much detail with these names? Because the Fed's plan to slow down QE provides a warning when it comes to the momentum names. With the printing presses on full blast, these names were rallying because they were expected to show lots of growth. But when money coming into the system slows down, investors believe growth will slow down, and these are the first names to be hit. These six names are down about 17% on average from their recent highs, nearly 2.5 times the decline in the overall market. First Solar's stock has to soar 43.03% to get back to its recent high. Investors that are worried about the market going lower should avoid these names at all costs. If the market were to pullback another 5%, these names probably would be down 25%-30% on average, and that's not something you want to see in your portfolio in such a short time.
An opportunity - add to core holdings:
When the market comes down like it has, investors have an opportunity to add to their core holdings. The pullback creates an opportunity to add extra income, as falling stock prices mean higher dividend yields. In this section, I would like to discuss five names that have pulled back more than the S&P 500. All of these are solid dividend paying names, and the recent decline means more income possibilities. You really could even add Apple to this list, as the tech giant now sports a yield over 3.03%. All five of the names I'll cover here have seen their annual dividend yields rise by at least 23 basis points, with 3 of the 5 having yields higher than the 30-Year Treasury.
The first name I'd like to discuss is my top value name for 2012 and 2013, and that would be cigarette giant Philip Morris (NYSE:PM). Philip Morris shares have fallen $10 off their high, and that has pushed up the annual dividend yield by 40 basis points to 3.91%. This is all before the yearly dividend raise, expected in the next couple of months. With shares declining towards 2013 lows, you can expect the company to really start buying back shares as part of their $6 billion a year repurchase plan. The company still has above industry growth as well. For both the company (in terms of the buyback) and investors (lower entry point plus higher yield), this is a golden opportunity.
The two phone giants, AT&T (NYSE:T) and Verizon (NYSE:VZ), have also come down nicely. Verizon has declined by 9.56% from its recent high. Like Philip Morris, that means you are getting an extra 40 basis points in yield, now at 4.19%. AT&T has actually come down by 11.64%, the most of the five names I'm covering in this section. The added yield for AT&T is 61 basis points, with a yield now reaching 5.22%. For those that wanted to get into the telecom space without paying a king's ransom, these two names are at their lowest points in 3-4 months.
Two other dividend favorites that I will briefly touch on are Coca-Cola (NYSE:KO) and Procter & Gamble (NYSE:PG). Coca-Cola has come down by nearly 9%, pushing its annual yield up 25 basis points to 2.83%. Last week, Coca-Cola shares dipped below $39 for the first time since March 19th. Procter & Gamble has declined by 7.22%, pushing its yield up 23 basis points to 3.14%. Procter & Gamble shares recently found support at $75, a level not seen since early February.
All five of these dividend champions have come down more than the S&P since their respective highs. These names are at multi-month lows, pushing their dividend yields up by an average of 38 basis points. Not only does that give investors a chance to buy more shares at a lower price point, but get some extra income as well. On a $10,000 position (assuming partial shares), an investor in AT&T would receive an extra $61 in annual income thanks to the pullback. You would also be getting an extra 34 shares (approximately) at the lower price.
Final Thoughts / Summary Table:
I created the following table to show the declines we've seen in all of the names I discussed today. I've also put in the date of their respective highs, just so investors can see how long these falls have taken. I grouped them into the three sections as discussed.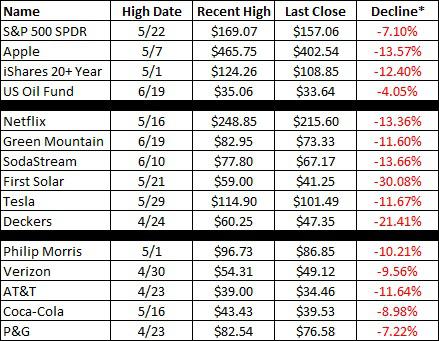 *High points are intra-day prices. Decline does not include paid dividends for those names that do pay them.
We've seen a seven percent pullback in the S&P 500 over the past couple of weeks. Many names have been hit, both small and large. The momentum names have been hit the hardest, losing an average of 17%. Even some of the market's most favored dividend names have lost an average of 9.5%, which has pushed their dividend yields higher.
For investors, this pullback has been both a warning and an opportunity. For those names that have rallied the most, it is a clear warning. If you believe that markets will continue lower, you do not want to be in any of the momentum names. But for investors with some dry powder, this might be the perfect time to add to your core holdings. A number of dividend names are providing more income, and those names should hold up much better if the markets struggle.
Disclosure: I am long PM, DIS. I wrote this article myself, and it expresses my own opinions. I am not receiving compensation for it (other than from Seeking Alpha). I have no business relationship with any company whose stock is mentioned in this article.
Additional disclosure: Investors are always reminded that before making any investment, you should do your own proper due diligence on any name directly or indirectly mentioned in this article. Investors should also consider seeking advice from a broker or financial adviser before making any investment decisions. Any material in this article should be considered general information, and not relied on as a formal investment recommendation.