Galena Biopharma (NASDAQ:GALE) is a small-cap biopharmaceutical company focused on the discovery, development, and commercialization of novel treatments for cancer. The company's lead development candidate, NeuVax, is a vaccine designed to train a person's immune system to recognize and destroy breast cancer cells. In addition, there is a potential for expanded use of NeuVax in combination with Roche's (OTCQX:RHHBY) Herceptin in the established adjuvant breast cancer market. Galena's pipeline also includes Folate Binding Protein (FBP) peptide vaccine, intended to prevent the recurrence of cancer in patients who achieve remission after surgical resection and chemotherapy. Additionally, Galena recently acquired Abstral, an FDA-approved sublingual fentanyl tablet for the treatment of breakthrough cancer pain.
The Company's Pipeline And Products:
1. NeuVax - Galena's lead development candidate is NeuVax, a human epidermal growth factor receptor 2 (HER2) peptide-based cancer vaccine currently being evaluated in a Phase III trial for the adjuvant treatment of breast cancer. The therapy is being developed to prevent disease recurrence in breast cancer patients who successfully achieve remission following surgery, radiation and/or chemotherapy. The target patient population is women with breast cancer who are not eligible to receive adjuvant treatment with Herceptin, as they do not have sufficient levels of HER2 over-expression for this antibody to be effective.
The trial is being conducted under a Special Protocol Assessment (SPA) from the FDA. The SPA provides confidence in the path to approval for the drug in this setting. The Phase III PRESENT trial was initiated in January 2012 and enrollment completion is anticipated by the end of 2013, followed by interim results in 1H14.
In addition to developing NeuVax as a monotherapy in the adjuvant breast cancer setting, Galena is also conducting a 300-patient Phase IIb trial in combination with Herceptin. The trial is being conducted on the basis of previous data providing evidence that sequential administration of Herceptin and a CD8 T-cell eliciting HERS peptide vaccine improved the DFS rate compared to patients treated with Herceptin alone. Galena started to enroll patients in March 2013. Assuming it takes a year to complete the enrollment, the trial is expected to report results in 2H16.
At this point, NeuVax remains wholly owned except in Israel where the company partnered with TEVA Pharmaceuticals. Galena may partner NeuVax either in other regional deals or globally while retaining U.S. economics. Such a deal would validate NeuVax and bring in non-dilutive funding.
2. Folate Binding Protein - FBP is a targeted therapeutic vaccine in development for preventing the recurrence of ovarian, endometrial, and breast cancers. The FBP vaccine consists of the E39 peptide derived from the FBP combined with granulocyte-macrophage colony-stimulating factor (GM-CSF). FBP is over-expressed in more than 90% of ovarian and endometrial cancers, as well as 20-50% of breast, lung, colorectal, and renal cell carcinomas. Additionally, the FBP receptor has a limited tissue distribution and expression in non-malignant tissue, making it an attractive target for a cancer therapy.
Galena recently reported ongoing phase I/IIa data of FBP in ovarian cancer (OC) and endometrial cancer (EC). To date, the study has enrolled 20 patients. FBP-treated patients had an 11.1% recurrence, while untreated patients had a 27.3% recurrence - a 59% reduction. The trial started to enroll in February 2012 and management did not specify follow-up times.
Worldwide rights to the FBP vaccine were licensed to the company in September 2011 from The University of Texas M D Anderson Cancer Center and Henry M. Jackson Foundation for the Advancement of Military Medicine, Inc.
3. Abstral - Abstral is a rapid-onset opioid (ROO) approved for the treatment of breakthrough pain in cancer patients. The product is a sublingual tablet formulation of fentanyl that dissolves rapidly under the tongue, increasing the drug's rate of absorption and bioavailability. Rapid onset fentanyl products are used in patients who, despite receiving long-acting opioid management, experience episodes of severe, debilitating breakthrough pain. Galena estimates that 40-80% of cancer patients experience breakthrough pain episodes which occur multiple times per day each with a median duration of 30 minutes.
The product was developed by Swedish pharmaceutical company Orexo, who markets the drug in Europe. Abstral is sold in Europe by ProStrakan and is the leader in the rapid-onset fentanyl market with 2012 sales of $54 million. The product is also marketed in Canada by Paladin (PLDLF.PK) and an NDA has been filed in Japan by Kyowa Hakko Kirin. In the U.S., Abstral was approved in January 2011, but has not been launched commercially. Galena in-licensed U.S. commercial rights to Abstral in March 2013 and intends to launch the product in 4Q13.
Market Opportunities:
Breast cancer - The incidence of breast cancer in the U.S. is estimated to be approximately 235,000 new diagnoses per year, with a similar incidence rate estimated in the top five European markets. Approximately 40-50% of these patients would be expected to have low- to intermediate-level HER2 over-expression and be eligible for treatment with NeuVax. The mechanism of the drug's action targets the addressable patient population to those with an HLA-A2/A3 serotype, which represents approximately 75% of patients in the U.S., Europe and Japan.
JMP Securities analysts view the addressable patient population in the U.S. to be approximately 19,000 patients annually with a similar target population in key European markets. They assume the product is launched in 2017 with a price of $5,000 per month in the U.S. and project modest annual price increases in the U.S. They assume the product will be priced at $4,000 per month in Europe with no price increases. The analysts see peak penetration of 40% in the U.S. in 2022 and in Europe in 2023, based on which they project peak sales of $500 million and $300 million respectively.
In addition to developing NeuVax as a monotherapy in the adjuvant breast cancer setting, Galena is also conducting a 300-patient Phase IIb trial in combination with Herceptin. The trial is being conducted on the basis of previous data providing evidence that sequential administration of Herceptin and a CD8 T-cell eliciting HERS peptide vaccine improved the DFS rate compared to patients treated with Herceptin alone. Positive results from this trial have the potential to expand the market opportunity for NeuVax into Herceptin-eligible patients. In addition, given that the adjuvant Herceptin market is well established, there could be a more rapid adoption into this market.
Ovarian and endometrial cancers - Initial development of the FBP vaccine is in women with ovarian and endometrial cancers to prevent disease recurrence after successful first-line treatment. In both of these settings, while the majority of patients respond to first-line treatment, most will relapse and treatment options for these patients are limited, which provide an opportunity for FBP.
According to the American Cancer Society (ACS), endometrial cancer is the most common gynecologic cancer with an annual incidence of over 46,000 women and causing more than 8,000 deaths each year in the U.S. There are two basic types of endometrial cancer, including endometriod and papillary serous. Endometrioid cancer has a significantly more aggressive clinical course and the majority of patients will die of this form of the disease. Ovarian cancer accounts for approximately 3% of all cancers in women, with an estimated 22,240 new diagnoses in the U.S. in 2013.
Breakthrough cancer pain - The U.S. market for rapid onset fentanyl in breakthrough cancer pain was approximately $390 million in 2012 and is led by Teva's (NYSE:TEVA) Actiq (now available in generic form) and Fentora. Currently, Abstral is the only available sublingual tablet formulation of fentanyl for the breakthrough cancer pain market. Its key points of differentiation vs. market leaders Fentora and generic Actiq, are convenience, rapid absorption, increased bioavailability, and improved gastrointestinal tolerability. Results from a prospective, open-label Phase IV study showed compelling patient preference for Abstral compared to the existing opioid regimen. These data support Abstral's commercial success in Europe where the marketing message has gained traction when competing against Fentora and generic Actiq.
JMP Securities analysts assume that Galena will launch Abstral in 4Q13 and will gain market traction in 2014. They project that the product achieves a market share of 2.5% ($9.8 million) in 2014, 5% ($15.8 million) in 2015, and peaks at 10% ($30 million) in 2018.
Financial Position
Galena ended the first quarter 2013 with $27 million in cash plus a $15 million debt financing to fund Abstral ($10 million has already been drawn down). The Company's net loss for the first quarter was $9.3 million. Given the company's pace of spending, the current cash balance is sufficient into 2014. However, to complete development of pipeline products, it is likely that Galena will require additional capital.
Conclusion
Currently, Galena's current valuation does not reflect the Phase III status of NeuVax, near-term revenue potential of Abstral and the clinical pipeline with applicability to multiple tumor types. This leaves much upside potential for very strong growth performance. Clinical progress and potential partnerships should drive shareholder value in 2013.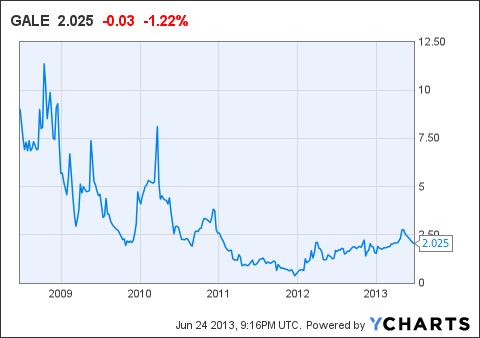 Disclosure: I have no positions in any stocks mentioned, and no plans to initiate any positions within the next 72 hours. I wrote this article myself, and it expresses my own opinions. I am not receiving compensation for it (other than from Seeking Alpha). I have no business relationship with any company whose stock is mentioned in this article.
Additional disclosure: Biomed Group is a group of investment professionals and writers. This article was written by Amit Cohen. This information is not to be construed as an offer to buy or sell any security mentioned on this article.