Investors have been spooked by fears that Ben Bernanke will start tapering the Fed's monthly asset-purchases later this year. While I don't believe this will actually happen, I do feel that stocks and bonds face tremendous pressure in the short-term, even after the Dow plunged 354 points after his comments.
One thing is for certain - Bernanke's words (not just his actions) have a huge impact on the market. Just look at what the talk of Bernanke scaling back QE has done to interest rates in the past couple of weeks. The 10-year-bond shot up to 2.5 percent, up from a low of 1.7 percent in about a month's time!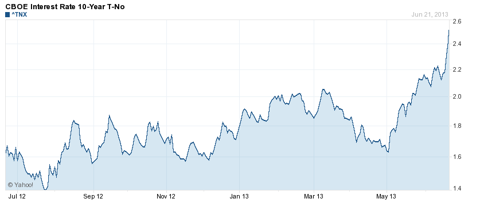 The national average for a 30-year fixed mortgage is now 4.24 percent, up from just 3.35 percent on May 2, according to BankRate.
It's clear we are now seeing a spike in interest rates as a result of investors seeming to believe that the Fed will actually begin to taper, which would cause rates to go much, much higher. Unless the Fed immediately backs off its previous comments (which I don't see happening just yet), I think we are going to see interest rates go even higher over the next weeks and months.
"The Bernanke Taper Talk Trade"
So how does one profit from this? Here are a couple of ideas:
TBT Proshares Ultra Short 20 Year Treasury
This is an inverse ETF that is designed to benefit from higher interest rates and lower bond prices. It corresponds to twice the inverse of the daily performance of the Barclays U.S. 20+ Year Treasury Bond Index.
The TBT hit a low of about 59 in early May (when the 10-year was at 1.7 and mortgage rates were at 3.35 percent). Now with 2.5 on the 10-year and 4.2 on the 30-year mortgage, the TBT sits at 75.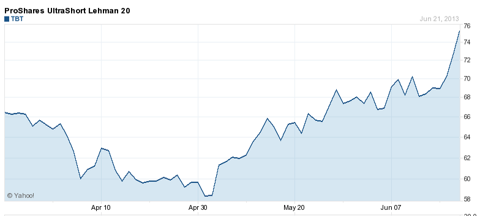 For more leverage, you could also consider buying call options on the TBT, such as the Sept' 2013 $75. Should the Fed not take back its words I believe rates will continue to rise in the short term. We could see $100 on the TBT pretty quick as a result.
Short the TLT iShares Barclays 20+ Yr Treasury Bond
Another way to play it would be to short the TLT, which is the opposite of the TBT. The fund invests at least 95% of its assets in U.S. government bonds.
Or, instead of shorting, you could buy Sept' $110 puts for more leverage.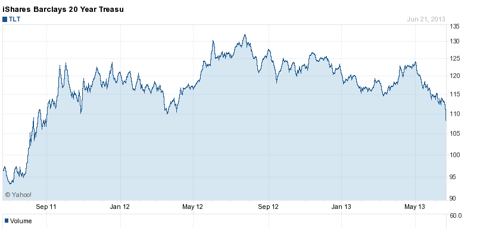 IMPORTANT: If you buy the TBT, I don't recommend holding it for very long. The fund carries an annual expense ratio of .92 and has been a big loser in the long-term. This is just a short-term trade and not an investment by any means.
What I feel will happen is this: we will see rates continue to rise, putting pressure on the stock and housing markets, threatening the entire "recovery" orchestrated by the Fed.
I don't see any chance of tapering actually happening by the end of this year or in the foreseeable future. In fact, I actually believe that the Fed will "shock" some investors by announcing an increase in the size of its QE purchases. Its reasoning will be that inflation is low and the employment rate is not near its target.
When this happens is anyone's guess. In the meantime, you may want to consider these two trades to profit from the continued rise in interest rates.
Disclosure: I have no positions in any stocks mentioned, and no plans to initiate any positions within the next 72 hours. I wrote this article myself, and it expresses my own opinions. I am not receiving compensation for it (other than from Seeking Alpha). I have no business relationship with any company whose stock is mentioned in this article.