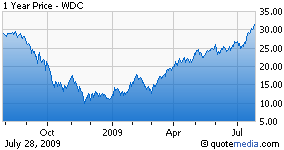 Number two disk drive maker Western Digital (WDC) Tuesday afternoon reported fiscal Q4 results that easily beat estimates for profit and sales.
Revenue in the quarter fell 2%, year over year, to $1.96 billion, easily surpassing the $1.59 billion average estimate of analysts, while profit per share came in at 76 cents, excluding $18 million from an asset sales.
The company ended the quarter with $1.8 billion in cash and equivalents, up from $1.1 billion a year earlier. The company generated $349 million in cash flow from operations in the quarter and had $238 million of free cash flow after investment in plant and equipment.
"In a challenging time for the worldwide economy and the hard drive industry, WD maintained profitability and stayed cash flow positive throughout the fiscal year," said president and CEO John Coyne. The company did not offer a forecast, but management will hold a conference call with the Street at 5pm Eastern time here.
In after-hours trading Tuesday, Western shares are up $1.25, or 4%, at $32.06.