The first article of the series has introduced the Carbonate Triangle of the renowned Canadian oil sands. The region is the world's third largest oil reserve with its rich carbonate-hosted bitumen deposit located in the northern Alberta's deep underground. Precisely, the Carbonate Triangle is situated between three major bitumen areas, Athabasca, Cold Lake and Peace River.
In today's investment guide on the Carbonate Triangle, I will briefly recap the main characteristics of the Cold Lake region to have a better assessment of its potential. Then, I will introduce a small-cap oil producer involved in that specific play that could see its growth skyrocketing in the next year or two.
So far, I looked into the following producers involved in the first region of the Carbonate Triangle, Peace River:
The current area, Cold Lake, has been reviewed in a past article as well as the following oil producers:
Notably, an analysis of the current operations of the company will be examined with the objective to give the most complete information available to the potential investors before deciding to seize the opportunity that the 54,132 square miles of the Carbonate Triangle has to offer. Let's start by reviewing briefly Cold Lake, the second larger oil sands deposit of the Carbonate Triangle.
The Cold Lake Region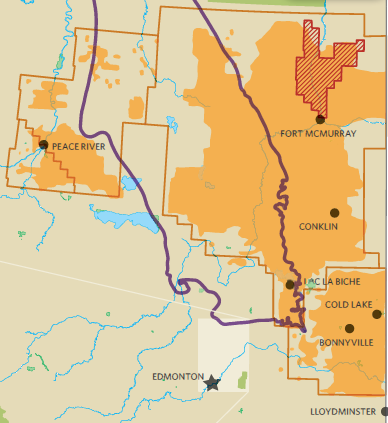 Source: ERCB
Historically, the majority of the primary bitumen has been produced from the Cold Lake oil sands area using vertical wells and progressive cavity pumps that tolerate the large volumes of sand produced with the bitumen. More recently, with improvements in horizontal and multilateral drilling technology, primary bitumen is being produced from the Athabasca and Peace River oil sands areas.
The Cold Lake oil sands lie within a package of stacked incised valleys that rest encased within more regional deltaic, shoreface sands and marine mud. These overlie the fluvial and estuarine sands of the Clearwater formation. This formation is overlain by regional deltaic, progradational barrier complexes and incised valley-fills of the Lower and Upper Grand Rapids formation, which extends to the top of Mannville group.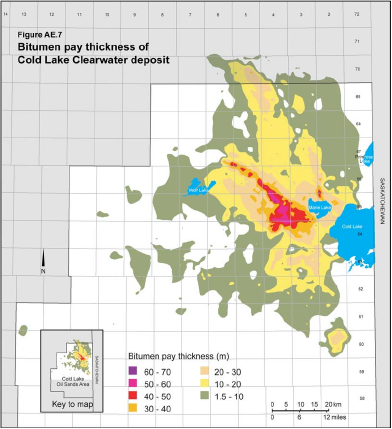 Source: ERCB
The entire Cold Lake area is estimated to contain 201 billion barrels of initial in-place volumes, within a total oil sands reserve estimated at 1.8 trillion barrels for the entire Carbonate Triangle. Approximately 8% of the 201 billion barrels would be accessible given the available technologies, which would represent 16.08 billion of recoverable barrels for Cold Lake.
Southern Pacific Resource (OTC:STPJF)
The junior producer is well-established in the Western Canada Sedimentary Basin with 402 sections of oil leases with 87% average working interest in Alberta, totaling 224,312 of net acres. Notably, the company develops and produces bitumen and heavy oil using horizontal wells and steam. In Saskatchewan, STP produced an average of 3,300Bls/d of heavy oil in 2012. As a matter of fact, the producer's operations are comprised of the production of heavy oil from a thermal project in Saskatchewan known as STP-Senlac.

Source: Southern Pacific Resource's June 2013 Corporate Presentation
The commissioning and start-up of an in-situ promising project in the Athabasca region of Alberta known as STP-McKay phase 1 is in operation since October 2012 for the production of bitumen, using the SAGD process. The capacity for phase 1 has been established at 12,000Bls/d with an allowed capital budget of $468 million.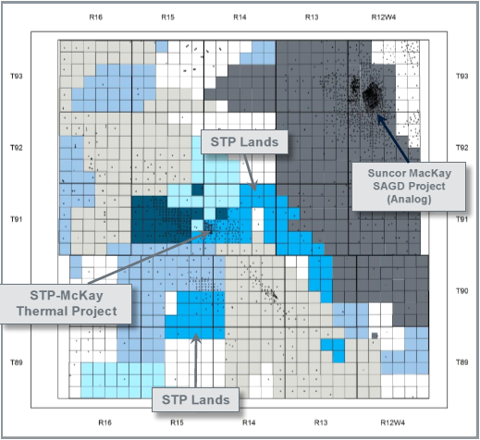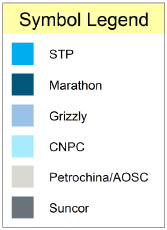 Source: Southern Pacific Resource's June 2013 Corporate Presentation
The company has filed an application for an expansion of its existing in-situ project at STP-McKay phase 1 to add 6,000Bls/d by Q4 2014 from which $150 million in capex has been allowed, 12,000Bls/d for phase 2A and 6,000Bls/d for phase 2B, both expected for Q2 2017. Total production once achieved is estimated to reach 36,000Bls/d.
Other activities include the exploration and development of other in-situ oil sands properties located in northern Alberta. In the Cold Lake region, STP has started in 2009, its Red Earth project, an operating pilot established at 1,000Bls/d in the 135 sections of land owned, as illustrated below.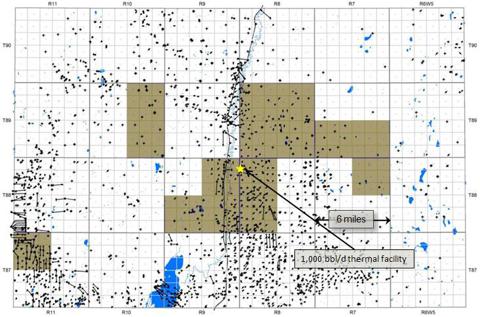 Source: Southern Pacific Resource
A pilot expansion of 3,000Bls/d has been announced as well as the commercial production of an estimated 10,000Bls/d of bitumen, using the CSS process, but the schedule has not been determined yet by STP.
Additional oil sands leases representing significant upside for future projects, as shown below, are Anzac with 56 sections, Hangingstone with 66 sections, Leismer with 36 sections and Ells with 50 sections.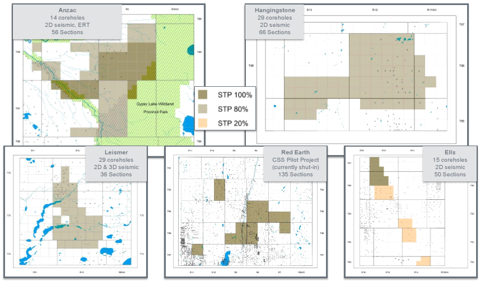 Source: Southern Pacific Resource's June 2013 Corporate Presentation
As of June 2012, STP had proved and probable reserves estimated at 249Mmbls (million barrels) with a net present value before tax, estimated at $1.6 billion (discounted at 10%). All reserves are split between STP-Senlac and STP-McKay assets. The best estimate of the net contingent resources outside the two assets are approximately 525Mmbls, which represent the development potential that need further appraisal in order to develop into projects.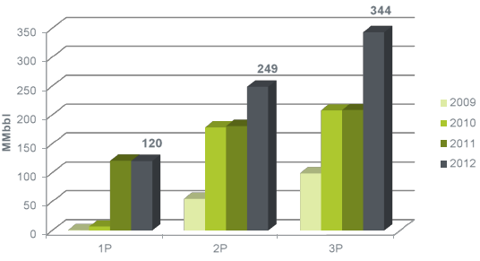 Source: Southern Pacific Resource's June 2013 Corporate Presentation
Core Financials
According to its Q3 2013 earnings release, STP declared $7 million in revenue for the quarter, much less from the $26.8 million reported for last year's Q3. For the nine months period, revenue totaled $35.5 million compared to $57.5 million. This drop could be explained by the $14.1 million in net loss compared to its $11.1 net income from last year and the $3.7 million attributable to the company's net unrealized foreign exchange loss.
During the nine months ended March 2013, STP disposed of an undeveloped oil sands property for total cash consideration of $4.4 million. The sale resulted in a gain recognized in net income for the same period, of $2.0 million. Furthermore, as of March 2013, the long-term debt amounted to $398 million, a decrease of $2 million from June 2012. Looking at its high long-term debt ratio of 98.70, management has clearly put a lot of its financing to develop a few promising but costly projects.
To get a better idea of the producer's potential of future profit, it is interesting to note that the trailing twelve months of its price to sales ratio is at 3.88 compared to the industry's average of 2.44. Thus, investors are paying 3.88 times for each dollar of STP's sales while they should expect to pay an average of 2.44 times to invest in a company of that industry.
Bottom Line
With almost 250Mmbls of oil reserves with the best-case scenario, the producer has a fair base of assets for its future production. However, I am not convinced about STP's strategy of developing a few projects instead of focusing on one promising play since the company may not be financially strong enough to sustain the drive needed to put its projects into commercial production.
Southern Pacific Resource is a promising junior producer in the oil sands play and investing is considered highly speculative at this time. Nonetheless, I like the potential of its STP-McKay project as well as the promising Red Earth project in the Cold Lake area. Therefore, here are some interesting points to consider:
Net present value of proved and probable reserves of about $1.6 billion
Strong presence in the highly-touted Canada's oil sands
Promising development of STP-McKay to generate and sustain significant cash flow
Long-term debt managed at a fair level
$941 million in property value
Disclosure: I have no positions in any stocks mentioned, and no plans to initiate any positions within the next 72 hours. I wrote this article myself, and it expresses my own opinions. I am not receiving compensation for it (other than from Seeking Alpha). I have no business relationship with any company whose stock is mentioned in this article.