Trans World Entertainment (NASDAQ:TWMC) owns and operates a chain of over 350 entertainment retail stores primarily under the FYE ("For Your Entertainment") brand name. Music and video entertainment products represented 77% of TWMC's revenues for the 39 weeks ending October 27th, 2012. TWMC was founded in 1972 by Robert Higgins, went public in 1986 and has expanded by acquiring a number of smaller or failing competitors such as Strawberries, Camelot Music and the Musicland Group. Robert Higgins is still the Chairman and CEO of Trans World Entertainment while John Anderson has been the acting CFO since July 2012 and Bruce Eisenberg has been the Executive Vice President of Stores and Real Estate since 2001 (VP and SVP of Real Estate from 1993 to 2001).
TWMC'S REVENUE TRENDS
Trans World Entertainment's revenue has seen a consistent decline since hitting a peak in 2007. TWMC's revenue peaked in FY2006 at $1.47B due to its acquisition of Musicland Group but its revenue has declined every year since and reached a new low of $458.5M in FY 2012. Despite the rapid erosion of sales revenues that TWMC has endured from 2006 to 2012, TWMC has generated a small amount of free cash flow during this period primarily because it has been able to cut expenses and liquidate assets such as inventory. TWMC also harvested $30M from the sale of Miami real estate in Q4 2013. TWMC purchased the building in 2004 at $8M and the property previously held one of its FYE retail store units. TWMC closed the FYE store in 2009 and the property was later converted into a Walgreens. TWMC sold this property to an international investor and received $30M. TWMC used half of it to pay a $15M special dividend and will use the rest of it to open 20 new stores.
MOST RECENT QUARTER
We are used to TWMC's continuous record of declines (revenue declines, declines in COGS, depreciation and amortization) so we're not surprised that this has continued into the Q4 2012 period. TWMC's sales declined by 15% year-over-year in Q4 2012 versus Q4 2011 based on a 3% decline in comparable store sales and a 13% decline in its average store base. The good news for TWMC was that its gross margin percentage increased from 35.8% in Q4 2011 to 36.6% in Q4 2012 but the bad news was that its gross profit declined from $69.2M in Q4 2011 to $59.8M in Q4 2012. While SG&A expenses declined by 9.25% in dollar terms, this was much slower than the 15% revenue decline and as such SG&A expenses as a percentage of revenue increased by 190bp. Although TWMC's adjusted EPS declined by 25% in Q4 2012 versus Q4 2011, at least its adjusted EPS for FY 2012 nearly quintupled thanks in part to its significant SG&A expense reductions.
VALUATION
Investors that are interested in TWMC are prudently aware of the fact that TWMC is in a declining industry. The good news is that although TWMC is a Ben Graham smoldering cigar butt, it can still offer a potential value to its investors depending on the price paid to acquire its shares. We are used to seeing stocks trade at a premium price relative to its liquidity holdings and its net book value because the value in such companies is based on the ability of those firms to continuously engage in profitable business operations over and above the implied cost of capital (going concern principle). TWMC is a rare instance of a company that has a market capitalization ($122M) that is below the value of its gross cash ($133M), net cash ($131M) and net shareholders' equity ($179.6M). We are more than aware that the company is a small-cap company that hasn't been in growth mode since the 1980s, and as a result, we can understand why TWMC's share price has provided minimal net total return since 1986.
Investors have assigned a low value to TWMC in relation to its cash holdings and its net book value because the company endured four years of losses from 2008 to 2011 and because its business strategy of late has involved closing stores in order to retrench and conserve cash. We're stunned as to how severe the declining trends have been for retailers that sell music and related entertainment products, especially since 2006. We think that the song "Download This Song" by MC Lars summarizes just how negative the future revenue trends were for record labels like the Warner Music Group (NYSE:WMG) and indirectly the music retailers like TWMC during this time period. We're amazed that TWMC paid $78.8M to acquire Musicland Holding out of bankruptcy seven years ago, especially since TWMC is only worth $122M as of the end of March 2013.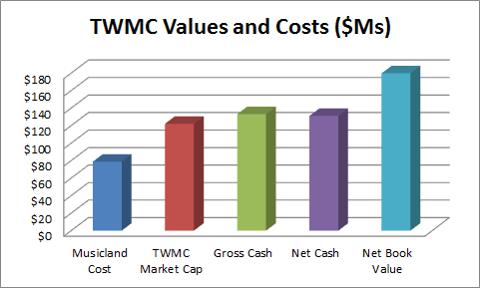 Sources: Morningstar Direct and Trans World Entertainment's 2006 Annual Report
The good news for those that either own TWMC or are interested in going long TWMC is that we can see value in the company. Granted, the value would be primarily if the investors were able to acquire control of the company and liquidate it. Because TWMC's Founder, Chairman and CEO Robert J. Higgins owns 50.5% of the company's stock, it would be impossible to acquire control of the company without offering a change-of-control premium for the stock. It would be great to say that one should acquire TWMC at its current price of $3.87/share, sell off all of its assets, pay off its credits and distribute the net book value per share of $5.60/share in order to harvest a $1.73/share total return (which represents a 44.7% return on capital). The only problem with attempting this is that there is no real arbitrage, especially since the CEO Higgins owns 50.5% of TWMC's stock. Harsha Gowda of BlueShore Capital had recently pushed TWMC to distribute more of its cash stash but was met with resistance by Higgins.
CONCLUSION
In conclusion, we can understand why BlueShore Capital wants TWMC to pay more of its stash of cash to shareholders. It's not like TWMC has been utilizing it in an effective manner. TWMC offers more value to shareholders by arranging for the sale of its assets and distributing to shareholders as a liquidating dividend. Unfortunately, TWMC's Founder and CEO Bob Higgins isn't interested in giving up control of his company, which would enable the share price to converge with the value of its assets. We were pleased that TWMC sold off a non-core real estate property recently and used the money to pay a special dividend. However, we have to warn investors that if you invest in this company, you will not have any real ability to impact its results until Bob Higgins gives up its controlling stake in the company.
Disclosure: I have no positions in any stocks mentioned, and no plans to initiate any positions within the next 72 hours. I wrote this article myself, and it expresses my own opinions. I am not receiving compensation for it (other than from Seeking Alpha). I have no business relationship with any company whose stock is mentioned in this article.
Additional disclosure: This article was written by an analyst at Saibus Research. Saibus Research has not received compensation directly or indirectly for expressing the recommendation in this article. We have no business relationship with any company whose stock is mentioned in this article. Under no circumstances must this report be considered an offer to buy, sell, subscribe for or trade securities or other instruments.