Portugal Telecom (NYSE:PT) is an international operator focused in Portugal, Brazil and Africa. PT is a customer-oriented company offering an advanced Pay-TV and triple-play service. On the business-to-business market, the company has a full range of telecommunications and technological services. PT serves more than 100 million customers worldwide and has generated 58.4% of its 2012 revenues outside Portugal, including 53.3% from Brazil. In order to meet its new medium-term objective to increase its exposure to international operations, PT holds a 25.3% stake on Oi (formerly Telmar, Brazil's largest telecommunications firm) and is closely following the company's management. Oi will have a new business model designed to reach new markets and new products taking full advantage of the enormous potential of the company.
Portugal Telecom has announced the conclusion of the sale of its minority stake in Companhia de Telecomunicações de Macau representing 28% of CTM's share capital. PT received total proceeds of USD 443.0 million that will be used to reduce leverage.
PT first quarter operating revenues totaled 1,553 million euros ($1.9B) down 9.5% compared to the same quarter in 2012. PT had diluted EPS of $.03 against $0.06 in 1Q12.
Though PT is a leader in the Portuguese market, extreme competition and a poor economic environment have added difficulties in PT business. It is necessary to say that the Portuguese Stock Index has declined 33.3% from the date on which the Portuguese government has begun negotiating an agreement with the international creditors. In fact, on the 3rd of May of 2011, Portugal and the "Troika" (IMF, EU and ECB) agreed on a Memorandum of Understanding that has allowed Portugal to gain access to €78B ($102B) bail-out. This assistance has imposed large financial austerity measures for people in general, to public services, and state institutions for a period of several years.
PT has been far more punished in the same period as it has dropped an astonishing 65.7%. It is crucial to analyze PT's quarterly results since then to conclude whether the company is fairly valued or not.
Watching the table below, we easily find that sales have weakened since the second quarter of 2012. More precisely, they have fallen 13.6% from 2Q11 to 1Q13. In relation to profits, the situation is somewhat worse as EPS have dropped from $0.49 in 2011 to $0.35 in 2012. Moreover, profits in the first quarter of 2013 were the lowest in two years.
In the past two years, the company hasn't been able to see sales grow, and it has been increasingly less profitable than before. To make the situation more difficult, PT decided to distribute a fixed annual amount of dividends until 2014. However, this amount was exaggerated and meant that the company has paid dividends in excess of the actual net income of 2012. Indeed, the company distributed dividends for 2012 of 0.325 euros per share which represented a payout ratio of 120.8%.
Revenues and Earnings
US million

1Q11

2Q11

3Q11

4Q11

1Q12

2Q12

3Q12

4Q12

1Q13

Operating Revenues

1,132

2,337

2,271

2,250

2,230

2,118

2,131

2,231

2,019

Diluted EPS

0.195

0.117

0.13

0.052

0.091

0.104

0.078

0.078

0.039
Notes:
- Following the acquisition on 28 March 2011 of a 25.3% stake in Oi, Portugal Telecom proportionally consolidated its operating revenues.
- For better comparison, the average rate of exchange is 1€=$1.30
Charts courtesy of StockCharts.com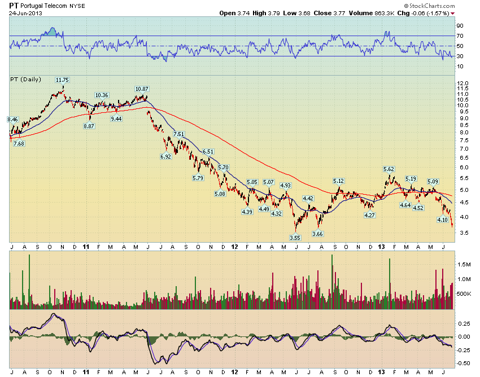 Click to enlarge
(Click to enlarge)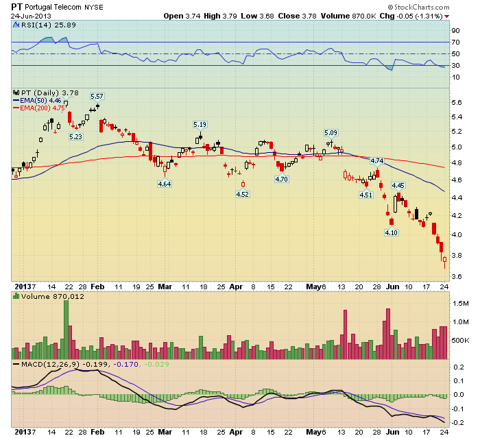 Click to enlarge
(Click to enlarge)
Looking at the charts above, we easily may see that the decline since early 2011 has been strong and continuous. Then, there was almost a year of a shy recovery where prices tried to consolidate around $5. However, as prices have stayed always below the key long-term resistance at $5.65 they have found no support and have fallen again. In fact, the decline has begun about two months ago and has been remarkably strong and almost straight down. Share prices tested today one year's low in the area of $3.65 which may be significant.
Conclusion
Portugal Telecom is a leading company with extraordinary expertise and excellent technological innovation capacity. However, the company is going through a difficult phase and has not been able to increase sales. Moreover, being based in Portugal it is also affected by the problems that the country faces and their negative impact on consumers. Moreover, much of its sales come from its participation in the Brazilian Oi, which also shows growth problems. Profits have decreased, and the company has pursued a dividend policy that is not the most advisable given their current level of profitability. In this environment, no wonder that the price of its shares has been declining in recent years and is now at very depressed levels. If profits keep on the trend of the last two years it is likely that the net profit for 2013 will be not far from $0.20. With a multiple of 15, fair value will be around $3. However, the potential of the company can encourage investors to maintain prices above the range $3.60-$3.70. Probably, we may have seen a bottom today, and a long position is acceptable for those who believe in better results for PT in the second quarter. However, the potential breakdown of that range can be very dangerous, and if it occurs a short position would have to be considered.
Source: In addition to other research, the data collected by the author was obtained through the Company Annual Reports and related documents.
Disclosure: I have no positions in any stocks mentioned, and no plans to initiate any positions within the next 72 hours. I wrote this article myself, and it expresses my own opinions. I am not receiving compensation for it (other than from Seeking Alpha). I have no business relationship with any company whose stock is mentioned in this article. The author of this article gives only his personal view and opinion, never making any investment advice to buy or sell specific securities. The information presented is from sources believed to be reliable, but its accuracy cannot be guaranteed. Before investing in financial assets, investors should do their own research and consult a professional investment adviser.