One has to marvel at how strong this market is. When we have big sell-offs there are buyers on the sidelines who rush in and nearly wipe the slate clean. That is what happened yesterday and even with the awful news out of China we were but a stone's throw from finishing green. This is extremely bullish but one must remain cautious because although the money seems to come in on weakness, the market still has not experienced a real correction that lasted a few sessions or weeks even. We are overdue for that as the market needs to build another base to climb from and to find a wall of worry to climb.
Chart of the Day:
Yes the fall in bullishness in Apple shares has been astounding, and troubling at the same time, but other investment opportunities did present themselves to investors and undoubtedly played a role. We would point out that based on this 5 year chart it does appear that the stock has found support at some old resistance and that does bode well for investors, especially those who have seen shares essentially fall in half.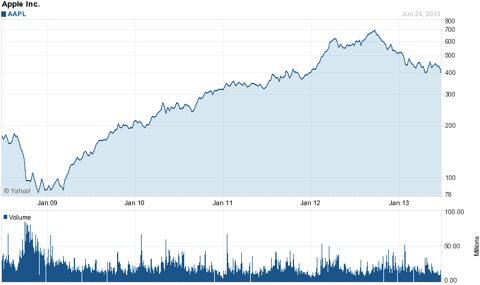 Chart courtesy of Yahoo Finance.
We have economic news due out today, and it is as follows:
Durable Orders (8:30 a.m. ET): 3.0%
Durable Goods - Ex Transportation (8:30 a.m. ET): -0.5%
Case-Shiller 20-city Index (9:00 a.m. ET): 10.5%
FHFA Housing Price Index (9:00 a.m. ET): N/A
Consumer Confidence (10:00 a.m. ET): 75.0
New Home Sales (10:00 a.m. ET): 460k
Asian markets finished lower today:
All Ordinaries -- down 0.38%
Shanghai Composite -- down 0.19%
Nikkei 225 -- down 0.72%
NZSE 50 -- down 1.08%
Seoul Composite -- down 1.02%
In Europe, markets are higher this morning:
CAC 40 -- up 1.34%
DAX -- up 1.26%
FTSE 100 -- up 0.74%
OSE -- up 1.60%
Technology
Yesterday was a bad day for the market, however it was a worse day for investors who owned shares in Apple (NASDAQ:AAPL) which dipped below $400/share on the session before trading higher to end the session at $402.54/share and down over 2.5%. Volume was 17.2 million shares yesterday which is well above the daily three month average and reminds us of the days when Apple was THE stock to trade and everyone traded the shares and not the options. It was not all that long ago and it was not all that long ago that shares were almost double current levels. Now more than ever investors are craving a new hit device and sadly they are left to await a watch when the company needs a television. Although it looks rather bleak here, we would point out that the stock has found support around these levels before and most likely will again, barring a general market collapse, so readers who are traders could likely make money here again by establishing positions in this area - based purely on technicals.
We have waited for months for Zynga (NASDAQ:ZNGA) shares to cool off and it appears that the mainstream investors have finally realized what we tried to warn everyone about; Zynga is a junk company with a not so bright future. Shares had become quite explosive and traded near $4/share on hopes that the gambling business would lead to higher revenues and profits. That has yet to materialize and after yesterday's price action investors now find the shares at $2.58/share after having fallen just under 5% yesterday. Volume remains high, and thus interest, in the company but we are still not bullish of this name. Less bearish only because a large part of the downside has already taken place, but still not bullish.
Consumer Goods
We are bullish of Johnson & Johnson (NYSE:JNJ), a name we have liked for some time and a name which seems to go up no matter what the market is or the news surrounding the company. The stock rises in a good market, in a bad market it rises too, if there is good news regarding the shares they rise, and on any bad news they rise too. The stock is strong and when you see a move like we did yesterday, in yesterday's market, one knows that there is real strength which can be ridden. This is a perennial dividend payer, and more importantly dividend raiser, and right now that is still attractive to investors. Dividend payers may go out of style every now and then, however growth companies and companies which steadily grow their payouts do not. In our opinion it is this group which investors will begin to rotate towards now.
There has been a bit of a correction lately in JNJ shares, but nothing dramatic and easily recoverable from. We would point out that it appears that buyers have returned to stock.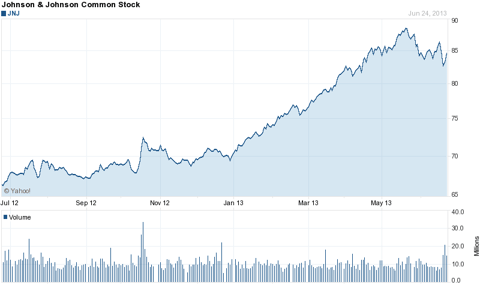 Chart courtesy of Yahoo Finance.
Retail
Ulta Salon, Cosmetics & Fragrances (NASDAQ:ULTA) saw shares rise strongly in yesterday's market after the company announced that their new CEO would be Mary Dillon, the current CEO of US Cellular and a board member for Target (see press release here). The shares rose $3.03 (3.22%) on the news to close at $97.18/share on above average volume of 2.1 million shares which indicates that investors approved of the hire. It does appear to be a solid hire and with the latest operating results, paired with the company's outlook for growth they discussed this is the trifecta. We would be bullish of shares here now that the company appears to be playing with a loaded hand again.
Pharmaceuticals
The Food & Drug Administration, or FDA, sent shares of Allergan (NYSE:AGN) lower yesterday after announcing the guidelines for generic versions of the company's drug Restasis. As it stands now, there will not be a requirement for clinical trials of generic drugs, something Allergan insists is in fact necessary, which would bring competition to Restasis to market on a much shorter timeline. A generic could be launched 12-36 months sooner without the trials, which are time intensive as well as cost and the lack of trials takes down a serious barrier to entry. Investors were correct to push shares down over 11.5% yesterday, but readers should be aware that Allergan will respond to the FDA and could still persuade them to require clinical trials on all generics. This will be interesting to watch in the coming weeks.
To say it has been a tough year would miss the point, because in reality it has only been a tough month or so. And that speaks volumes as to how ugly it has been lately.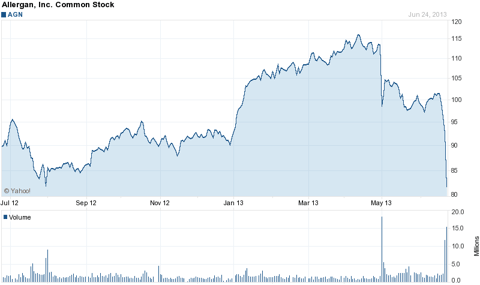 Chart courtesy of Yahoo Finance.
Disclosure: I have no positions in any stocks mentioned, and no plans to initiate any positions within the next 72 hours. I wrote this article myself, and it expresses my own opinions. I am not receiving compensation for it (other than from Seeking Alpha). I have no business relationship with any company whose stock is mentioned in this article.