Gamestop Corporation (NYSE:GME) is the world's largest retail video game company, selling a variety of video game hardware, software, and accessory products. In addition, Gamestop allows customers to trade in used games for cash or credit toward new purchases. Used games represent nearly half of Gamestop's gross profits, and are therefore a critical component to the company's success. In this article, I will argue that Gamestop will be an outstanding investment over the next three to five years. However, I am very hesitant about Gamestop's profitability over the long run (10+ years). This skepticism arises from the fact that I am worried about the used video game business, which Gamestop heavily relies on. In order to get yourself more familiar with Gamestop's profile, here are some basic statistics about the company:
Market Capitalization: $4.8 billion
Price: $40.78
52 Week High: $41.53
52 Week Low: $15.32
YTD Return: 64.01%
Dividend yield: 2.26%
P/E: 12.9
Consumer electronics average P/E: 17.6
Debt-to-equity ratio: 0
Microsoft Removes Restrictions on Xbox One Used Games
On June 19, Microsoft (NASDAQ:MSFT) announced that the Xbox One will no longer carry several restrictions, mostly due to intense customer feedback and Sony's (NYSE:SNE) lack of restrictions on its Playstation 4 platform. Xbox One games will now allow the resale, trading, and sharing of used games. Users are also no longer affected by digital rights management (DRM) restrictions, such as the requirement to connect online everyday. This is a major benefit for Gamestop, and it should be able to sustain its used game profits for as long as the Xbox One and PS4 are widely used and are popular. This amount of time is unknown, but as comparison, the Xbox 360 has been around since 2005.
Given that used games comprise nearly 45% of gross profits, Gamestop will remain a major player in its industry during the Xbox One and PS4 era. However, as I will highlight later on, I still have concerns regarding Gamestop's used game business in the long run.
| | | |
| --- | --- | --- |
|   | Gross Profits FY 2013 | % of Gross Profit |
| Used video game products | $ 1,170.1 M | 44 |
| New video game software | $ 786.3 M | 30 |
| New video game hardware | $ 101.7 M | 4 |
| Other | $ 593.4 M | 22 |
| Total Gross Profit | $ 2,651.5 | 100 |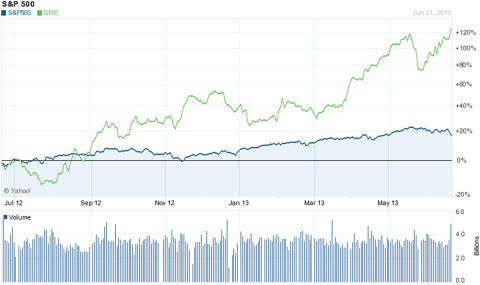 Click to enlarge
Growth
As you can see from the chart above, Gamestop has outperformed the S&P 500 by a wide margin in the last year. While the market return has reached nearly 20% in that time period, Gamestop's stock price has increased by more than an astonishing 120%!
Earnings have grown steadily since the 2008 financial crisis, and they are expected to continue to do so. Especially with excitement revolving around the release of next-generation consoles, the Xbox One and the PS4, analysts expect Gamestop's earnings to increase through 2016. Gamestop should see generous profits, as gamers around the world buy new consoles and new games for those consoles. Here is a table showing Gamestop's expected earnings per share through 2017:
| | | | | | | | |
| --- | --- | --- | --- | --- | --- | --- | --- |
|   | 2011 | 2012 | 2013E | 2014E | 2015E | 2016E | 2017E |
| Adjusted EPS | $ 2.68 | $ 2.87 | $ 3.17 | $ 3.13 | $ 3.73 | $ 4.40 | $ 3.93 |
| YoY Growth |   | 7.09% | 10.45% | -1.29% | 19.05% | 18.04% | -10.73% |
Gamestop has certainly separated itself from its competitors in the used video game market by establishing itself as the place to trade in games. This advantage is evident in why analysts expect earnings to increase during the prime time of Xbox One and PS4 sales.
Long-Term Concerns
My main concern for Gamestop in the long run is that it will not be able to sustain its used video game business profitably. It relies very heavily on the used game market. Therefore, with digital downloads on the rise, Gamestop may need to restructure its business in order to compete and generate earnings. There are several reasons why I am concerned about the used game market.
First, Internet speeds and bandwidth cap limits are increasing. This allows customers to download games from their consoles at home instead of driving to their local store. The number of used games being traded may start to decrease and hurt Gamestop's gross profits. In addition, new video game sales may suffer because they no longer need to rely on Gamestop to buy a new game. They have an alternative.
Second, as the law of supply and demand dictates, a lower supply of used game trades could increase the price of trading. This will make customers less willing to trade in their games. Thus, as digitization becomes more prevalent, Gamestop could see lower profits in the used game business segment.
Finally, game developers are increasingly placing nontransferable downloadable content, DLC, into their games. This discourages used game trading because customers will have the option to enjoy new content even after they have bought the game. One of the most popular games, Call of Duty, is known for its monthly DLC, keeping the game interesting over time and decreasing the number of people who want to trade it in.
Conclusion
Microsoft's announcement was very good news for Gamestop. I believe that this is a great investment over the next 3-5 years. The release of new consoles and new and exciting games for those consoles will drive profits. In this regard, Gamestop has several growth opportunities while the Xbox One and PS4 are in use. Not everyone will buy these new consoles immediately due to their prices ($399 for PS4 and $499 for Xbox One), but the consoles will sell for many years as consumers save money to buy one. Good valuation measures, a strong dividend yield, and zero debt obligations also make Gamestop an attractive investment right now.
Despite these positives, I am skeptical about the company's used game business model over the long run. Digital distribution of video games increases every year, and eventually customers will have a greater incentive to download their games from home (faster Internet speeds, convenience, etc.). This factor may cause Gamestop to restructure its business model, which could induce borrowing. Therefore, because Gamestop relies heavily on used games for gross profits, I am concerned that these trends against this business segment may make it very difficult for Gamestop to retain its profits in the long run. Things may change over time, but Gamestop's management should at least consider this possibility.
Disclosure: I have no positions in any stocks mentioned, and no plans to initiate any positions within the next 72 hours. I wrote this article myself, and it expresses my own opinions. I am not receiving compensation for it (other than from Seeking Alpha). I have no business relationship with any company whose stock is mentioned in this article.