Nike (NYSE:NKE) has had a good 2013 - in its most recent reporting quarter, it beat analyst estimates by 6 cents per share and its stock is up by nearly 20% in the year-to-date.
NIKE Vs. S&P 500 and Dow Apparel Index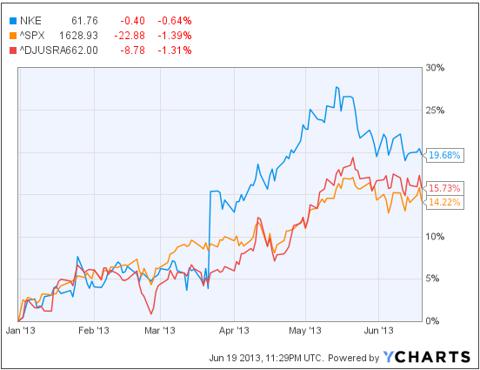 Source: YCharts
As the chart above shows, that nearly plus-20% performance in 2013 is better than the returns of the S&P 500 for the year and the Dow Jones U.S. Apparel Retailer Index by a notable margin. It also fits in with the economic narrative: U.S. consumer confidence remains buoyant despite a bit of a pullback in June, as the economy has slowly improved.
At the same time, with consumers becoming more cognizant of the dangers of obesity, weight-loss effective sports such as running have increased in popularity. To wit, there are nearly thrice as many people engaged in running today than there were in 1990. Growth in this sport has been especially strong among women: there are more women who engage in it today than men, even though men who run were thrice as numerous as women in 1990. Consequently, Nike has put considerable emphasis on products that appeal to both casual and serious runners with its Nike Free and Lunar Glide lines.
Nike also remains popular with consumers. According to Brand Directory, Nike was the 30th most popular global brand in 2012 - more popular than other global brands such as Pepsi, Nestle and Walt Disney - and far more popular than its chief rival, Adidas, which did not even make the Top 500. Nike continues to do this through its continuing sponsorship of popular athletes such as Michael Jordan, Christiano Ronaldo and Roger Federer. Jordan, in particular, remains one of Nike's most valuable assets, despite having retired a decade ago. On a stand-alone basis, its Jordan Brand controls 58% of the U.S. basketball shoe market, ahead of Nike's own sales of non-Jordan basketball footwear.
Given all these advantages, it's not surprising that Nike has had a good run this year. But can investors expect more in the years ahead?
Earnings
Nike isn't resting on its laurels. In 2014, Brazil will host the FIFA World Cup and Nike is sponsoring the host nation, which has won the most number of Cups in history and is expected to have a strong showing behind rising stars such as Neymar. Football is generally regarded as the world's most popular sport and Nike hopes to catch Adidas (OTCQX:ADDDF) in football-related sales: it's estimated to have 36% of the $6.7 billion per annum market to Adidas' 38%.
Nike is also competing on other fronts, even taking on yoga brands such as Lululemon (NASDAQ:LULU) with high-profile celebrity endorsements. At the same time, while companies such as Apple (NASDAQ:AAPL) are only rumored to be venturing into wearable technology, Nike actually sells wearable technology, such as its popular line of tracking watches and sports bands that sync with iPhones.
Consequently, analysts expect Nike's revenues to grow by nearly 9% in 2014, after growing by around 5% this year. While the current year's growth rate is merely equivalent to Adidas AG's expected rate for the year, its 2014 number is superior and surprising considering that Adidas has announced that it expects its soccer revenues to rise to a record $2.7 billion following the World Cup. Indeed, Nike's earnings per share (EPS) are expected to grow by nearly 11% annually over the next five years, while Adidas' is expected to contract by an average of 5% a year.
To be sure, Nike's 11% forward EPS growth rate falls short of the 14.5% rate its industry is expected to recognize during the next five years, but it represents a 47% acceleration from Nike's performance in the prior five years. Moreover, Nike is by far the behemoth in its industry with annual sales of over $24 billion, so a slower growth rate is expected just on the basis of its larger numbers. In short, accelerating growth, strong positioning in growth markets (and even incipient markets) and aggressive expansion into other markets such as yoga suggest that Nike is more likely to exceed estimates than fall short.
Fundamentals & Valuation
Nike is currently trading at a price-earnings ratio of 24x - a slight premium to the 23x of its industry. As a consequence of its higher valuation, its dividend yield is also a bit lower at 1.4% compared to 1.8% for its peer group. However, unlike its peer group, Nike's dividends have grown by nearly 18% a year over the past five years compared to 12.5% for its competitors. That means that over time, Nike's effective dividend yield will catch up to that of its industry.
Nike, similar to its industry group, has strong financial fundamentals, with quick and current ratios of 2.1 and 3.4, respectively. However, it also has almost no debt, with just 2 cents of long-term indebtedness for every 100 cents of equity. That's one-sixth the average level of its peer group and is important because it enables Nike to invest more of its cash flow into its operations rather than debt servicing.
Meanwhile, despite the headline-grabbing amounts that the company spends on marketing and its distribution network, Nike's pre-tax margins are broadly in-line with its industry at 12.6% over the past five years compared with 12.8% for its peer group. At the same time, because it outsources its manufacturing, its return on investment is 10% higher than its industry's at nearly 20% over the last half-decade compared with 17.5%.
Conclusion
The balance of its fundamentals and forward outlook makes Nike an attractive component for any investment portfolio. What's more, the recent turmoil in the markets as investors anticipate the end of global monetary stimulus has opened up an opportunity for those of a more value-conscious bent: Nike is approximately 8 percentage points off of its 2013 peak, meaning that since May, it has given up around one-fourth of its gains for the year.
Consequently, investors buying Nike at current levels have the opportunity for significant upside as we believe Nike will trade at $70 per share in the next 12 months.
Disclosure: I have no positions in any stocks mentioned, but may initiate a long position in NKE over the next 72 hours.
Business relationship disclosure: Black Coral Research, Inc. is a team of writers who provide unique perspective to help inspire investors. This article was written Jonathan Lara, one of our Senior Analysts. We did not receive compensation for this article (other than from Seeking Alpha), and we have no business relationship with any company whose stock is mentioned in this article. Black Coral Research, Inc. is not a registered investment advisor or broker/dealer. Readers are advised that the material contained herein should be used solely for informational purposes. Investing involves risk, including the loss of principal. Readers are solely responsible for their own investment decisions.