BlackBerry (NASDAQ:BBRY) first-quarter results are due out this Friday before the market opens. A lot of people will be watching the data closely, not the least of which are the investors who are short over 170 million shares of BlackBerry stock.
Estimates of the expected results vary widely. One indicator of how well or poorly BlackBerry is doing is the trend in market shares as evidenced by data from StatCounter. These data measure Internet traffic and not the number of handsets sold in the period, but it is safe to say that if market share measured by StatCounter is increasing for a given company, that company has been selling more handsets than were required to replace existing ones and, in a growing market, selling more handsets than previously. The graphs shown are from week seven of 2013 (late in February) to week 24 (mid-June).
Looking first at BlackBerry, its market share bottomed in March and has grown steadily since that time. BlackBerry introduced its Z10 handset in the early part of this time frame and the Qwerty version, the Q10, towards the end of the period. The decline in market share that had been evident in 2012 and early 2013 appears to have been halted, and BlackBerry is slowly regaining some share. This is consistent with sales of 7 to 8 million handsets, slightly more than the 6 million (including 1 millions Z10 units) BlackBerry reported selling in Q4 of its last fiscal year.
Click to enlarge images.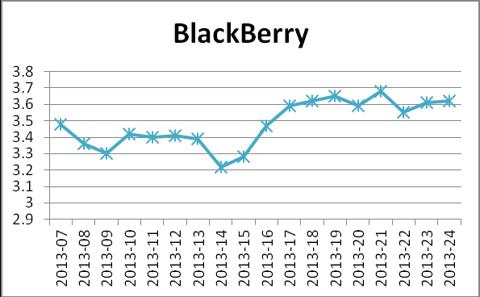 Source: StatCounter.
It is useful to compare BlackBerry market share with key competitors that have also launched new devices. Nokia (NYSE:NOK) launched its new Lumia line at about the same time BlackBerry introduced the Z10. The new devices are very attractive, and Nokia market share has also shown modest growth.
Samsung launched its Galaxy S4 not long after the BlackBerry and Nokia devices were introduced. Samsung has also been gaining market share.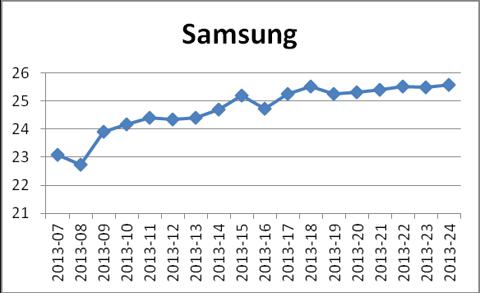 Source: StatCounter.
Apple (NASDAQ:AAPL) has not launched a new phone in 2013. In contrast to BlackBerry and Nokia, Apple market share has been declining throughout this period.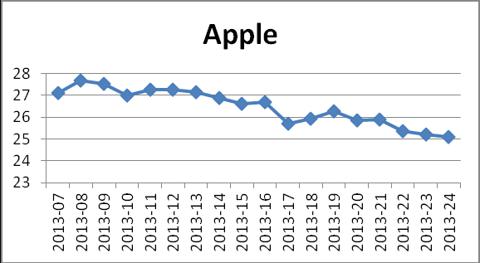 Source: StatCounter.
There has been a lot of discussion regarding the merits of each of these companies and their devices, some of it highly emotional and characterized by a fervent attachment to a particular brand or device, and occasionally critical of those who prefer a different brand. I find myself bemused by the rhetoric. We are here to help each other decide where to invest and, hopefully, earn a profit.
The market share data are not perfect, far from it. But they do represent an objective snapshot of at least one metric that is highly correlated with units in use and therefore reasonably correlated with trends in sales of new units net of retirements of old ones. When market share is increasing, sales of the particular brand are not only sufficient to replace retirement of older devices of the same brand, but also sufficient to expand the user base of the devices carried by that brand. When market share is declining based on this metric, the number of users is falling and necessarily sales of new units are not as great as the retirements of older ones. For this reason it is a good indicator of the trend, while not that helpful in giving us any reliable information on absolute numbers sold in any given period.
The indication from these data is still useful and compels a conclusion that BlackBerry and Nokia are likely to surprise on the upside, while Apple is likely to disappoint. Let's revisit the discussion Friday after the BlackBerry results are out. My bet? BBRY will have a strong quarter.
Disclosure: I am long BBRY, NOK. I am short AAPL calls. I wrote this article myself, and it expresses my own opinions. I am not receiving compensation for it (other than from Seeking Alpha). I have no business relationship with any company whose stock is mentioned in this article.