I have previously briefly covered AT&T as a portion of my dividend portfolio for the strong-stomached. This article will focus on a comparison between AT&T (NYSE:T) and Verizon (NYSE:VZ), the two largest components of the telecom sector in the US. These are both massive holding companies that have market caps of $186 billion and $142 billion, respectively, with segments that provide wireless and data services and wireline services. Odds are, if you live in the US, either you, or someone you know, gives a significant amount of money to one of these companies every month for either cellphone or landline services. These companies pay large dividends, with dividend yields of 5.22% and 4.16% respectively and annualized dividend growth rates of 4.88% and 3.34%. As a result of this, they are both common entries in many income focused mutual funds and retirement portfolios.
YTD Performance

(google.com/finance)
So far in 2013, Verizon has outperformed ATT with a return of 14.4% versus 2.3%. This has largely been due to disappointing revenues reported by ATT in 1Q13 that were largely caused by poor performance (-10% YOY) in their wireline legacy voice services. This was partially offset by the increased performance of wireline data with increased adoption and performance of ATT Uverse (+4.6% YOY), but revenues were still down 1.5% YOY. This contrasts with Verizon, who reported higher revenues YOY (+4.2%) with strong performances on both the wireless (+8.6% revenue) and legacy services (+4.3%).
Current Valuation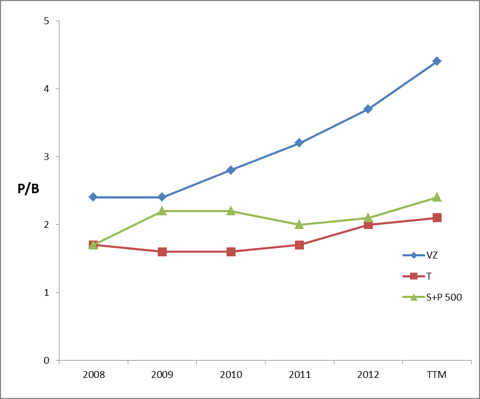 ATT has a P/B of 2.2 versus Verizon at 4.4, which indicates that ATT's price has not appreciated as much as Verizon's has in the last 2 years. This is further confirmed looking at P/E values for both companies, with ATT being at 28 versus Verizon's 130. This suggests that Verizon's earnings are not keeping up with recent price increases and that it is currently overbought and somewhat overvalued. Both P/E values indicate that these companies have both been propped up by investors seeking yield with interest rates being low, but ATT is comparatively cheaper at current valuations.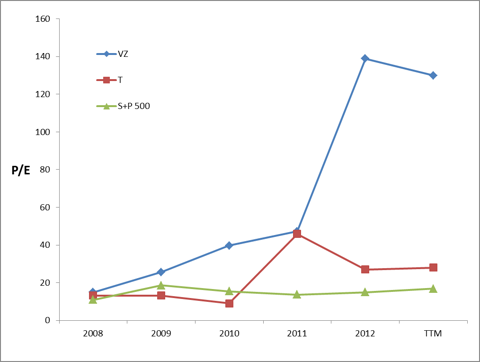 Free Cash Flow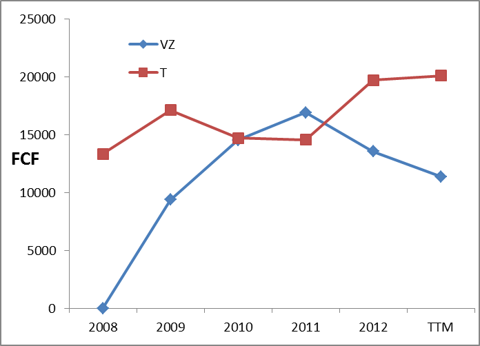 ATT has a higher FCF than Verizon, with 20.1 versus 12.82 billion. This translates to 3.51 and 4.50 FCF/S and results in a FCF payout for 2013 TTM of 50.7% for ATT and 45.8% for VZ. Both companies are paying out about half of their FCF to investors as dividends, a rate that is high, but not particularly worrisome as both of these companies have long histories of providing income to shareholders and are not taking on additional debt to fund the payouts.
Calculating fair value for both companies comes to 42.80 for ATT and 41.66 for Verizon. This represents a 24% premium for ATT and a 16% overvaluation for Verizon at current pricing. This value was calculated using net income from 2008 to 2013 with a WACC of 3.18% for ATT and 5.38% for Verizon. This calculation also disregards Verizon's payout to settle pension debt for 2012 that was included in the dividend payout (including this in the calculation immediately drops it to around $35.5, but it is not necessarily appropriate to include a one off expense into growth estimates for the company.)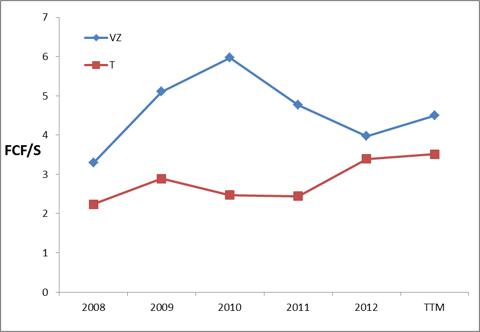 Buybacks
Both companies have aggressive buyback programs in place. ATT has recently announced another round of 300 million shares after the completion of their current program although this program will be purchasing opportunistically so it should progress at a slower rate than previous purchases and represents around 5.5% of the current share count. Verizon has announced and is completing 100 million share buyback to be completed by the end of February 2014 which is 3.5% of the current share count.
Concerns/Future Actions
The outlooks for both companies growth in America is dim, with margins being squeezed, customers abandoning wire-line services and the market for smartphones becoming increasingly saturated. This has both competitors looking to expand overseas, with ATT considering acquisitions in Europe and Verizon looking north to Canada in order to find growth.
Both companies have significant pension liabilities that they are taking steps to address, but ultimately, these losses are currently mostly still unrealized and will have large implications for their balance sheets as payments must be made to prop the funds up.
Increased competition from small prepaid providers, a reinvigorated Sprint or a livelier T-mobile will likely result in pressures on revenues and earnings. Unfortunately, having such a large portion of the market share means that increased competition is likely to eat into your market share as smaller competitors are able to more nimbly adjust pricing to steal customers away from larger companies they are not necessarily happy with.
Overall
With the higher dividend yield, lower P/E and P/B, higher buyback levels and higher fair value, ATT looks to be the better value at current prices. Verizon seems a bit overvalued at current price and this may be a good time to take some profit. Both of these companies are great income generators and should be considered for inclusion in anyone's retirement portfolio.
I will likely add to my position in ATT if the price approaches $32-33, as I think the dividend payouts make holding T for the long haul worth it and the negative implications seem to be similar across much of the sector and not solely company specific.
Disclosure: I am long T. I wrote this article myself, and it expresses my own opinions. I am not receiving compensation for it (other than from Seeking Alpha). I have no business relationship with any company whose stock is mentioned in this article.
Additional disclosure: This is my compiled research and opinion, please do your own due diligence and research before investing.