Coinstar, Inc. (CSTR) is a love-it or hate-it stock. At the end of May, an analyst from B. Riley just put a $100 price target on the stock - an estimated upside of 80 percent. Alternatively, at the same time, roughly 43 percent of the floating shares were sold short - a short interest that is more than First Solar (31 percent) and nearly double the short interest in J.C. Penny (23 percent).
This has been a rough year for CSTR shorts, who have seen Coinstar barely outperform the market, gaining 13.5 percent compared with 11.1 percent for the Nasdaq. Over the past year, however, CSTR has underperformed. Coinstar is down nearly 10 percent compared to a 16 percent increase in Nasdaq.
Coinstar's recent gain has come on the back of six straight beats on earnings, including a new joint venture with Verizon (NYSE:VZ) to get into streaming online video - Redbox Instant.
Performance
Coinstar is not a one-trick pony, but Redbox certainly is the golden child. Redbox accounts for $508 of the $575 million revenue CSTR generated in the most-recent quarter. Revenue for the quarter grew 1 percent. Year-over-year, Coinstar quarterly earnings growth is down 50 percent, with EPS falling to $0.82 from $1.65 a year ago. Earnings for the quarter grew 10 percent from the prior quarter.
Coinstar trades at a forward P/E of 10.39 and at three times book value of $18.45. The price closed Friday at $59.04, up 3.4 percent on the trading session. Comparatively, Netflix (NASDAQ:NFLX) trades at 15 times book and a forward P/E of 69.52. NFLX has a market cap of $12.18 billion, compared to $1.62 billion for CSTR. Year-to-date, NFLX is up 134 percent.
Coinstar's revenue-per-share is comparable to Netflix's - $74.79 per share versus $67.63 per share for NFLX. But, the revenue growth is substantially less. NFLX's most recent earnings report showed year-over-year growth of 18 percent, compared with 1.1 percent for CSTR. Netflix's PEG ratio, a measure of value per share utilizing growth, is 8.13 - well above Coinstar's PEG of 0.63. (As a reminder, Peter Lynch noted that a fairly valued company has a PEG equal to 1.)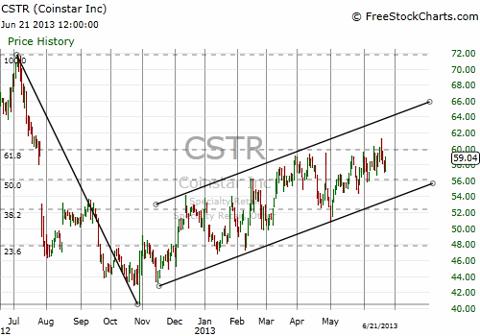 Click to enlarge
Technically, CSTR is trading solidly within an upward channel since November 2012, and is currently trading in the middle of that channel. The channel is showing upward resistance of $63.50 and lower support at $53.50. During its recent climb, CSTR has backed and filled the gap from CSTR's 14 percent decline after a weaker-than-expected earnings report. The price is trading below the 61.8 percent retracement of the July-October decline from $71.66 to $40.50, which sits at $60 per share. Coinstar's 50-day moving average ($56.22) is 8 percent above its 100-day moving average ($51.63).
Growth Plans
Coinstar plans to double its revenue to $4 billion by 2017 - expecting multiple product lines to begin to take hold. Those product lines include Coinstar, Redbox, Rubi Coffee Kiosks, events, and gift cards.
Obviously, Redbox Instant is the most promising of these growth prospects. At the moment, Redbox Instant is not interested in television, instead trying to build a base among users who are interested in the most-recent movies, a way CSTR can get a foot hold in the market. But, that is just the start. Redbox Instant CEO Shawn Strickland has said that it is hard to imagine Redbox Instant without original content. It remains to be seen what Redbox Instant's original content will come in the form of, but Mr. Strickland suggested that it would focus on family-friendly content - a void that Netflix is not filling.
Since launching, Redbox Instant has been embraced by Roku and Google TV. Though this will put Redbox Instant into more potential customers, it remains unclear how many subscribers it will lead them to.
Beyond Redbox Instant, Coinstar is growing its kiosk business - putting 1,500-2,000 Redbox kiosks in Canada this year in addition to another 500-1,000 kiosks in the United States. This growth is helping Redbox gain market share in DVD sales - arguably a dying business. Blockbuster - which Redbox all but killed - is still on an inextricable decline, with DISH Networks cutting its stores by 40 percent to 500. Redbox is likely to solidify this market, even if it is a falling share of the overall market. Redbox currently accounts for around 50 percent of the DVD rental market share, but it is hard to see that percentage falling.
This year, the company will also add 1,000-2,300 kiosks other than in Redbox and Coinstar. Those include the Rubi Coffee Kiosks and other products.
Conclusion
Despite a 14 percent increase this year, Coinstar shares are not reflective of potential growth catalysts in the market. Shares are still overly shorted - even though the float has decreased by 1.2 million over the past month. Continued paring back of these short positions could lead CSTR higher in the near term.
Coinstar's earnings report at the end of July will be especially important this go-around. Redbox Instant had its full roll-out in March - and subscriber growth will be particularly telling.
In the meantime, immediately catalysts for Coinstar may be hard to come by. The stock is currently undervalued, but revenue growth continues to lag and the future is unclear at best. Until the company adds clarity and starts to translate its plans for doubling revenue into actionable success, it is likely best to stay away.
Disclosure: I have no positions in any stocks mentioned, and no plans to initiate any positions within the next 72 hours. I wrote this article myself, and it expresses my own opinions. I am not receiving compensation for it (other than from Seeking Alpha). I have no business relationship with any company whose stock is mentioned in this article.