By Todd McDonald, analyst
Overview
Nike (NYSE:NKE) is slated to report Q4 2013 earnings after the close of trading on Thursday, June 28, with a conference call scheduled for 5:00 p.m. ET. The actual results are typically available via a press release at 4:15 p.m.

Outliers and Strategy
Earnings Per Share: The value for this measure typically compares with consensus estimates. Earnings per share estimates range from $0.69 to $0.80, with consensus coming in at the high end, at $0.75 (source: Yahoo Finance). Nike has beat consensus estimates for earnings per share in seven of the past eight quarters.
Revenue: Revenues are expected to be in the range of $6.52 billion to $6.85 billion, with the consensus estimate at $6.64 billion.
Futures Orders: In the third-quarter release, Nike indicated that worldwide futures orders, in constant currency (scheduled for delivery the quarter March through June 2013), were 6% higher than the same quarter last year, or $9.9 billion. According to a post on Barrons' blog, Canaccord Genuity is calling for futures orders growth of 10%, while Stifel Nicolaus is projecting 9% growth.
Implied Volatility: Nike's shares have had average absolute moves of 6.17% in the last two years after earnings releases. Options premiums are pricing in a 5% move.
Recent dollar strength is likely to have a negative impact on Nike's bottom line, according to a Forbes.com article. Approximately 60% of Nike's revenues come from outside North America.
Recent News
June 20: Brand President Charlie Denson, a 34-year Nike veteran, plans to retire in January 2014. The firm also announced other management changes, including Eric Sprunk's promotion to COO.
May 7: According to a post on Benzinga.com, JPMorgan raised its price target from $64 to $70, citing an upcoming batch of potential catalysts including Chinese stabilization and the company's new Flyknit line. The firm envisions three to five years of mid-teens earnings growth and maintains its Overweight rating.
April 22: According to a post on StreetInsider.com, UBS reiterated its Buy rating while increasing the firm's price target to $68 from $63. The increase in price target is a result of meetings with management that increased confidence for improving gross margins, and the potential for earnings per share growth over 20%.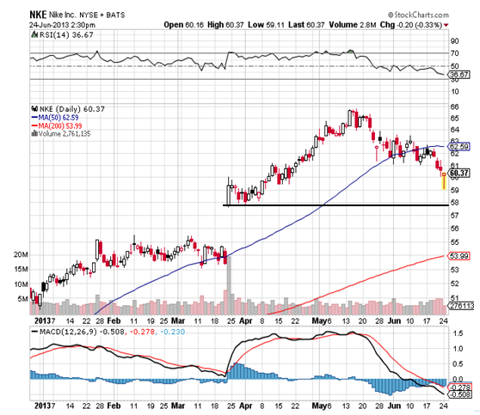 Technical Review
Nike's shares have outperformed the broader market gauges in 2013, rising approximately 18% vs. the S&P 500's 13%. However, recent price action has been negative, with the stock losing its 50-day SMA and violating an upward trend beginning from the mid-November 2012 lows. If earnings disappoint, look for initial support at the lows of the trading session following the Q3 earnings release near $58. Should earnings surprise to the upside, potential resistance levels include the 50-day SMA near $62.50 followed by recent highs near $66.
Summary
It is worth noting that currency headwinds and slower-than-expected Chinese growth could have negative implications for the upcoming report. Foreign revenue growth is a key component to continuation of the current growth rate. However, after a nearly 10% decline from recent highs, these concerns may be priced in. Look for numbers for EPS, revenues, and futures orders above the midpoint of analyst estimates to push shares higher after earnings are released.
Disclosure: I have no positions in any stocks mentioned, and no plans to initiate any positions within the next 72 hours. I wrote this article myself, and it expresses my own opinions. I am not receiving compensation for it (other than from Seeking Alpha). I have no business relationship with any company whose stock is mentioned in this article.
Disclaimer: By using this report, you acknowledge that Selerity, Inc. is in no way liable for losses or gains arising out of commentary, analysis, and or data in this report. Your investment decisions and recommendations are made entirely at your discretion. Selerity does not own securities in companies that they write about, is not an investment adviser, and the content contained herein is not an endorsement to buy or sell any securities. No content published as part of this report constitutes a recommendation that any particular investment, security, portfolio of securities, transaction or investment strategy is suitable for any specific person. For terms of use regarding research reports, please click here.