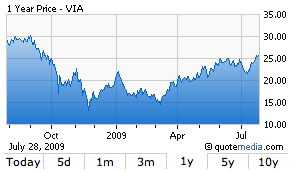 Viacom (NYSE:VIA) reported mixed 2Q09 results with adjusted EPS of 49 cents matching expectations on $3.3 billion in revenues, which were $200 million light of expectations. The revenue shortfall came from the Paramount movie studio and Rock Band which are less important aspects of the Viacom story. The company's cable TV networks performed well in the quarter, showing sequential improvement from 1Q on domestic ad trends and operating margins. Headline revenue of -14%, operating income of -22%, and EPS of -23% certainly remain weak but the sequential improvements at the cable nets will likely carry the day.
Domestic advertising was -6% in 2Q, better than expectations of -7% to -9%, and a 300 basis point improvement from 1Q09's -9%. While previously declining ratings stabilized in 2Q, it is not clear if the sequential improvement in advertising was Viacom closing the gap with its peers or a general improvement in market conditions. Viacom had been underperforming peers by 300-900 basis points over the past several quarters.
Management stated that if Rock Band video game is backed out of Media Networks, the margin on the cable nets improved by 100 basis points sequentially. This is also a positive for Viacom as it has to spend heavily to improve ratings at its cable networks.
Despite greater than expected weakness at Rock Band and Paramount, this quarter is a win for Viacom shares as trends in cable networks is what matters.
As far as a read through to other cable networks, Viacom's results are promising but we won't really know for sure until we get Time Warner's (NYSE:TWX) results on Wednesday morning. I suspect that we will learn that cable nets as a group held up better than expected in 2Q but that some of Viacom's games were closing its underperformance gap. Management comments that it completed its upfront at acceptable pricing and volume and that the scatter ad market strengthened in June and into July are hopeful signs for cable network industry.
I have no issue with those who want to play an advertising recovery via Viacom. However, I prefer the greater operating leverage at CBS and the higher growth and superior, non-fiction focused business model of Discovery Communications (NASDAQ:DISCA).
Disclosure: CBS and Discovery Communications are widely held by clients of Northlake Capital Management, LLC including in Steve Birenberg's personal accounts.