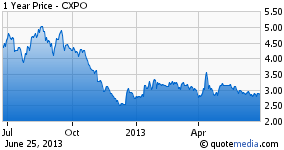 Crimson Exploration (NASDAQ:CXPO) put itself into play for a takeover when it announced on April 30, 2013, that it had agreed to merge with Contango Oil & Gas (NYSEMKT:MCF). Since then, Crimson completed its first Buda well in mid-May in the recently discovered Buda sweet spot and announced the results last week. Crimson has a 50% working interest in the Beeler #2 well and announced a gross 24-hour initial production rate of 859 Boepd, consisting of 761 barrels of oil, 56 barrels of natural gas liquids, and 253 thousand cubic feet of natural gas, on a 25/64th choke. The well averaged a gross 30-day production rate of 797 Boepd.
Buda wells rely on finding natural fractures, and the well did not require an expensive fracture stimulation job. The well cost an estimated $3.6 million to drill and to bring into full production. The most successful Buda well so far is the Dan Hughes Oil Company Heitz 302 3H well located near the Crimson property line and the Beeler #2 well. According to the Texas Railroad Commission, the Heitz 302 3H well produced 236,011 barrels of light sweet crude oil during its first 11 months of production. Several other Buda wells in the sweet spot have produced over 150,000 Boe in their first 12 months of production.
Crimson has over 1,200 clearly defined drilling locations in the Woodbine, Eagle Ford, James Lime, Haynesville, and Niobrara. The company is cash constrained due to relatively high debt levels and is only drilling 10 to 12 gross wells per year out of cash-flow. But the Buda results have been so compelling that Crimson has gone ahead and leased an additional 1,665 gross acres in the Buda sweet spot after it gained information on its drilling results. Crimson estimates each Buda well will require 320 acre spacing. With 10,140 gross acres Crimson has room to drill 31 gross Buda wells.
The Heitz 302 3H well has already earned a net profit after capital expenditures and production expenses of nearly $10 million for Dan Hughes Oil Company. The well is still exhibiting strong production trends, and it is not known how much oil it will ultimately produce. If each Buda well were to provide an average total net profit of $10 million over the life of the well, then the Crimson's Buda discovery could be worth $310 million. Crimson has a 50% working interest in its Buda wells that could be worth $165 million to Crimson. Additionally, the wells may be able to be down spaced to 160 acres, which would increase the potential number of gross wells to 62 wells and the value of the Buda discovery to $620 million.
The Buda discovery could spark a bidding war for Crimson Exploration. Contango has filed an S-4 with the SEC describing the details of the merger. It turns out Crimson and Contango began merger discussions in January of 2013. The merger is friendly to Crimson's upper management as all of them retain similar positions in the merged company. According to the S-4, Crimson retained Barclays Capital as its financial advisor to render an opinion to the Crimson Board of Directors as to whether or not Crimson was receiving a fair price in the merger. Barclays based its opinion primarily on the Crimson December 31, 2012, 10-K and the December 31, 2012, petroleum reserve report. It also based its decision on Crimson's financial condition and ability to accelerate its drilling program.
Importantly, the opinion did not include the new Buda discovery and the potential near-term cash impact it could have on Crimson. The company only has 44.4 million shares outstanding, and its new Buda discovery could be worth anywhere from $165 million to $330 million net to Crimson. That kind of opportunity is not lost on potential hostile bidders. Chesapeake (NYSE:CHK) has acreage surrounding Crimson's Buda discovery. If Chesapeake weren't in a difficult financial position, Crimson could make an ideal fit. Two companies in the Eagle Ford and Woodbine that may also consider Crimson's asset portfolio a good fit are Sanchez Energy (NYSE:SN) and Halcon Resources (NYSE:HK). Another nearby Crimson neighbor, Anadarko Petroleum (NYSE:APC), has been actively looking to lease more acreage in the area.
Any investment in Crimson based on a hostile bidder's stepping forward would be highly speculative. Additionally, the next 30 Buda wells Crimson has to drill may or may not be as good as the Beeler #2 well. However, the Buda discovery is not factored into Crimson's valuation in the proposed merger agreement.
Disclosure: I have no positions in any stocks mentioned, and no plans to initiate any positions within the next 72 hours. I wrote this article myself, and it expresses my own opinions. I am not receiving compensation for it (other than from Seeking Alpha). I have no business relationship with any company whose stock is mentioned in this article.