The markets are still reeling from the Federal Reserve Chairman discussing plans to add less liquidity into the markets on a monthly basis starting as early as this year; as a result stocks, bonds, and commodities have all fallen. It seems that no asset classes are safe form the drying up of liquidity that is taking place in the markets. But that also means that all asset classes are potential buying opportunities, depending on the results of the Feds experiment. Market participants are positioning themselves to weather a world without the Bernanke boost; however these moves may be premature, or outright wrong. The case can be argued that more liquidity will be entering the markets in the future as a result of deteriorating fundamentals globally. This will occur from a trigger in the markets and be followed by a new trend.
China's GDP growth rate has declined to the mid 7% range and following the interbank lending rate scare from last week it not likely to see higher growth in the near future. The US economy is still producing a 1% growth range, but has a problem with inflation. Recently the inflation rate has been creeping back towards the 1% floor the fed has set in previous meetings. This could cause the continuation of stimulus or the resumption if market conditions do not take care of the issue, and with declining commodities I cannot see this happening soon. With the two largest economies slowing we come to our trigger economy: Europe. The country has been in a recession and could continue to stay there as poor economic conditions and the thought of global liquidity drying up start to take effect. Periphery countries are poised to suffer the most from speculative money leaving as the search for yield declines or becomes more diversified in a rising rate world, making the ability to borrow more difficult for banks. Germany will have most likely try to stem any bailouts or relaxing of austerity until after the elections as to not provoke backlash. This means the economy will be susceptible to the lack of exports to China and the US at the same time people are fleeing risk assets and political gridlock creates inaction. This will spark many to get into flight to safety assets such as US cash and Treasuries.
click to enlarge images

Click to enlarge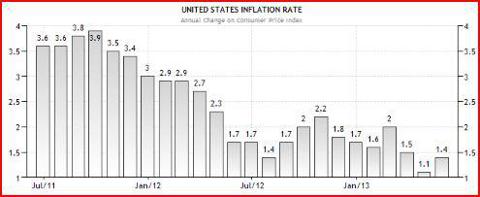 Click to enlarge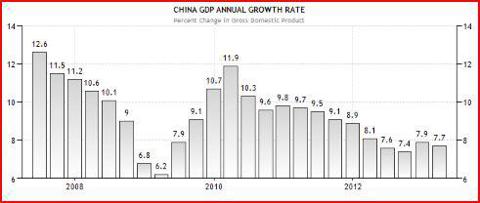 Click to enlarge
This flight to safety could create the trend back into gold as the price drops to more attractive levels (from the rising dollar) and the deteriorating fundamentals start to push the Federal Reserve back into their dovish frame of mind. This will also pull interest rates back from the recent highs, causing the opportunity costs of holding gold to decline (not to mention the Treasury bond has shown that it is far from a safe haven as of late). The resumption of stimulus by the Fed could be accompanied by Europe after German elections in September, and China may move to keep the economy above the 7% rate.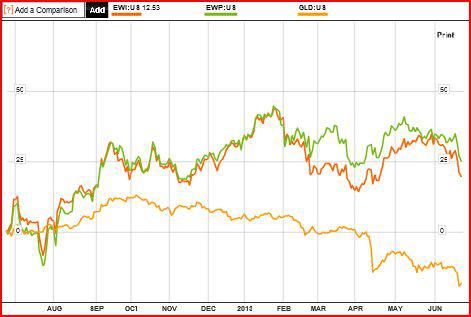 I would recommend playing this trend in a variety of ways, one could be to buy gold in euro denomination, but this could detract from the separation of the two plays and produce a lot of volatility in the near term. I would recommend shorting European banks and ETFs such as (NYSEARCA:FEZ), or go straight for the potential problem regions with shorting ETFs such as (NYSEARCA:EWP) and (NYSEARCA:EWI) to get the downside potential of Spain and Italy. As these shorts start to produce profits and gold starts to increase in price on the potential that the Fed may jump back into the stimulus game once again through QE4 or the continuation of QE3, you should look to purchase gold ETFs such as (NYSEARCA:GLD) or (NYSEARCA:IAU). I would also recommend looking into gold miners so long as they are well managed and pay a dividend. Agnico-Eagle Mines (NYSE:AEM) is one that I would recommend; it has good cash flows, mines in safe places and produces a yield of over 3% still better than the 10yr.
Disclosure: I have no positions in any stocks mentioned, and no plans to initiate any positions within the next 72 hours. I wrote this article myself, and it expresses my own opinions. I am not receiving compensation for it (other than from Seeking Alpha). I have no business relationship with any company whose stock is mentioned in this article.