Market uncertainty presents opportunities for the patient disciplined investor. The worldwide markets suddenly rushed to the exits following Ben Bernanke's description of the conditions needed for the Federal Reserve to begin tapering the QE experiment. Interest rate sensitive companies such as REITs fell precipitously giving income seeking investors and opportunity for an attractive entry point. The article below will highlight Realty Income Corp (NYSE:O) which I find particularly attractive in comparison to BP Prudhoe Bay Royalty Trust (NYSE:BPT) which offers double the yield of O.
O or the "monthly dividend company" is a real estate investment company with a documented 44 year track record. While operating as a REIT, O is legally bound to return at least 90% of its taxable income to investors. O complies with this requirement in the form of dividends which are paid monthly. A monthly payout is an excellent way for long-term investors to allow compounding to work for them. For the retired investor who needs the income to live off a monthly check is preferential when compared to a quarterly payout.
As we can see from the website, O has aggressively raised dividends on a consistent basis which helps offset the effects of inflation. The most impressive aspect in my view can be seen from the chart below. The chart shows the power of compounding dividends combined with steady growth. The returns generated are quite extraordinary considering the timeframe.
O is subject to risks as well. The shares have sold off rather aggressively since hitting an all time high of $55 per share last month. The reason for the sell-off is the fear of higher rates crimping its ability to generate consistent gains. The specific fear is that interest rates will continue to rise limiting its ability to purchase additional properties crimping future growth. There is the additional fear that rates will rise much faster than annual rent increases subjecting the company to declining real returns.
In my opinion, the fears are valid however a bit overblown. Interest rates have been rising since Bernanke's speech, however the beginning of the taper will depend on economic conditions improving, notably unemployment. Unemployment has improved a bit but not to the level to spark any sort of inflation. The Fed may have wanted to remove some froth from the capital markets and in my opinion has been successful in doing so.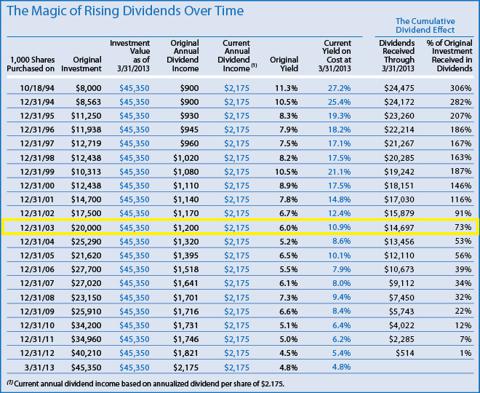 Click to enlarge
Chart taken from O's website.
BPT is an oil royalty trust operating out of Prudhoe Bay in Alaska. A trust holder is entitled to receive a royalty based on the first 90,000 barrels recovered less costs and taxes. The distributions paid are classified by the IRS as a return on capital and a dividend and are treated as ordinary income similar to REITS. Distributions are paid on a quarterly basis.
BPT is currently distributing roughly $9 per trust unit for a yield of roughly 10%. At first glance the yield jumps off the page as very enticing. However upon further review the dividend isn't as grand as it appears. A portion of the dividend is a return on capital which lowers the overall yield.
Even with that caveat in mind the yield is still attractive for those who are willing to accept the following risks. The main risk of the trust is its dependence on an elevated price of oil for its enticing payout. If the price of oil were to fall precipitously, the income received would fall considerably. The most likely scenario for this to occur is for the world to enter into a recession.
The second major risk is a shutdown of the operation for either maintenance or some sort of disaster. A situation such as this occurred in the October 2012 dividend payment. The payment was $1.82 due to average production coming in at only roughly 66,000 barrels due to maintenance. The shares sold of quite briskly on the news.
The third and in my view greatest risk is the life of the trust itself. The trust has a finite life span and according to the company may terminate in 2027. Whether it is 2025 or 2029 the point is the trust will hit a peak in production and begin to decline significantly from that point. I would prefer to invest in a company such as O where length of life isn't an issue.
In today's low rate environment both companies have something compelling to offer. I prefer O as opposed to BPT due to its greater predictability and flow of distributions. Both would be best held in tax advantaged accounts due to the nature of their classifications.
Disclosure: I have no positions in any stocks mentioned, and no plans to initiate any positions within the next 72 hours. I wrote this article myself, and it expresses my own opinions. I am not receiving compensation for it (other than from Seeking Alpha). I have no business relationship with any company whose stock is mentioned in this article.
Additional disclosure: Thank you for reading the article. Investors are always reminded that before making any investment, you should do your own proper due diligence on any name directly or indirectly mentioned in this article. Investors should also consider seeking advice from a broker or financial adviser before making any investment decisions. Any material in this article should be considered general information, and not relied on as a formal investment recommendation.