Safeway (NYSE:SWY) is the second-largest U.S. grocery chain after Kroger (NYSE:KR) with over 1600 stores across Canada and the United States. Several recent transactions including the IPO of the Blackhawk division and the proposed sale of Safeway Canada has made it more difficult to understand the value of this business, leading to a potential miss-valuation by the market. Management intends to provide more detailed figures on the continuing operations through the Q2 earnings release. In the meantime, the confusion around the continuing operations may lead to an opportunity to purchase the shares at a discount.
The Transaction
Recently, Safeway agreed to the sale of its Canadian operations, Safeway Canada, to Sobey's (EMP.A), one of the largest groceries chains in Canada for $5.8 billion. The deal is expected to close by Q3 2013 and both management teams are highly confident about the transaction. The sale is expected to provide Safeway with $4.0 billion in after-tax proceeds. With the sale of the 200 or so Canadian stores, Safeway is expected to operate around 1,400 stores in the United States once the transaction closes.
Management is expected to use half of the proceeds for share buybacks and half of the proceeds to reduce debt and maintain an investment-grade credit rating.
Post-Sale Capital Structure
At today's share price, post-transaction, the company is expected to have a Market Capitalization of $3.4 billion and an Enterprise Value of $8.0 billion.
As highlighted in the below table, $2.0 billion in cash will be used to repurchase shares, pension deficits will be reduced by $194 million, debt will be reduced by $2.0 billion and approximately $250 million in cash flow will have accrued between Q1 2013 and the closing of the deal.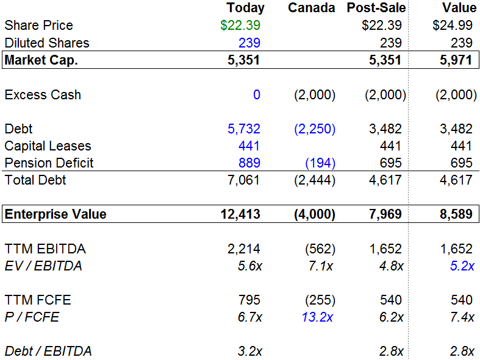 To be conservative, I have not included the market value of Blackhawk, the gift card division, and the proceeds from the monetization despite the spin-off and IPO of that operation. I think the market value of Blackhawk (NASDAQ:HAWK) is above what I would pay for it so I have carried its earnings at Safeway's valuation. However, given Blackhawk's higher growth and much higher market value, Safeway's future monetization of its stake in Blackhawk may provide additional upside.
Post-Sale Earnings
Over the past 12 months, Safeway generated approximately $2.2 billion in EBITDA and $0.8 billion in free cash flow ("FCF"). Management announced that Canada generates approximately $560 million in EBITDA, which translates to approximately $300 million in FCF after plugging in some margin assumptions.
This suggests that the U.S. business had generated approximately $1.65 billion in EBITDA and $490 million in FCF over the past 12 months.
However, the $490 million in FCF needs to be adjusted to reflect less interest expense as a result of the planned $2.0 billion debt repayment. Management expects to pay off around $2.0 billion of current debt yields a weighted-average interest rate of 3.5%. This is expected to generate savings of $50 million.
After making this adjustment, this U.S. business is expected to generate around $540 million in FCF.
This suggests that the business is now trading at 4.8x TTM EBITDA and 6.2x TTM FCF, making it remarkably cheap on a trailing basis.
Likewise, note that I have not adjusted FCF from the company's real estate division as a result of its real estate monetization. I believe this can provide further upside.
Why Is It So Cheap?
Given where the overall market is trading at, it's clear the market is implying negative growth rates going forward. The biggest factor is the increased competition, particularly in the U.S., coming from discount retailers like Wal-Mart (NYSE:WMT) that are using groceries as loss leaders to attract customers on the low-end, while higher-end groceries, like Whole Foods (NASDAQ:WFM), continue to gain market share.
This has impacted the margins at Safeway, with gross margins falling from 28.5% to 26.5%. Investors are acutely aware of the competitive pressures facing the industry, and as a result, have significantly reduced the valuations the typically non-cyclical grocery business.
Valuation
At this point, investors may have already priced in a large portion of the future earnings decline. Given the extremely low valuations, the stock currently has a FCF yield of 16%. As long as management appropriately returns capital to the shareholders, which this management team seems to have done a decent job at, there is limited downside in this investment.
In my model, I have used a 5% FCFE and EBITDA decline, a 5.0x EV/EBITDA multiple, 30% of FCFE used to repurchase shares and the remainder to pay off debt, and a 10% discount rate. The result was a downside share price of around $22.
A conservative fair value estimate is around $25 per share or 5.2x EBITDA and 7.5x FCF. This value represents a moderately declining earnings power and a lack of asset monetization.
Meanwhile, any number of factors including a revaluation, monetization of assets, and stabilizing earnings will provide significant upside.
Finally, one last market-oriented upside is that Safeway's shares have considerable short-interest of up to 17%. With management's intentions of purchasing up to 35% of the shares outstanding at the firm, pure supply-demand dynamics are likely to drive share prices higher in the short run.
Thanks for reading this article. I would love to hear your thoughts and questions on this opportunity.
Happy Investing!
Disclosure: I am long SWY. I wrote this article myself, and it expresses my own opinions. I am not receiving compensation for it (other than from Seeking Alpha). I have no business relationship with any company whose stock is mentioned in this article.