The 3D printing and rapid prototyping industry is a wonderful advancement in engineering that opens up exciting opportunities for many industries. For companies that make and sell products en masse, it gives them the ability to turn a design into a prototype in perhaps one-tenth the time of traditional manufacturing methods. For companies that sell custom, one-of-a-kind applications, such as a personalized medical device, they can manufacture the finished product to exact custom specifications in a very short time. There is also the home market, which while still in its infancy and mostly used by hobbyists, may develop into something bigger.
Anyone needing 3D printing services has two options; they can buy the printer and all the necessary accessories and set up a production environment in-house, or they can choose to outsource the production to one of many rapid prototyping services who utilize 3D printing machines. It's a simple procedure, whereby the CAD file is uploaded to the prototype service provider, and in many instances they can have it printed and shipped out in 1-2 days. The whole procedure is handled online without the need for human interaction.
The concern here is not for the future of this industry. I think it's phenomenal. The concern is that the valuations of some of the companies that operate in this space, are now in "outer space" and meet many of the criteria to be classified as a bubble, as described by Robert Shiller, and reported in this New York Times piece. These are the criteria:
Sharp increases in the price of an asset like real estate or dot-com shares
Great public excitement about said increases
An accompanying media frenzy
Stories of people earning a lot of money, causing envy among people who aren't
Growing interest in the asset class among the general public
"New era" theories to justify unprecedented price increases
A decline in lending standards
The listed 3D printer companies in the USA are Stratasys (NASDAQ:SSYS), 3D Systems (NYSE:DDD) and Ex-One (NASDAQ:XONE). We will explore the valuation of 3D Systems in this article.
Market size
The respected authority on the additive manufacturing and 3D printers and services industry is Wohlers Associates. 3D Systems includes this chart from Wohlers in their January 2103 investor presentation to describe the estimated potential size of the 3D printer market.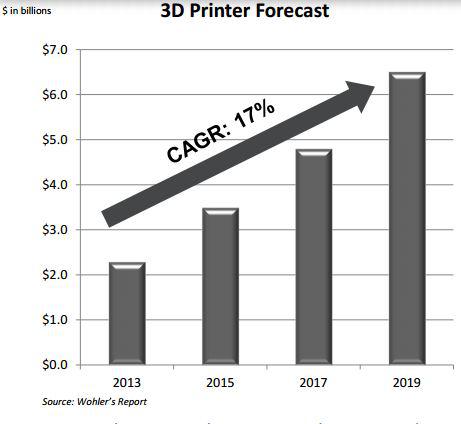 From Wohlers Talk Blog on their website, dated May 25, 2013 they elaborate a bit further:
"The industry is expected to continue strong double-digit growth over the next several years. By 2017, we believe that the sale of 3D-printing products and services will approach $6 billion worldwide. By 2021, we forecast growth to reach $10.8 billion. It took the 3D printing industry 20 years to grow to $1 billion in size. In five additional years, the industry generated its second $1 billion. It is expected to double again, to $4 billion, in 2015."
Note that this does not include the rapid prototyping service industry; it's just for the printers and associated products and services. 3D Systems does have a few rapid prototyping services which they acquired, but according to a chart in this article by another SA author, the total purchase price of all of them combined was less than $30million in cash and stock, so not material for this analysis.
For our purposes, we will use the 2021 Wohlers industry sales estimate of $10.8 billion and estimate the value for the entire industry in 2021, eight years from today. Here are my assumptions which I believe are reasonable.
In eight years, the industry will have matured some and growth rates will have moderated to single digits.
Net profit margin will be 10% of revenue.
Price earning multiple will be 14x reflecting single digit growth rates.
Based on revenue of $10.8 billion, 10% net profit margin, and a price earnings ratio of 14, the value of the entire industry in 2021 will be $15.12 billion. If that is the value in eight years' time, we need to discount it back to the present (2013) to get today's value. To do this, we need to make one last assumption about a discount rate. I will assume a discount rate of 15%, however if you think that is unfair, you can plug in your own discount rate and see the results. Discounting $15.12 billion back eight years at 15% gives us a net present value of $4.94 billion. Discounting it at 10% would be $7.05 billion.
Here's the meat:
According to Wohlers, the market for products and services in 2012 grew 28.6% (OTCPK:CAGR) to $2.204 billion.
3D Systems 2012 10K shows total revenue for 2012 of $354 million, comprising the categories of Printers and other products, Materials and Services.
3D Systems' share of total industry revenue is 16%. As of June 25, 2013 the Enterprise value of DDD was $3.98 billion. This represents 80% of the net present value of the entire industry value ($4.94 billion at 15% discount rate), however their share of the entire industry is only 16%! If we used the 10% discount rate, their share of our estimated industry value drops to 56% which is still over three times their market share. Based on this, we believe the company is overvalued by three to five times.
Perhaps you think that their recent deal with Staples for a consumer 3D printer is the magic that justifies the value. Well, the market leader in the 3D printer space, SSYS, just announced a deal to buy the leader in the personal 3D printer space, MakerBot for $403 million in SSYS stock (trading at a forward price earnings ratio of 32). Even if 3D Systems CUBE printer were worthy of a similar valuation, it still does not change the picture above, detailing the disconnect between the company and the industry value.
This is a competitive and fast changing industry
A May 12, 2103 post by Wohlers on their website, questioning whether America still can dominate this industry gives the following statistic. "Our preparation for the publication of Wohlers Report 2013 revealed some interesting data: 16 companies in Europe, 7 in China, 5 in the U.S., and 2 in Japan now manufacture and sell professional-grade, industrial additive manufacturing (AM) and 3D printing systems. (We use the two terms interchangeably.) This is a dramatic change from a decade ago when the mix was 10 in the U.S., 7 in Europe, 7 in Japan, and 3 in China."
The point here is that this is a competitive industry, and the landscape is changing.
Buy versus outsource
In thinking about market size, it seems to me that for smaller size companies that do not continuously have the need to make prototypes, it is far more efficient to outsource the 3D printing to a rapid prototyping service, especially if it can be shipped to you by the next day. I liken it to the days when color printers were the new thing. Most companies did not have one, because they were expensive and it made economic sense to go to the local print shop for the occasional time you needed something copied in color. The same logic applied to 3D printing in many cases. In addition the rapid prototyping companies have the product expertise and can justify carrying an inventory of different 3D process machines and supplies to print in a multitude of different materials and colors. If this business model is in fact more efficient, it would imply lower unit sales for the industry as a whole.
Intellectual property value is not material
I could not say it any better than their own 2012 10K, p12, under Intellectual Property:
"We believe that, while our patents and licenses provide us with a competitive advantage, our success depends primarily on our marketing, business development and applications know-how and on our ongoing research and development efforts. Accordingly, we believe the expiration of any of the patents, patent applications or licenses discussed above would not be material to our business or financial position."
This may explain their focus on doing acquisitions, of which they have done thirty two in the past three years, and of which they plan to do more. This intention was explicitly stated in their most recent public offering in May 2013, where they raised a fresh round of equity capital of approximately $237 million, excluding approximately $50 million worth of shares sold separately by insiders.
Q1 earnings
There was some unusual behavior surrounding their most recent Q1 earnings report, reported here. Firstly, they announced a 3 for 2 stock-split on the same day they announced earnings, and secondly, they apparently only released the earnings to analysts twenty minutes before the conference call, which is unusual because they didn't have much time to study the results to ask meaningful questions. A quick perusal of their 10Q shows a net income of $2.65 million for the quarter. Without a foreign currency translation loss of $3.261 million their net income would have been $5.833 million. This was down from the previous year Q1 net income of $7.372 million. On a valuation of $4 billion, somehow it feels like a bubble to me.
In closing, I want to reiterate that I think the industry is great, but that it's easy to get caught up in the bubble themes outlined by Shiller. I am not an expert on the 3D industry, but just trying to make sense of the valuations. Hopefully this gives you a new perspective.
Disclosure: I am short DDD. I wrote this article myself, and it expresses my own opinions. I am not receiving compensation for it (other than from Seeking Alpha). I have no business relationship with any company whose stock is mentioned in this article.
Additional disclosure: I am long put options on DDD.