I am always intrigued when corporations suffer significant devaluation in a very short time period. When shares in a corporation lose a considerable amount of value so quickly, that loss is often attributable to negative facts that are repairable and/or blown out of proportion. That's why I have taken a recent interest in two particular stocks that have been overly devalued and are trading at a great bargain. The first is Axiall Corporation (NYSE:AXLL), an integrated chemical production company based out of Atlanta. The second is Lululemon Athletica Inc. (NASDAQ:LULU), an apparel company that has recently come under fire for defective yoga pants and the loss of a visionary CEO.
Axiall's Fall
Axiall has taken an absolute beating over the past couple months. On May 8 Axiall posted its first-quarter financials and missed analysts' expectations by a sizable margin. The company reported a first-quarter earnings per share of $0.75, which was approximately 38% lower than the $1.21 EPS that analysts predicted. After closing at $56.51 on May 7th, Axiall's stock price dropped around 16% on May 8 and continued to fall until it reached a low of $41.47 on June 4.
Why did Axiall lose over 25% of its value in less than a month?
When stocks rapidly decline in value, there are a few issues that must be addressed. What event caused the decline? How relevant was that event? Did the event justify the respective drop in value? Can it-and will it-be addressed in the future?
In a recent earnings call, managers cited a few legitimate reasons for the disappointing earnings results: the price of ethylene rose; the price of chlorine dropped; there were unplanned outages and fires; building product sales resulted in a loss; and there was a sizeable increase in selling, general and administrative expenses. While all of these concerns are relevant, the impact on Axiall's stock price was far overblown, and there is now an excellent opportunity to purchase Axiall at a major bargain.
Axiall is a Bargain
First, Axiall is a newly merged corporation that is in the process of realizing multiple synergies. Axiall is the product of the merger between Georgia Gulf Corporation-and the commodity chemicals business of PPG Industries Inc.(NYSE:PPG). The company did not complete the merger until January 28, 2013, well into the first quarter. Executing a multi-billion dollar merger in the middle of a fiscal quarter is a difficult task. The merger will undoubtedly result in increased cost, but the synergies will far outweigh those costs in the long run for the patient investor.
Second, revenues were excellent in the first quarter. Axiall's decline in value is highly attributable to greater cost.

There are some global cost headwinds that threaten Axiall's margins, but revenues have never looked better. With the growing housing market, Axiall is in a prime position to realize even further revenue growth in the second fiscal quarter.
There will be increased cost as a result of the merger; however, those costs will decline with time and the corporation will soon realize gains in operational efficiency. One major headwind that Axiall faces is the rising cost of ethylene-a major raw material used in the production of many of Axiall's products. However, that cost will be offset by the rise in PVC prices-Axiall's primary product-that will be reflected in second-quarter reporting.
Now is the Perfect Time to Buy Axiall
It's important to understand that there is moderate risk associated with purchasing shares in Axiall because Axiall's success is contingent on multiple global forces that are out of its control. That being said, Axiall is one of the better companies out there to take advantage of right now.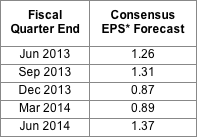 Analysts expect, and I agree, that Axiall will get back on track and resume profitability and improve their margins. The corporation currently has a 12-month target price of anywhere between $53 and $60. As of June 25, Axiall is trading at around $42.00. Due to cost concerns, I'm unsure if Axiall will hit the $60.00 target price; however, I see little reason why the corporation should not grow to at least $50.00 over the next few months, especially after it reports its second-quarter earnings.
Lululemon Sinks
The second stock is Lululemon Athletica Inc. Between June 9 and June 11 Lululemon stock fell over 20%. This drop occurred even though Lululemon reported revenue growth of over 21%-compared to the same quarter last year-and EPS that beat analyst expectations. Why did the stock drop? It was due to the announcement by the CEO, Christine Day, that she was stepping down. Additionally, Lululemon incurred higher cost of goods sold as a result of the mass yoga pants recall.
A Great Bargain
First, every investor understands that a CEO is an important individual in a corporation. However, Day's resignation from Lululemon should not have triggered such a decline. Not only is Day staying on as CEO until an adequate replacement is found, but she has also laid the foundation for the next 5 to 10 years of operation.
Second, Lululemon is expanding internationally and will enter up to 15 different markets in the next couple of years. Day's resignation may prove to be more beneficial than harmful if Lululemon can find a CEO that has experience with international expansion. Additionally, Lululemon's balance sheet looks great. They have no long-term debt and have plenty of cash on hand to fund their expansion goals.
Finally, Lululemon's products are in high demand. Lululemon constantly cycles products and there is heavy demand for the products due to purposeful supply shortages. Yoga isn't going anywhere and the Lululemon fanatics aren't either. The demand for Lululemon's high-class exercise apparel will continue to grow and expand internationally.
Lululemon Conclusion
As of June 25, Lululemon is trading at around $63.00 a share. Analysts believe that Lululemon shares have a 12-month target price of $76.00. The stock may not return to its 52-week high of $82.50, but there is plenty of room for growth and significant return.
Final Remarks
As we have seen over the past few days and weeks, we are in a summer of volatility and both of these corporations are subject to uncontrollable global headwinds. However, I believe that at their current prices, Axiall Corporation and Lululemon Athletica Inc. present excellent buy opportunities for the medium to long-term investor.
Disclosure: I am long LULU, AXLL. I wrote this article myself, and it expresses my own opinions. I am not receiving compensation for it (other than from Seeking Alpha). I have no business relationship with any company whose stock is mentioned in this article.
Additional disclosure: I purchased shares in both of these companies in the manner in which my article is written.