By David Sterman
In recent years, we've written extensively about master limited partnerships (or MLPs) that are building out the nation's network of oil and gas pipelines.
The investment theme has been a winner for two simple reasons:
Cash flows (and hence dividends) are predictable.
A steady industry expansion has led to solid growth for many of the top players.
Yet unlike some booms that fade after a few years, this boom has legs. Another wave of pipeline construction is underway to help carry landlocked energy to coastal refineries. And in coming quarters, there's a solid chance the Obama administration will give a formal green light to gas export facilities, which could trigger a whole new wave of pipeline development.
Seeking Winners
As we have focused on this industry, we've continually handicapped which companies have the strongest yields, which companies have the most robust growth prospects, and which stocks sport the lowest valuations.
That analysis has uncovered some great trading opportunities, but anyone who has followed our lead has come across a persistent problem: These MLPs, thanks to their unique corporate structure, can create a headache at tax time. Each MLP issues a K-1 tax form at year end, and if you own a half-dozen of them, then that's a lot of paperwork to sort out.
Yet there's a simpler way. Instead of constantly searching for the most attractive MLPs, why not keep it simple and own an investment that does all the tax work for you? The JPMorgan Alerian MLP Index ETN (AMJ) does just that.
This is an exchange-traded note (or ETN), not an exchange-traded fund (or ETF), but the distinction doesn't really matter (unless the ETN issuer defaults on that note, which has never happened, as far as we know). Yet it's the ETN tax structure that saves you headaches during tax time. JPMorgan Chase (JPM) actually owns the stocks in this ETN, and you simply invest in JPMorgan's debt instrument. At tax time, there's no K-1 to worry about. Moreover, if this ETN were structured as an ETF, it would generate corporate taxes, which would take a roughly 5% bite out of profits.
Yet the greatest appeal of this ETN is its rock-steady performance. Year after year, it rises in value as more pipelines get built and higher industry dividends are paid out. In fact, this note has risen an average of 20% over the past three years while generating below-average risk. That's why Morningstar gives this note five stars.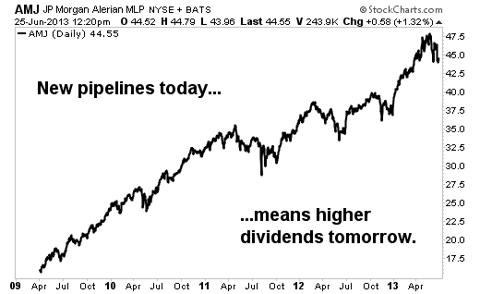 Click to enlarge
(Click to enlarge)
Indeed, we've discovered over time that these MLPs not only deliver solid share price gains, but also deliver more robust yields when compared with other yield-focused asset classes. According to Bloomberg, the average bond ETF yields 2.16%, the average utilities ETF yields 3.52%, and the typical REIT ETF sports a 3.55% yield. In contrast, the Alerian MLP ETN's yield currently exceeds 4.5%.
To be sure, the note has a few drawbacks, starting with a 0.85% expense ratio. Thankfully, the 20% annualized gains have made that expense load bearable, but if annual returns are smaller in the future, then those expenses will take a seemingly deeper bite.
Also, like all yield plays, shares may suffer if interest rates keep rising and investors pivot back to fixed-income investments. Indeed, this ETN is off nearly 7% in the past month as interest rates have risen. Yet a still-slow U.S. economy is likely to cap further interest rate increases in the near term.
Risks to Consider: You can surely find MLPs with greater yields if you are willing to dig more deeply, but understand that higher yields signal less safety.
The Alerian MLP ETN offers a compelling combination of share price appreciation, rock-solid yields and very low risk.
Disclosure: I have no positions in any stocks mentioned, and no plans to initiate any positions within the next 72 hours. I wrote this article myself, and it expresses my own opinions. I am not receiving compensation for it. I have no business relationship with any company whose stock is mentioned in this article.