The market has plunged nearly 5% in just a few days and the sell-off
seems to be sparked by Bernanke's talk of possibly tapering the long-standing Federal Reserve policies. This talk has caused interest rates to surge with the 10-year bond yield hitting 2.5%. This may not seem like a lot, but just around four weeks ago, it was closer to 1.7%. That's a huge move in rates in a very short time and I believe that rates will drift back a bit lower in the coming weeks and months for a number of reasons. This means there is possibly a major buying opportunity that investors can take advantage of now and we will get to that later.
The taper talk and move in interest rates have roiled the markets and nearly every asset class has fallen sharply in recent days. Just look at bonds, gold, stocks, etc., and you can see there was almost no place to hide. Even though Bernanke clearly left the door open to keeping current policy in place if the economy was not showing strength later this year, investors hit the sell button in a near panic with bonds and gold in particular. Clearly, Bernanke wants stable markets and to keep the scant bit of economic growth going in the right direction, so we have to wonder: why he did he do what he did? Especially in light of the fact that there are still signs of major weakness in the U.S. and global economy. I believe that Bernanke has very little chance to taper in 2013, but I think he also sees the significant froth that has surfaced in housing and even the stock market. He had to throw some cold water on housing or risk another bubble popping. Gains of about 12% for the U.S. stock market in just a few months were also getting out of hand. I believe Bernanke rightfully gave investors a little wake up call to cool down, and judging by the market reaction, his plan is working perfectly.
Just weeks ago it was possible to get a mortgage for about 3%, but with the huge move in rates it is now closer to 4%. That makes a major difference in the monthly payment and there is no doubt that housing is going to cool off now. Just take a look at many major homebuilding stocks, most of which dropped by about 15% in just the past week alone. Here's a chart for the SPDR S&P Homebuilders ETF (NYSEARCA:XHB), which shows the carnage: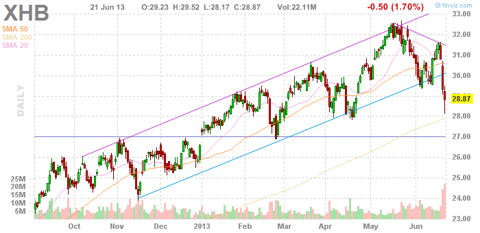 Another sector that will be impacted by higher rates is autos. Ford (NYSE:F) and other automakers have fallen sharply in recent days, due to this concern. With auto sales, it is not just interest rates that have an impact but also the "wealth effect." If people see their stock and bond portfolios declining and home prices stagnating, they will be less likely to buy cars.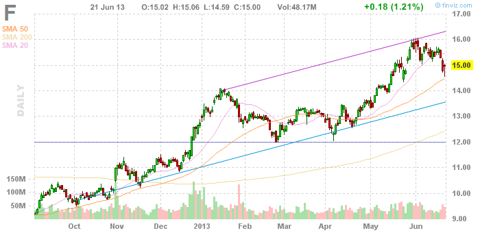 If you take the wind out of the housing market and auto sales from the jump in interest rates, add in the impact of the recent budget sequester and reduced government spending, and you also see the Federal Reserve taper-this economy won't have a leg to stand on. That is why the Fed won't be able to taper in 2013; there are already too many headwinds. The point of the taper talk was simply to cool off the speculative froth in housing.
The reality is that while many laud the strength of the U.S. economy relative to other regions like Europe, the whole "recovery" we have seen is due to financial engineering based on artificially low rates, and the government borrowing money to stimulate the economy. I believe the economy is poised to get soft very quickly as the housing market and auto sales cool off. This cooling off was needed because the housing market was overheating. I know of many deals this Spring where homes are getting 20 or more offers and buyers are overbidding by 20% or more. This has been fueled by cheap money and Bernanke has to end that speculative froth. With the Spring home selling season ending and with rates closer to 4%, the data from the housing market for the rest of the year should be much less promising and investors are already counting on that by the looks of the decline in housing stocks.
With the seeds of an economic slowdown already sown in the U.S., there is very little chance that Bernanke will be able to taper this year. That means the sharp spike in interest rates is overdone and so is the sell-off in many high-yielding stocks and bonds. When the economy slows in the coming weeks and months, and investors realize that taper talk is premature, interest rates will ease lower and cause a significant rebound in bonds and certain dividend stocks. This economy is going nowhere fast and a few weeks of "higher" rates is probably going to put us right back where we came from. This is also exactly what happened in 2012 when the 10-year bond also spiked to nearly 2.5%, only to plunge back below 2% when investors realized that this level of interest rate was not sustainable in the weak economy we have.
Even before the recent rise in rates, major industrial stocks like General Electric (NYSE:GE) had been underperforming the market rally. Tech bellwethers like Oracle (NASDAQ:ORCL) just reported disappointing earnings and guidance, as did Federal Express (NYSE:FDX). These are all signs of fundamental weakness in the economy that will inhibit tapering and the unsustainable sharp rise in rates. Furthermore, just take a look around the world and you can see many more reasons why the spike in interest rates is not sustainable.
Problems in Europe seem to have stabilized for the past few months, but just recently there are new concerns about Greece and even some larger countries like France. The IMF recently warned that it would suspend payments to Greece by the end of July if eurozone leaders did not compensate for a 3 to 4 billion euro shortfall in the budget.
Major and violent riots have recently occurred in Brazil, and Turkey, which has sent those markets into a downward spiral. China has been showing signs of weakness and just days ago new concerns were sparked for a possible credit crunch that could be hinting at even bigger problems for that economy in the coming months. If these issues grow, investors will be going right back to the safety of Treasury bonds and that will push yields back down.
In summary, the recent rise in rates plus the continuing global economic woes virtually guarantee an economic slowdown and that means the Federal Reserve won't taper any time soon. There is also very little inflation; in fact, there are signs of deflation as commodity prices like copper, iron ore and others plunge. These factors also mean that interest rates will probably ease from current levels once the market realizes that the economy is going to be too weak for Bernanke to taper. What Bernanke will get is a much needed cooling off of the froth in housing and that is about all he will get for this year. With the economy virtually guaranteed to slow in the coming weeks and months, the auto and housing stocks could continue to be weak or at least stagnate for the rest of the year. On the other hand, certain high-yield stocks and bonds could be poised for sharp rebounds from extremely oversold levels.
With almost everyone in agreement about wanting to get out of bonds, and with the capitulation and even panic sell-off in bonds, it seems like it might be time to buy while there is "blood in the streets." Even though many market analysts are telling retail investors that bonds are no good, some top experts are taking a contrary view. A recent Barron's article says bonds still make sense and yet another says the bond fears are greatly exaggerated as is the sell-off. Buying steep, near-panic sell-offs in bonds and stocks has frequently paid off in the past and a Bank of America (NYSE:BAC) analyst sees capitulation now, which is usually the time to buy cheap. A Barron's article details what appears to be an exaggerated sell-off in bonds and it states:
Those aren't my words; they're from Bank of America Merrill Lynch strategist Michael Hartnett. He and his colleagues call it a "blood bath" in bonds, the likes of which has only been seen a few times since the numberkeepers have been in business.
Jeffrey Gundlach of DoubleLine Capital suggests investors should buy
bonds now. If you don't know Gundlach, he is incredibly smart when it
comes to investing and he is a billionaire. He is also not afraid to
make calls that go against the current market thinking. For example,
he said that Apple (NASDAQ:AAPL) shares would fall to around $400 back when
many analysts were still offering price targets of $800 or more.
Gundlach also predicted the mortgage crisis in 2007, well before most
investors and analysts. A recent Marketwatch article states:
Going forward, however, yields are likely to start falling. And that means the place to make money in the next few months is "everybody's most hated asset class: long-term government bonds," Gundlach said. "There's really no inflation, no sign of inflation."
Take a look at what indeed appears to be as Gundlach puts it, a "hated" asset class, which would include iShares S&P National AMT Free Muni Bonds (NYSEARCA:MUB). The chart below shows how oversold bonds have become in what appears to be a near capitulation and panic sell-off: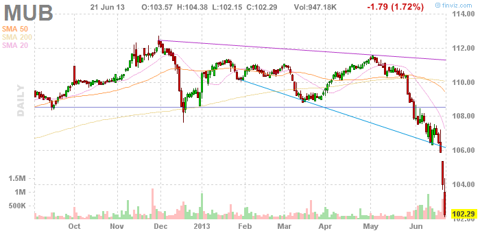 Some of the biggest bargains in the market are in closed-end funds at times of market stress and volatility so that is why I am focusing on buying the pullback in this sector. Here are some picks to average into in the coming days and weeks, which could see a sudden and sharp rebound as investors realize rates will pull back as the economy softens. Plus, investors have to be reminded that assets, which offer yields of 8% or more, are still far more attractive than the 10-year Treasury bond even if it now yields 2.5%:
Invesco Van Kampen Advantage Municipal Income Trust (NYSEMKT:VKI) is a closed-end municipal bond fund that has experienced an exaggerated sell-off. Historically, this fund sells for more than a 2% premium to net asset value, but due to the panic sell-off in bonds, it now trades at a discount. The net asset value is nearly $12 per share, which means that historically it would be trading for close to $12.25 when including the 2% premium that it usually trades at. This fund pays a monthly dividend that yields about 7.5%, which is tax-free. This provides a yield that is equivalent to 11.5%. Are investors who are doing more than short-term panic selling going to abandon a tax equivalent yield of 11.5% for very long so that they can buy a 10-Year Treasury bond that now yields 2.5%? I doubt that very much and that is why this fund could see a sharp rebound, especially if the panic over interest rates subsides. This fund pays a monthly dividend of just over 7 cents per share, which is great for income investors.
Wells Fargo Advantage Multi-Sector Income Fund (NYSEMKT:ERC) is an ideal pick for investors with tax-deferred accounts. This is another closed-end fund that has become very cheap due to the decline in bonds and market volatility. However, in the past it has paid off to buy at times like these. This fund invests in shorter duration high-yield bonds, asset backed bonds, government bonds, corporate bonds, etc. Since the average duration is just around 5 years for this portfolio, this fund should not drop as much as others and the sell-off looks very overdone
now. This has created an ideal buying opportunity. Here's why:
For the past year, this fund has traded at a 5% discount to net asset value. However, it currently trades at double that level with a discount of about 10% to net asset value. In the past, it has paid off to buy when the discount has widened excessively so investors who buy now could benefit when the bond market stabilizes and especially if it rebounds. This fund offers a yield of over 8%, plus it pays a dividend every month at a rate of 10 cents per share. The total annual expense runs at just 1.23%, which is low for a closed-end fund. Furthermore, this fund is diversified as it holds corporate bonds, government bonds, asset-backed and junk bonds. Whether the 10-year bond is trading for 2% or 2.5%, that just doesn't pay the bills for most investors. That is why funds like this that pay over 8% yields with diversification, are poised to rebound when the market participants pause and regain their senses.
Data sourced from Yahoo Finance. No guarantees or representations are made.
Disclosure: I am long VKI, ERC. I wrote this article myself, and it expresses my own opinions. I am not receiving compensation for it (other than from Seeking Alpha). I have no business relationship with any company whose stock is mentioned in this article.
Disclaimer: Hawkinvest is not a registered investment advisor and does not provide specific investment advice. The information is for informational purposes only. You should always consult a financial advisor.