Base materials, as an investment story, have been a heavy load to bear in the past two years since the China recovery story has never really taken hold. And this has been nowhere more evident than in the stocks of big diggers like BHP Billiton (BHP).
Slipping back down to a Zacks No. 4 Rank (Sell) in late March, BHP has fallen from $70 to new four-year lows this week below $58. In fact, since its post-recession peak above $100 in 2011, the stock has consistently held a Zacks Rank of No. 3 (Hold) No. 4 (Sell) or No. 5 (Strong Sell) because of its stagnant or declining earnings estimates.
Here's a look at the shares of this $94 billion mining behemoth, known for its vast reserves of iron ore, coal, copper and other natural resource assets, versus the SelectSector SPDR Materials ETF (NYSEARCA:XLB) for the past four years...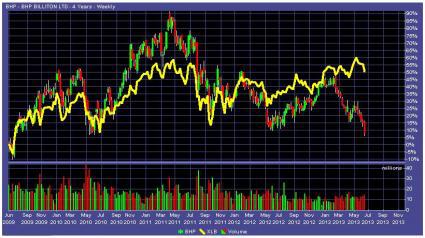 I mentioned some of the big and common mining products of BHP, but you may be surprised it also has access to silver and diamond mines. What surprised me is that when the company made a big decision last year to diversify into the energy business, it hasn't helped its earnings outlook much at all.
I assumed that the company going into oil and gas exploration and production with its $12 billion takeover of PetroHawk Energy in the summer of 2011 would give it exposure to one of the few rising commodity prices, and also lower the input costs of its inherently high energy use.
But that actually became a peak for the shares as they formed the right shoulder of a head and shoulders top below $100. Once it fell through the neckline at $86, it has never been higher. The decline in earnings estimates also tells the story...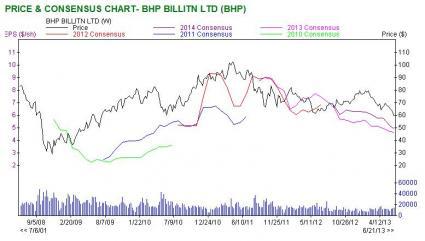 Deflation and Commodities
Global investment markets are currently experiencing a lot of big asset shifts in the wake of the Federal Reserve's indication that it may begin to taper QE bond-buying.
And China's overheating economy is causing interest rates to rise naturally there as well, while non-financial businesses find themselves in a cash crunch and real estate speculation runs rampant.
But the overall theme for commodities since 2011 has been dis-inflation. And as long as the world's most important central banks are stepping back from further monetary stimulus, and China's appetite for raw materials slows down, the earnings trajectory for metals and mining companies may still be downward.
Best to wait for the turnaround in the outlook and estimates before digging too deep in the shares of BHP or other big miners, which currently rank in the bottom 10% of Zacks' 265 industries.
(email registration required to view the free stock reports below)

BHP BILLITN LTD (NYSE:BHP): Free Stock Analysis Report

CLIFFS NATURAL (NYSE:CLF): Free Stock Analysis Report

RIO TINTO-ADR (NYSE:RIO): Free Stock Analysis Report

SPDR-MATLS SELS (XLB): ETF Research Reports

SPDR-SP MET&MIN (NYSEARCA:XME): ETF Research Reports