Since we last wrote on MGT Capital Investments (NYSEMKT:MGT), the company has made some significant changes that have improved its revenue outlook dramatically. Today, an investment in MGT reflects a portfolio of upside opportunities as well as the potential win on the gaming patent. The company has positioned itself to benefit from the expected growth of the online skills-based gaming and fantasy sports markets. Newly acquired businesses FanTD and Hammercat Studios set the stage for strong revenue and cash flow growth, while the sale of non-core Medicsight adds $1.5 million to an already strong cash position.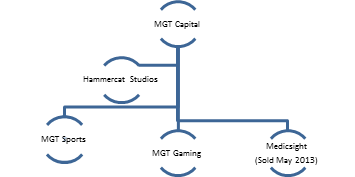 MGT's strategy to acquire controlling interests in gaming assets opportunistically has led to three acquisitions since 2012. None has required a cash outlay greater than $210,000, and we would expect the company to be equally conservative with future purchases. In one short year, management has transformed MGT from a sleepy medical devices firm to one with a growing portfolio in emerging niches within gaming. As with any portfolio, we believe the risk is that not every investment will succeed. However, we like that 1) the prices paid and cash outlays have been conservative, and 2) the company has positioned itself in niches that are still emerging and are not yet dominated by multi-industry players. We would also not be surprised to see MGT divest a new venture that has been developed more fully and can command a premium in the M&A market.
Management Continues to Transform MGT
May 11, 2012 -- Gaming Patent #7,892, 088 acquired
June 1, 2012 -- Nixon and Vanderhye law firm retained
Nov. 2, 2012 -- Patent infringement suit filed
April 22, 2013 -- 63% of Fan Throwdown acquired
May 3, 2013 -- Hammercat Studios acquired
June 4, 2013 -- Medicsight sold for $1.5 million
Source: Company reports.
Daily Fantasy Sports

In April 2013, the company acquired 63% of Fantasy Throwdown (FanTD), which ranks among the top five daily fantasy sports destinations according to Daily Fantasy Radio. This is important, in our view, because as competition heats up FanTD has an already solid foundation from which to grow. FanTD is an online site where players participate in daily fantasy sports contests. Players select athletes from various real teams to create a fantasy team. Winnings are determined by the performance of the fantasy team on that same day. Players pay an entry fee to get into the game and FanTD pays out a portion of the fees to the owners of the winning teams (FanTD Acquisition).
MGT secured a controlling interest in a top site for only $202,500 in cash, while others are investing multiple millions to get into this space (see the "competitors" section below). The transaction valued FanTD at about $4 million, as MGT also paid 600,000 shares (with the stock at $3.88 on April 22, 2013.). We believe that FanTD's value is likely to grow exponentially over time, as MGT broadens the number of games offered and promotes the site in order to grow the player base.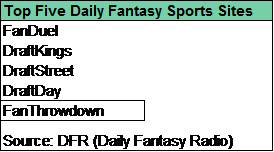 Strong Growth Expected to Continue
Traditional fantasy sports, where players create a fantasy team for an entire season, have been around for about 15 years, but daily fantasy sports is a relatively new and fast growing niche. The FSTA (Fantasy Sports Trade Association) estimates that overall fantasy games add about 2 million players each year, attracting a record 36 million users in 2012. Moreover, IBISWorld market research indicates that fantasy sports enjoyed average growth of 12% per annum in 2007-12 and forecasts that the sector will grow an average 8.8% per annum through 2017. The industry is estimated to generate over $1.4 billion in fees and wagers. Including spending on products and services, FSTA estimates total annual spending at more than $3 billion annually.
Like traditional fantasy sports, in daily fantasy sports an owner's score is determined by the performance of his or her team. However, the game lasts for only one day, not for the entire season, making this faster-paced. FSTA estimates that daily fantasy sports generated about $465 million in annual contestant fees in 2012.
Competitors

Given these metrics, not surprisingly interest in this niche has intensified in recent months. In January 2013, Comcast Ventures led an $11 million investment in FanDuel, the market leader with an estimated 60% share, according to Forbes. Then in May, No. 2 ranked DraftKings announced a $7 million round of funding led by Atlas Venture. According to trade publications, both FanDuel and DraftKings paid out roughly $50 million in winnings to players in 2012. IAC invested an undisclosed sum in DraftStreet last month. In September 2012, investment bank Cantor Fitzgerald launched its own daily fantasy sports service, Cantor Fantasy Sports. In addition, a number of small sites have entered the market but judging by their Facebook metrics, most do not seem to be getting much player traction.
The industry is so new that none of the "dominant" companies is likely to crowd out a good competitor at this early stage, in our view. The key factors to developing a successful site, we believe, are 1) user interface, 2) growing consumer awareness, and 3) competitive payouts, all of which FanTD appears to possess based on our checks of various user reviews, including the above-noted DFR ranking (see "New Jersey Will Let Its Casinos Offer Fantasy Sports For Money"). For example, Fantasy Sports Dojo notes that "FanThrowdown ... [is] competing with the big boys by establishing a grassroots user base to build dedicated followers." Additionally, the following is from rotogrinders.com (FanTD Review):
You can tell from the moment you enter the [FanThrowDown] site that their design has a slick feel to it… There is also an option to create your own private or public league, which can be great for gathering a group of friends and playing together… One great feature at FanThrowDown is their player cards in the draft rooms. Click on a player's name and you will see a plethora of information including home/away splits, last game stats, season stats, and player news…The available information on these player cards is awesome for building your team without having to travel too far for research info.
To raise player awareness, the company expects to launch a media advertising campaign once football season begins. Importantly, in our view, earlier this month MGT announced that it has hired Mike Levy as a strategic advisor for FanTD. Mike Levy has an impressive background as the founder and CEO of SportsLine.com, which was launched in 1994 and sold to CBS in 2004. His extensive relationships within both the media and sports worlds, as well as his understanding of online advertising and sports, are likely to benefit FanTD.
We believe MGT can grow FanTD organically, complemented perhaps by some roll-ups. FanTD itself acquired competitor BuzzDraft in March 2013. We also believe MGT may have an opportunity to sell it at some point down the road to a substantially larger player, much the same way that Mike Levy did with SportsLine.
Wagering Is Permitted in Most States

One factor that likely makes Fantasy Sports attractive to larger digital, media, or sports companies such as Comcast, IAC, and potentially others is that wagering on Daily Fantasy Sports teams is permitted in most states under the Unlawful Internet Gambling Enforcement Act of 2006 (UIGEA) because the games are based on skill, not chance. UIGEA allows wagering on fantasy sports as long as:
prizes are not determined by the number of participants;
outcomes reflect the relative knowledge and skill of the participants, not chance; and
no winning outcome is based on the single performance of one athlete in a single, real-world event.
Although a pending lawsuit -- Langone v. Kaiser & Fan Duel (Langone, an attorney, seeks to recover third-party gambling losses from FanDuel winners) -- could jeopardize the legal standing these games currently enjoy in most states, the courts have already upheld their status as skills based games previously. Specifically, the U.S. District Court for the District of New Jersey already ruled in Humphrey v. Viacom that traditional fantasy sports games involve predominantly skill because of the complex nature of the game's strategies and the negotiations that occur among team owners.
Mobile Gaming

MGT has also entered the mobile gaming business through its May 3, 2013, acquisition of Hammercat Studio from Digital Angel. MGT paid $136,630 in cash and 50,000 shares, valuing Hammercat Studios at about $349,130 (with MGT shares at $3.97 on May 3, 2013). The acquisition included rights to two mobile game applications that are currently under development. The company has also appointed Digital Angel's former CEO, Michael Haller, to head its digital distribution and mobile gaming platform. His background is in the video game industry, where he was an executive at both THQ (THQI) and EA (ERTS) and we believe he is highly incentivized to build Hammercat Studios' revenue in the near term.
Mobile gaming is one of the largest categories of daily app consumption on mobile devices, according to Nielsen. The number of U.S. mobile gamers increased by 35% in 2012 to 100 million and is expected to continue to grow, as the smartphone and tablet markets expand. According to Gartner, the U.S. mobile gaming market generated $1.53 billion in 2011 and industry revenue advanced 16% in 2012 compared to 2011, according to Newzoo.
For most games, the business model is to generate revenue primarily through game fees or subscriptions, advertising and in-game purchases of virtual goods. MGT intends to launch skill-based, real-money contests. Real-money competitions in skill-based games are legal in the District of Columbia and 37 states. Several companies are now focusing on this niche, but we believe no one company is dominant at this early stage. Glu Mobile (NASDAQ:GLUU), a leading developer of mobile games, plans to allow U.S. players to win cash in one of its games beginning next month. MGT's Hammercat Studios will not be far behind if it beta launches its games, Hamster Golf and Smashbots, in the fourth quarter of 2013 as planned (MGT presentation).
Gaming Patent

On May 11, 2012, MGT acquired Patent #7,892, 088 from J&S Gaming for $200,000 and established MTG Gaming, a joint venture with J&S Gaming in which MGT holds a controlling 55% interest. MGT Gaming owns the patent, which addresses a gaming system in which at least two gaming machines are networked to one another and to an interactive sign. The technology allows the players to play a second bonusing game and compete against one another if the bonus is triggered.
MGT wasted little time; it retained a major law firm to assist with patent enforcement in June 2012 and on Nov. 2, 2012, MGT Gaming filed suit against WMS Gaming, as well as Caesars Entertainment (NASDAQ:CZR), MGM Resorts (NYSE:MGM), Penn National Gaming (NASDAQ:PENN), and Aruze Gaming America for patent infringement. Subsequently, WMS agreed to a $26 per share sale to Scientific Games and last month WMS shareholders approved the merger agreement. As we have written previously, we think the timeline works in MGT's favor. We believe pressure to settle the MGT case will mount as the Markman hearing likely coincides with intense regulatory scrutiny of the merger. A WMS-SGMS settlement could also create something of a domino effect that pressures the other plaintiffs to settle, as well.
Conclusion
We believe MGT continues to expand its prospects and reduce risk through its portfolio of investments. At the same time, we like that the cash outlays remain modest relative to the potential upside we believe each investment holds. MGT executives are large shareholders (insiders hold 17% of MGT capital) and therefore have substantial incentive to drive shareholder value. We believe that management will continue to grow and diversify the portfolio prudently. We also believe that MGT's shares do not fully reflect the upside prospects that the various investments hold.
Disclosure: I have no positions in any stocks mentioned, and no plans to initiate any positions within the next 72 hours.
Business relationship disclosure: This article was written by a Zacks SCR Research Analyst.