History will show that Quantitative Easing ("QE") activities by the Federal Reserve helped push stock markets to new highs. Today, participants in the stock market will only care about what happens next. When Fed chairman Ben Bernanke announced a plan to end the program within a one-year time frame, it came as no surprise that markets would sell off. The S&P is down 3.6% over the last monthly period, while the Nasdaq index (NASDAQ:QQQ) is down 4%. Should investors be renewing their worries and reduce their exposure to bonds and stocks?
1) Watch Bonds as Prices Drop
One clue that could foretell the direction of markets is the bond market. Investors should take note of the decline in government bonds; 30-Year U.S. bond prices declined in recent months, on anticipation of an eventual rise in interest rates. An end to the QE program might accelerate an increase in interest rates. QE stimulated economic growth, and raised demand. Hard assets rose, most especially in real estate.
With QE withdrawn, the wealth effect will disappear, and the economy will slow. Unemployment rises, QE is re-initiated, but the U.S. dollar declines. Due to the weak dollar, global inflation is imported. To support a higher dollar and to reduce inflation, rates will need to rise.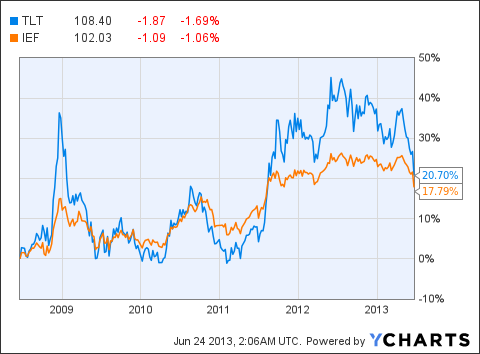 TLT data by YCharts
If the above scenario plays out, U.S. bonds on the medium and long term will continue to decline. The 30-year Treasury bond (NYSEARCA:TLT) and the 10-year Treasury bond (NYSEARCA:IEF) would not be a good place invest.
2) Watch Gold
If inflation is expected to return, gold prices should not be dropping. Gold prices peaked on September 6, 2011, at $1,921.15 an ounce. If inflation returns, a lack of central bank intervention will mean gold could still drop. The metal is also reverting to the mean, so the metal's spot price could trade below its store of value. When Gold miners (NYSEARCA:GDX) and gold prices (NYSEARCA:GLD) fell again last week, it suggested the downward momentum in gold selling was not yet over.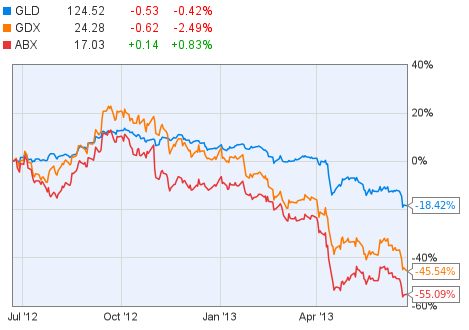 Gold miners are faring poorly. Companies facing heaving stock selling pressure include Barrick Gold (NYSE:ABX) closed recently at $16.89, a multi-year low, and Goldcorp (NYSE:GG). Both companies are facing heavy cost pressures, but problems are worse for Barrick, because of delays and high costs for its Pascua Lama mine.
3) Watch China
The end of QE in the U.S. will hurt China. China's June HSBC PMI, or Purchasing Managers' Index, fell from 49.2 in May, 2013, to 48.3 in June, 2013. When the number is below 50, the measure is telling us that manufacturing is contracting. Interbank rates, which measures borrowing costs in China's interbank money markets, also hit record highs on Thursday, June 20, 2013. The rising lending costs in China were a reaction to the Fed announcement that QE would end. This is bad news for global growth. China imported $1.69 trillion in May 2013 alone. The country is forecast to import $10 trillion in the next 5 years.
A slowdown in China's economy will hurt the U.S. China imported $33.1 billion in goods in April, 2013.
4) Watch Resource Sector
Iron ore and copper mining companies could be hurt the most from a decline in the rate of growth of China's economy. Both metals move with China's economic growth forecasts. Cliffs Natural Resources (NYSE:CLF) and Freeport-McMoRan Copper & Gold (NYSE:FCX) are sensitive to prices of iron ore and copper, respectively. Investors are mistaken in treating Freeport as a pure play in Copper. The company recently closed its acquisition of Plains Exploration & Production, which exposes the company to the oil and gas development. The negative association between China's economy and lower copper prices will likely hurt Freeport shares, even as the company improves its profitability in the energy market.
Conversely, Cliffs needs time to reduce its mining costs. Lower iron ore prices could hurt the company in the short run. Cliffs said that its Bloom Lake expansion plans could be halted if metal prices do not improve.
Conclusion
The number of bearish articles will only rise in the days and weeks ahead, reflecting a rise in negative sentiment by investors. This could create buying opportunities. Freeport shares are more attractive as its share price falls. The company is taking opportunistic moves by buying into new markets as asset prices fall. In the bond market, Treasuries are not buys right now, because yields could keep rising as bond prices could drop further.
Disclosure: I have no positions in any stocks mentioned, and no plans to initiate any positions within the next 72 hours. I wrote this article myself, and it expresses my own opinions. I am not receiving compensation for it (other than from Seeking Alpha). I have no business relationship with any company whose stock is mentioned in this article.