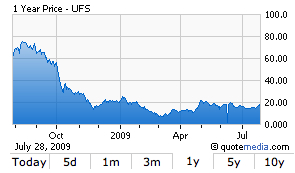 The market appears to have responded very favourably to an upgrade of Montreal-based pulp and paper maker Domtar Corp. (NYSE:UFS). The stock jumped after Deutsche Bank analyst Mark Wilde moved his rating from Hold to Buy, while maintaining a $24 price target on expectations that the company's financial performance is nearing an inflection point and that both EBITDA and net earnings should see meaningful improvement over the next three to four quarters.
The analyst also trimmed his 2009 EPS loss forecast from -$3.60 per share to -$2.68 and shifted his 2010 loss from -$1.20 to earnings of $.50.
Domtar's prices fell just $5-10 per ton in July, following declines of about $5 in June.
"This represents a moderating in downward price pressure," Mr. Wilde told clients.
Domtar's number two commodity, market pulp, is already rebounding robustly, he added.
The analyst also noted relief coming on the cost side with pulpwood, chemicals, energy and transportation costs all at modest levels. Meanwhile, Domtar has pointed to $150-million in asset sales over the next 12 months.
In the context of its total enterprise value of $2.8-billion ($2.1-billion in net debt) and roughly 43 million shares, "the sensitivity to reduced debt and improving EBITDA is impressive," Mr. Wilde said.
"While we continue to regard Domtar as a higher risk paper stock, cyclical winds appear to be shifting in Domtar's direction."