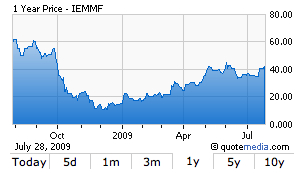 Analysts are not thrilled with the second-quarter earnings from Inmet Mining Corp. (OTC:IEMMF) Adjusted earnings of C$1.09 a share were below consensus estimates, and the company also cut its production guidance for the year due to lower-than-expected output from its Cayeli and Ok Tedi mines.
"We view the [earnings] as slightly negative," TD Newcrest analyst Greg Barnes wrote in a note to clients.
Mr. Barnes wrote that Inmet is experiencing normal hiccups as it begins production at its Las Cruces mine in Spain, which is its most important growth project. But none of the problems appear to be critical, and he expects commercial production to begin in November.
Inmet also stated that it is moving ahead with its giant Petaquilla project, which is expected to cost billions of dollars to construct. Investors have not been thrilled about developing Petaquilla since copper prices melted down last year, but Mr. Barnes wrote that they may see it in a "less negative light" following the rebound in prices this year.
One positive in the quarter was that copper cash costs were lower than expected. BMO Capital Markets analyst David Cotterell wrote that they were driven down by reduced labour and input costs at Cayeli, and completion of mining at Troilus.