Although Pitney Bowes (NYSE:PBI) is struggling to hold on to its sales, we previously considered it as an investment based on its (at the time) 10% dividend yield (before its recent dividend cut of 50%) and its free cash flow yield of 16%. Although it is a potential good value, it is struggling due to its streak of revenue declines. In hindsight, we think maybe Pitney Bowes' former CEO Michael Critelli's deal-crazed acquisition spree was not the best thing for the company's health. From 2000-2007, Pitney Bowes spent $2.5B on 83 acquisitions. PB's stock was dead money from 2000-2007 and has deteriorated since then. PBI hired Marc Lautenbach away from IBM (NYSE:IBM) to serve as its new CEO in 2012. Other new hires by PBI included Mark Wright as its new Software Division President and Mark Shearer as its EVP and president of the SMB mailing solutions business in April. We also think investors are relieved because the dividend cut has already happened but it still yields 5.3% and that is still well above the 2.03% on the S&P 500.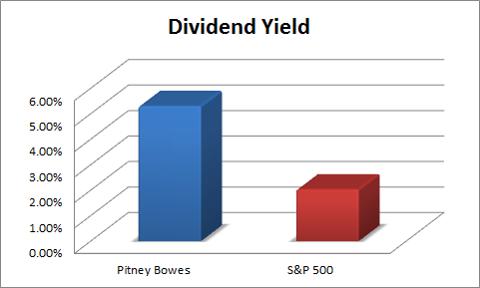 Click to enlarge
Source: Morningstar Direct
Corporate Highlights or Lowlights (depends on your view)
PBI announced recently that its sales continue to sag. PBI's revenues declined by 4.4% in Q1 2013 versus Q1 2012 levels. PBI's adjusted EPS declined by 19% year-over-year as the company's revenue declines were coupled with a 57bp increase in its operating expenses. Three of its business units registered incremental revenue growth but this was not enough to offset revenue declines from six of its business units that ranged from 2% to 20%. At least PBI was gracious enough not to blame its losses on currency headwinds.
PBI's EBIT declined by 19% in Q1 2013 compared to Q1 2012 primarily due to steadily declining sales performance. PBI's Production Mail business unit generated 3% revenue growth and 10% EBIT growth and was the only PBI business unit to generate positive revenue and EBIT growth. PBI's Small and Medium Business Solutions division saw its EBIT decline by 13% and its Enterprise Business Solutions division saw its EBIT decline by 36%. PBI's stock sold off by 13% the day after its Q3 2012 results were released, shot up 20% the day it released its Q4 2012 earnings and gave up 16% when it announced its 50% dividend cut. We think that the 5.3% yield and no longer having to deal with the suspense of a dividend cut is helping to buoy the value of its shares as PBI's share price has increased by 4% in the two months after falling by 16% when it cut its dividend per share.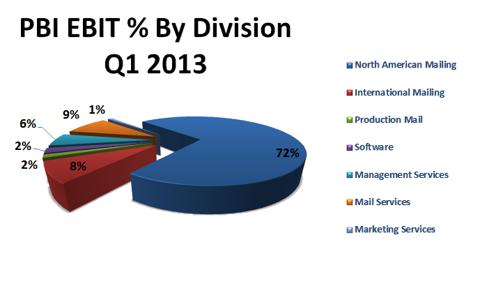 Click to enlarge
Source: Pitney Bowes's Q1 2013 Report
Business Line Summary
PBI has two business divisions, one focused on large business customers (Enterprise Business Solutions) and the other focused on smaller customers (Small and Medium Business Solutions). Both of these divisions saw sagging revenue results throughout the business units (with the exception of Mail Services) in each division. As we previously mentioned, the only business unit that saw year-over-year revenue growth in Q1 2013 was the Production Mail business unit (3% revenue growth and 10% EBIT growth). PBI's Software business and its Marketing Services business were running neck and neck for worst performing business in Q1 2013. PBI Mail Services generated 4% revenue growth but a 43% EBIT decline.
PBI Software incurred a 20% revenue decline and 54% EBIT decline due to fewer large dollar licensing deals and the delay in some deal signings, particularly in the Americas. Prior year results benefited from a large multi-year licensing agreement with Facebook for global location intelligence applications. During the quarter, weakness continued in the European and Asian operations due to ongoing austerity measures in the public sector. PBI Marketing Services revenue declined by 16% and its EBIT declined by 59% due to lower marketing fees related to certain marketing category contract renewals and fewer household moves when compared to the prior year. PBI Mail Service's revenue grew by 4% due to volumes associated with the early-stage roll out of the Company's ecommerce solutions for cross-border package delivery. However, its EBIT was affected this quarter by investments and costs for the start-up phase of the company's new ecommerce offering. Prior year EBIT included a $7 million insurance reimbursement related to the fire at its Dallas presort facility that adversely impacted year-over-year comparisons.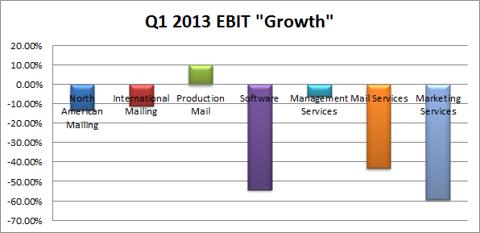 Click to enlarge Source: Pitney Bowes's Q1 2013 Report
Corporate Asset Management
PBI refinanced 10% of its outstanding principal debt in Q1 2013. PBI issued $425M in Medium-Term Notes with a 6.7% coupon and a 2043 maturity and used the proceeds to retire a portion of its 4.875% Notes due 2014, its 5.0% Notes due 2015 and its 4.75% Notes due 2016. PBI's $375M 3.875% Medium-Term Note matured on June 15th and we're glad PBI retired that bond issue with cash instead of issuing new debt since PBI had $946M in cash and short-term investments in Q1 2013. The company refrained from raising its dividend earlier in the year for the first time in 30 years and cut it in the wake of its soft Q1 2013 performance. PBI generated $132M in operating cash flows in Q1 2013 versus $71M in Q1 2012. However, Q1 2012's results included a special $95M contribution to its pension plans and $10M in reduced restructuring payments and its Q1 2013 adjusted OCFs declined by 25% versus Q1 2012.
PBI generated $93.3M in FCFs during Q1 2013 and we expect its FY 2013 FCFs to at least match the $483.6M achieved in FY 2012. The company has between $300M-$600M in maturing debt due each year from 2013-2019 and we believe that the company should increase its efforts to pay off its maturing debt through its free cash flows because interest rates are increasing. This way it keeps the credit rating agencies from reducing the credit rating further and makes it so investors don't perceive PBI as part of the extend and pretend game. We don't expect PBI to need to resort to issuing stock to bolster its financial position (other than employee stock compensation programs).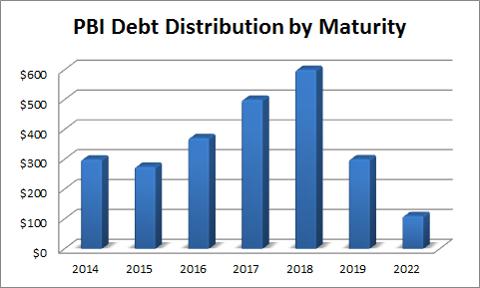 Click to enlarge
Source: Morningstar Direct
WILL PBI'S NEW EXECUTIVES MAKE THEIR MARK?
Pitney Bowes has recently engaged in reshuffling around its executive suite. Here is the scorecard of all the lineup changes: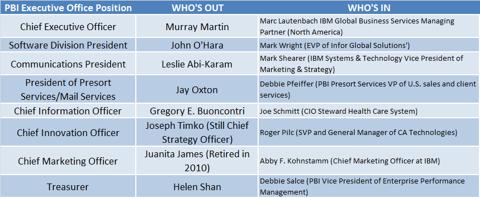 Click to enlarge
Source: Pitney Bowes Executive Biographies
We remembered Marc Lautenbach from his days with IBM back in the 2000s. Marc Lautenbach earned a reputation for expertise in business transformation through his executive roles at IBM, and he will need it to stabilize Pitney Bowes' performance and to reverse PBI's sliding share price. Lautenbach really has his work cut out for him if he hopes to reverse PBI's sagging revenues, profits and operating cash flows. We're surprised that it has only taken $330M in asset impairment charges from 2011-12 because we don't think Michael Critelli's $2.5B deal-crazed acquisition spree worked out so well for PBI and we're surprised it still has $2.3B in goodwill and intangible assets on its balance sheet. PBI announced in May it was selling its UK and Republic of Ireland Management Services Business to Swiss Post. Terms of the deal were not disclosed and the deal is expected to close in August.
CONCLUSION
In conclusion, while we see things in Pitney Bowes that we like, we believe that investors should remain cautious with regards to entering a position in Pitney Bowes (whether they go short or long). Considering that PBI's stock was dead-money (except for dividends) from 2000-2007 and has been deteriorating thanks to the company's sagging revenue results since 2007, we believe that investors need to be careful before trying to get PBI's dividend. We weren't the only investors attracted to PBI though we needed more than a 10% yield (now 5.3% after its dividend cut) or even a 16% free cash flow yield to jump on in. Because of its yield, we believe investors can do no wrong by following it and using the published research about the company to augment any research done on their part in order to buy into it when the time is right and to avoid trying to catch a falling knife or buying after a dead-cat bounce.
Disclosure: I have no positions in any stocks mentioned, and no plans to initiate any positions within the next 72 hours.
Disclosure: I have no positions in any stocks mentioned, and no plans to initiate any positions within the next 72 hours. I wrote this article myself, and it expresses my own opinions. I am not receiving compensation for it (other than from Seeking Alpha). I have no business relationship with any company whose stock is mentioned in this article.
Additional disclosure: This article was written by an analyst at Saibus Research. Saibus Research has not received compensation directly or indirectly for expressing the recommendation in this article. We have no business relationship with any company whose stock is mentioned in this article. Under no circumstances must this report be considered an offer to buy, sell, subscribe for or trade securities or other instruments.