By David Urani
Over the past week the housing sector has been a focus as it's seemingly been on the front lines of the Fed-induced market sell-off. As a reminder, the chief concern has been the rising treasury yields, which will only add upward pressure to mortgage rates that have been coming off the lows. Obviously higher rates are a negative headwind for demand in the long run, but recently there's been evidence of extra buyers hurrying to purchase homes to lock in low rates before they go up much further. Today we got a batch of housing data that suggested that the housing market indeed remains strong and will have a lot of bears second-guessing the recent sell-off.
New-home sales for May came in at an annual rate of 476K, up 2.1% from April (which was revised from 454K to 466K) and above the 460K consensus. This takes sales to their highest level since July 2008. Regionally, only the South declined. Meanwhile, the Midwest showed an interestingly large 41% bounce, which likely does include some volatility from seasonal adjustments; it's possible the Midwest shows a reversal next month given this unusual surge. Inventory remains quite low at a 4.1-month supply. As a reminder, this new-home sales report comes shortly after the existing-home sales report last week that showed a 4.2% month-to-month increase.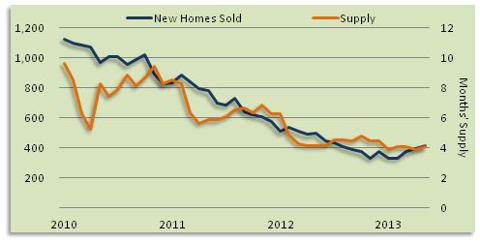 We also got the Case-Shiller home price index for April, which notched a 2.5% month-to-month increase (unadjusted). That was the biggest single-month gain in the index's history, no doubt spurred by spring selling season demand further exaggerating the supply shortage. Home prices are now up 12% year over year, but still down 26% from the 2006 high.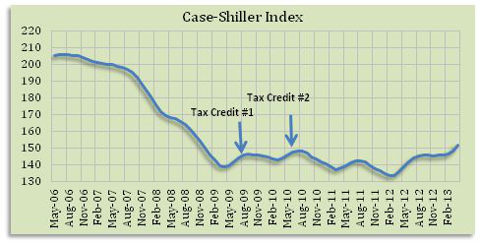 Lennar's Q2
Homebuilder Lennar (NYSE:LEN) posted great Q2 results this morning, with earnings per share beating the consensus estimate by $0.28 and revenues of $1.43 billion exceeding the $1.31 billion consensus. Management noted that "despite interest rate increases, we have seen very little impact on sales or pricing." That's a reassuring comment, and came along with an earnings report that continued to show strong increases in all the key metrics:
Revenues: +53%
New Orders: +27%
Gross Margin: +160 basis points
Average Price: +13%
Backlog (Dollars): +76%
Following that, Lennar's management went on to say in their conference call that shortages of homes are a bigger fundamental driver than the rising interest rates. They also said that they see gross margin continuing to improve through the year.